It is widely known that books are one of the most effective and practical tools for initiating conversations with students of all ages when discussing a sensitive topic. Stories can illustrate historical events as well as model what it means to be a member of a race. The more we know about the experiences of people in our communities, the more we will have empathy and understanding for each other.
I have written several blog articles about diverse books and the importance of providing windows and mirrors in literature for students. The article Building a Diverse Book Collection: Providing Windows, Mirrors, Sliding Glass Doors, and Beyond illustrates the importance of having titles by authors of color, including Jacqueline Woodson, Renee Watson, Raul the Third, Pam Munoz Ryan, Matt de la Pena, Louise Erdrich, Sherman Alexie, and Jerry Craft. My article Stories That Go Beyond The Single Story Stereotypes And Celebrate Chinese American encourages educators to provide books by Chinese American authors, including Gene Luen Yang, Grace Lin, and Kelly Yang. When students see themselves and their classmates in literature, their sense of belonging is strengthened and a strong community is built.
Conversations with students about race, racism, and anti-racism are very important, and now have become more difficult with Distance Learning. The recent national and global protests against police violence that have flared into civil unrest have put an even greater importance on educators to supply their students with resources to help guide these conversations.
---
There are some incredible books available to support teaching students about race, race relations, history, and progress. These books may be helpful guides to generate meaningful conversations with our students, families, and community members. Here are four titles by African American authors and the publishers' summaries that are available in print and digital format.
Titles For Students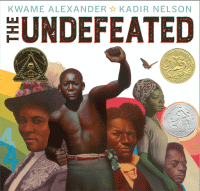 Undefeated
by Kwame Alexander and Kadir Nelson
(VERSIFY, 2019)
A poem honoring the troubles and triumphs of African Americans through history. The Newbery Award-winning author pens an ode to Black American triumph and tribulation, with art from a two-time Caldecott Honoree, Kadir Nelson. For readers in grades 3-6, and older.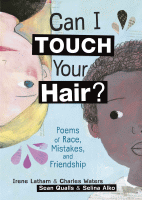 Can I Touch Your Hair?: Poems Of Race, Mistakes, And Friendship
by Irene Latham and Charles Waters
(CAROLRHODA BOOKS LERNER EBOOKS, 2018)
Two poets, one white and one black, explore race and childhood in this must-have collection tailored to provoke thought and conversation. How can Irene and Charles work together on their fifth-grade poetry project? They don't know each other . . . and they're not sure they want to. Irene Latham, who is white, and Charles Waters, who is black, use this fictional setup to delve into different experiences of race in a relatable way, exploring such topics as hair, hobbies, and family dinners. Accompanied by artwork from acclaimed illustrators Sean Qualls and Selina Alko (of The Case for Loving: The Fight for Interracial Marriage), this remarkable collaboration invites readers of all ages to join the dialogue by putting their own words to their experiences. For readers in grades 4-6, and older.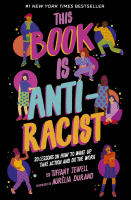 This Book Is Anti-Racist
by Tiffany Jewell
(FRANCES LINCOLN CHILDRENS, 2020)
Gain a deeper understanding of your anti-racist self as you progress through 20 chapters that spark introspection, reveal the origins of racial inequality that we are still experiencing, and give you the courage and power to undo it. Each chapter builds on the previous one as you learn more about yourself and racial oppression. Twenty activities get you thinking and help you grow with the knowledge. All you need is a pen and paper. Author Tiffany Jewell, an anti-bias, anti-racist educator and activist, builds solidarity beginning with the language she chooses—using gender neutral words to honor everyone who reads the book. Illustrator Aurélia Durand brings the stories and characters to life with kaleidoscopic vibrancy. For readers in grades 6-10, and older.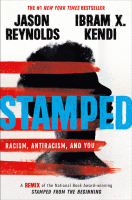 Stamped: Racism, Antiracism, And You
by Jason Reynolds and Ibram X. Kendi
(LITTLE, BROWN BOOKS FOR YOUNG READERS, 2020)
This adaptation of Ibram X. Kendi's Stamped From the Beginning explores the history of racist ideas in America by examining the lives of notable historical figures, from Cotton Mather and Thomas Jefferson to W.E.B. Du Bois and Angela Davis. Discusses how racist ideas spread and how they are also discredited. Through a gripping, fast-paced, and energizing narrative written by beloved award-winner Jason Reynolds, this book shines a light on the many insidious forms of racist ideas, and on ways readers can identify and stamp out racist thoughts in their daily lives. For readers in grades 7-12, and older.
---
As educators, we are teachers but we are also learners. In addition to books for children, there are many new YA and professional titles that are helpful for educators and school leaders to be better equipped to lead conversations about race, racial inequality, and anti-racism with students. Here are some new titles and publishers' summaries that may be helpful when teaching this important topic.
Titles For Educators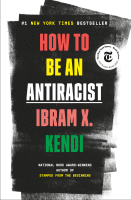 How To Be An Antiracist
by Ibram X Kendi
(ONE WORLD/BALLANTINE, 2019)
Anti-racism is a transformative concept that reorients and reenergizes the conversation about racism, and points us toward new ways of thinking about ourselves and each other. At its core, racism is a powerful system that creates false hierarchies of human value; its warped logic extends beyond race, from the way we regard people of different ethnicities or skin colors to the way we treat people of different sexes, gender identities, and body types. Racism intersects with class and culture and geography and even changes the way we see and value ourselves. In How to Be an Antiracist, Kendi takes readers through a widening circle of anti-racist ideas, from the most basic concepts to visionary possibilities, to help readers see all forms of racism clearly, understand their poisonous consequences, and work to oppose them in our systems and in ourselves. Kendi weaves an electrifying combination of ethics, history, law, and science with his own personal story of awakening to anti-racism. This is an essential work for anyone who wants to go beyond the awareness of racism to the next step: contributing to the formation of a just and equitable society.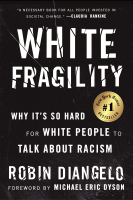 White Fragility
by Robin DiAngelo
(BEACON PRESS, 2018)
In this "vital, necessary, and beautiful book" (Michael Eric Dyson), anti-racist educator Robin DiAngelo deftly illuminates the phenomenon of white fragility and "allows us to understand racism as a practice not restricted to 'bad people'" (Claudia Rankine). Referring to the defensive moves that white people make when challenged racially, white fragility is characterized by emotions such as anger, fear, and guilt, and by behaviors including argumentation and silence. These behaviors, in turn, function to reinstate white racial equilibrium and prevent any meaningful cross-racial dialogue. In this in-depth exploration, DiAngelo examines how white fragility develops, how it protects racial inequality, and what we can do to engage more constructively.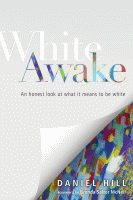 White Awake: An Honest Look At What It Means To Be White
by Daniel Hill
(IVP BOOKS EBOOKS, 2017)
Daniel Hill will never forget the day he heard these words,"Daniel, you may be white, but don't let that lull you into thinking you have no culture. White culture is very real. In fact, when white culture comes in contact with other cultures, it almost always wins. So it would be a really good idea for you to learn about your culture." Confused and unsettled by this encounter, Hill began a journey of understanding his own white identity. Today he is an active participant in addressing and confronting racial and systemic injustices. And in this compelling and timely book, he shows you the seven stages to expect on your own path to cultural awakening. It's crucial to understand both personal and social realities in the areas of race, culture, and identity. This book will give you a new perspective on being white and also empower you to be an agent of reconciliation in our increasingly diverse and divided world.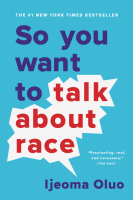 So You Want To Talk About Race
by Ijeoma Oluo
(SEAL PRESS, 2019)
Widespread reporting on aspects of white supremacy—from police brutality to the mass incarceration of Black Americans—has put a media spotlight on racism in our society. Still, it is a difficult subject to talk about. How do you tell your roommate her jokes are racist? Why did your sister-in-law take umbrage when you asked to touch her hair—and how do you make it right? How do you explain white privilege to your white, privileged friend? In So You Want to Talk About Race, Ijeoma Oluo guides readers of all races through subjects ranging from intersectionality and affirmative action to "model minorities" in an attempt to make the seemingly impossible possible: honest conversations about race and racism, and how they affect almost every aspect of American life.
---
Custom Title Lists
These titles are only a small number of books available on race, racism, and anti-racism. We have also curated a list of K-12 titles about activists of color, racial justice, empowering youth, resilience, activism, nonfiction and fiction. Please review this title list and consider adding them to your library and classroom collections. One of Mackin's many free services available to teachers and librarians is book collection development. Mackin's in-house librarians and classroom specialists are here to assist educators' needs. We love working with teachers and librarians to create custom title lists to meet the exact needs of each unique school community for students as well as professionals.