Share.
Collaborate.
Transform.
Thrive.
Digital
From digital content to usage suggestions, this is the future of learning.
Library
From classrooms to libraries, fundamental topics and issues are covered.
Makerspace
View the latest trends, topics, products, and influential people in the maker movement.
Classroom
Partner with the educational community to impact and enrich learning.
Library Transformation
Be the change in your library with fresh ideas and insight.
Professional Learning
Join the evolution of teaching and learning methodology.
Transform and Thrive Magazine
Considering a library transformation but don't know where to begin? We've assembled pages of relevant concepts, ideas and insights from our TYSL Advocates.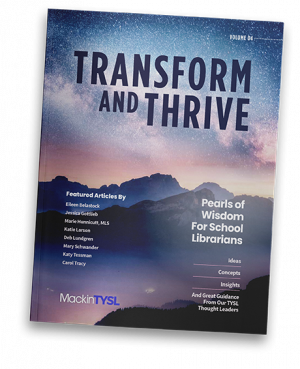 The new year is off to a spectacular start for Carole Boston Weatherford's books. Her title BOX: Henry Brown Mails Himself to Freedom was named a 2021 Newbery Honor Book. The same day, her [...]
What We're Tweeting About