Let's talk mental health! May is National Mental Health Month. The National Alliance on Mental Illness reports that one out of every six kids between the ages of six and seventeen experiences a mental health disorder every year.1 That means that approximately sixteen percent of the students we work with many be experiencing some form of mental health issue. Out of these students, only half of them are likely to have received treatment for their mental health disorder.2
Addressing mental health is crucial throughout the year; however, our students may be in need of a little extra help right now with the stressors brought on by coronavirus, quarantines, and a forced change in routine that may interrupt the coping skills and habits they use to manage their mental health. As librarians, one of the ways we can provide support for our students is to ensure that mental illness is represented in our library catalogs.
Highlighted here are four stellar high school titles published in 2020 that focus on mental health. I am definitely a proponent of providing multiple types of books for students to read so that they can choose the avenue they'll connect with best. As such, this list showcases two fiction books, one nonfiction book, and one graphic novel. These titles touch on depression, bipolar disorder, anxiety, and other mental illnesses. Each has received at least one starred review from a professional review journal. They are all available in both print and eBook format to accommodate distance learning. All descriptions come from the publishers.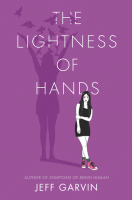 Lightness of Hands by Jeff Garvin (IL 9-12, HarperCollins Publishers, 2020) — Sixteen-year-old Ellie Dante is desperate for something in her life to finally go right. Her father was a famous stage magician until he attempted an epic illusion on live TV—and failed. Now Ellie lives with her dad in a beat-up RV, attending high school online and performing with him at birthday parties and bars across the Midwest to make ends meet. But when the gigs dry up, their insurance lapses, leaving Dad's heart condition unchecked and forcing Ellie to battle her bipolar disorder without medication. Then Ellie receives a call from a famous magic duo, who offer fifteen thousand dollars and a shot at redemption: they want her father to perform the illusion that wrecked his career—on their live TV special, which shoots in Los Angeles in ten days. Ellie knows her dad will refuse—but she takes the deal anyway, then lies to persuade him to head west. With the help of her online-only best friend and an unusual guy she teams up with along the way, Ellie makes a plan to stage his comeback. But when her lie is exposed, she'll have to confront her illness and her choices head-on to save her father—and herself.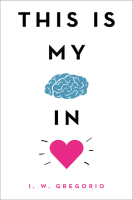 This is My Brain in Love by I. W. Gregorio (IL 7-12, Hachette, 2020) — Jocelyn Wu has just three wishes for her junior year: To make it through without dying of boredom, to direct a short film with her BFF Priya Venkatram, and to get at least two months into the year without being compared to or confused with Peggy Chang, the only other Chinese girl in her grade. Will Domenici has two goals: to find a paying summer internship, and to prove he has what it takes to become an editor on his school paper. Then Jocelyn's father tells her their family restaurant may be going under, and all wishes are off. It's up to Jocelyn and her unlikely new employee, Will, to bring A-Plus Chinese Garden into the 21st century (or, at least, to Facebook). What starts off as a rocky partnership soon grows into something more. But family prejudices and the uncertain future of A-Plus threaten to keep Will and Jocelyn apart. It will take everything they have and more, to save the family restaurant and their budding romance.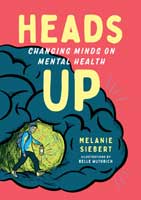 Heads Up: Changing Minds on Mental Health by Melanie Siebert (IL 9-12, Orca Book Publishers, 2020) — Featuring the real-life stories of people who have found hope and meaning in the midst of life's struggles, Heads Up: Changing Minds on Mental Health is the go-to guide for teenagers who want to know about mental health, mental illness, trauma, and recovery. For too long, mental health problems have been kept in the shadows, leaving people to suffer in silence, or worse, to be feared, bullied or pushed to the margins of society where survival is difficult.  This book shines a light on the troubled history of thinking about and treating mental illness, and tells the stories of courageous pioneers in the field of psychiatry who fought for more compassionate, respectful, and effective treatments. It provides a helpful guide to the major mental health diagnoses along with ideas and resources to support those who are suffering. But it also moves beyond a biomedical focus and considers the latest science that shows how trauma and social inequality impact mental health. The book explores how mental health is more than just "in our heads" and includes the voices of Indigenous people who share a more holistic way of thinking about wellness, balancing mind, body, heart, and spirit. Highlighting innovative approaches such as trauma-informed activities like yoga and hip-hop, police mental health teams, and peer support for youth, Heads Up shares the stories of people who are sparking change.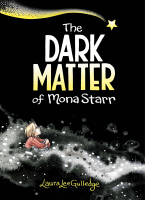 Dark Matter of Mona Starr by Laura Lee Gulledge (IL 7-12, Abrams, 2020) — Sometimes, the world is too much for Mona Starr. She's sweet, geeky, and creative, but it's hard for her to make friends and connect with other people, and her depression seems to take on a vivid, concrete form. She calls it her Matter. The Matter seems to be everywhere, telling Mona she's not good enough and that everyone around her wishes she'd go away. But with therapy, art, writing, and the persistence of a few good friends, Mona starts to understand her Matter and how she can turn her fears into strengths. Heartfelt, emotionally vulnerable, and visually stunning, The Dark Matter of Mona Starr is a story about battling your inner doubts and fears—and finding your creative genius.
---
References
1 National Alliance on Mental Illness. (2019). Mental health by the numbers. https://www.nami.org/mhstats
2 National Alliance on Mental Illness.