by Katy Tessman, New School Services Project Manager & Makerspace Specialist
---
Distance learning has made everyone's daily routines change in unexpected ways. Educators and students alike are feeling the anxiety brought on by COVID-19 and the uncertainty of what our future socializing habits will look like. As we focus on taking safety precautions, we need to be mindful of taking time to laugh.
The main message explained in the article on Talking to Children About COVID-19 (Coronavirus) by the National Association of School Psychologists is that adults need to remain calm and be reassuring. Laughter is another emotion that needs to be explored more these days as well. Laugh therapy was valuable when I was faced with a cancer diagnosis ten years ago. Laughter provides many benefits from relieving stress to giving your muscles a full-scale workout. Plus, laughing is a lot of fun!
When a challenging situation presents itself, I always turn to books. In our home, my two teenage sons and I are revisiting our favorite humorous books. These familiar books are filling our house with belly laughs and making our faces hurt from smiling. This laugh therapy helps reassure us that everything is going to be okay.
I encourage educators to suggest your students read a book that will make them laugh. Listed below are some titles that are available in print, eBook, and digital audiobook. These titles are a sure win to get kids giggling, working their muscles, and relieving stress. In addition to being humorous, the books also teach empathy, kindness, persistence, and the importance of being true to one's self.
For Secondary Students
Tom Angleberger has written several humorous books. Best known for the Origami Yoda series, Angleberger's Qwikpick Papers series, including Poop Fountain!, The Rat With the Human Face and To Kick a Corpse, is a hilarious, highly original series which captures the odd preoccupations of middle schoolers. A variety of sketches, journal entries, and handwritten notes make these books appealing to reluctant readers. Angelberger's books in the Didi Dodo, Future Spy and Inspector Flytrap series are available in digital audiobook and are a great listen for comic relief. An all-time favorite Angleberger novel in our household is Fake Mustache. It is an action-packed, goofy story about a preteen duo becoming their town's heroes and also features politics, friendship, and a spectacularly convincing fake mustache.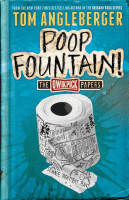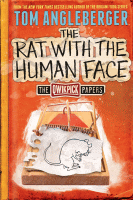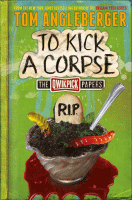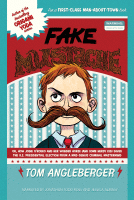 Rachel Renee Russell
is the author of the
New York Times
bestselling series Dork Diaries. Russell's inspiration to write these books came from her daughter, who is the illustrator. The most recently published title in this 16-book series is
Tales From a Not-So-Best Friend Forever
. This amusing series features dramatic tales, zany escapades, and exciting adventures that are based on real-life middle school experiences. Russell's newest book series, The Misadventures of Max Crumbly, including
Locker Hero
,
Middle School Mayhem
, and
Masters of Mischief
, chronicles the daily ups and downs of a middle school boy named Max and his friends as they navigate a new school and try to live like the heroes in Max's favorite comic book. The main message of these humorous books is to embrace your uniqueness and be kind to others.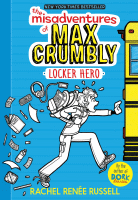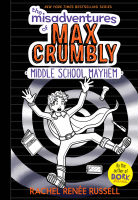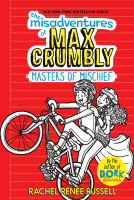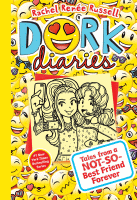 ---
For Elementary Students
Dav Pilkey has written and illustrated numerous hilarious, award-winning books for children including the Captain Underpants and Super Diaper Baby series. Pilkey's newest series is aimed at children who are learning to read. Books in the Dragon Tales series, Friend For Dragon: Dragon's First Tale, Dragon's Fat Cat, and Dragon Gets By, are filled with colorful artwork and humor. Another popular series written and illustrated by Pilkey is his Dog Man series. These books appeal to readers of all ages and explore universally positive themes including empathy, kindness, persistence, and the importance of being true to one's self. Pilkey's most recent book in this series is entitled Fetch-22, a story where two friends stop fighting long enough to work together as a team.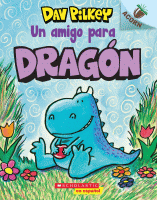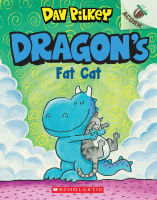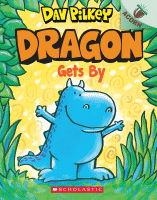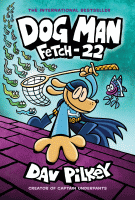 Kate DiCamillo
is mostly known for her upper-elementary realistic novels about friendship, including
Because of Winn Dixie
and
The Miraculous Journey of Edward Tulane.
DiCamillo's six-book. early chapter book series
Mercy Watson
is about a buttered toast-loving porcine wonder who finds herself in humorous situations. The brightly colored illustrations bring out the rambunctious tone of the stories and capture the excitement and comic action. DiCamillo's spin-off series, Tales From Deckawoo Drive, stars favorite characters from the Mercy Watson books. Whether it's the bumbling cowboy Leroy Ninker getting his first horse, animal control officer Francine Poulet wrangling raccoons, or sweet Baby Lincoln striking out on her own, the characters of Deckawoo Drive are sure to entertain early readers in this amusing 3-in-1 book,
3 Adventures On Deckawoo Drive
.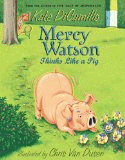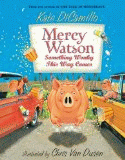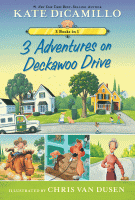 Jon Scieszka
's
The Stinky Cheese Man and Other Fairly Stupid Tales
is a favorite laugh-out-loud picture book in our home library. Scieszka uses silly jokes and robot hijinks to make his Frank Einstein series enjoyable for upper-elementary readers. The sixth book in this series,
Frank Einstein and the Space-Time Zipper
, tells the story of a kid genius who is having problems getting his robot operating. Along with adventure and humor, this engaging and entertaining series uses STEM education with real science facts to accompany the silly storyline. Scieszka's new visually groundbreaking series Astronuts features full-color illustrations plus how-to-draw pages in the back.
Misson One: The Plant Planet
is "an outer space adventure that demonstrates a giant leap for bookmaking and a giant leap for any kid looking for their next go-to series." These books are very accessible, especially for reluctant readers, and will have kids laughing.