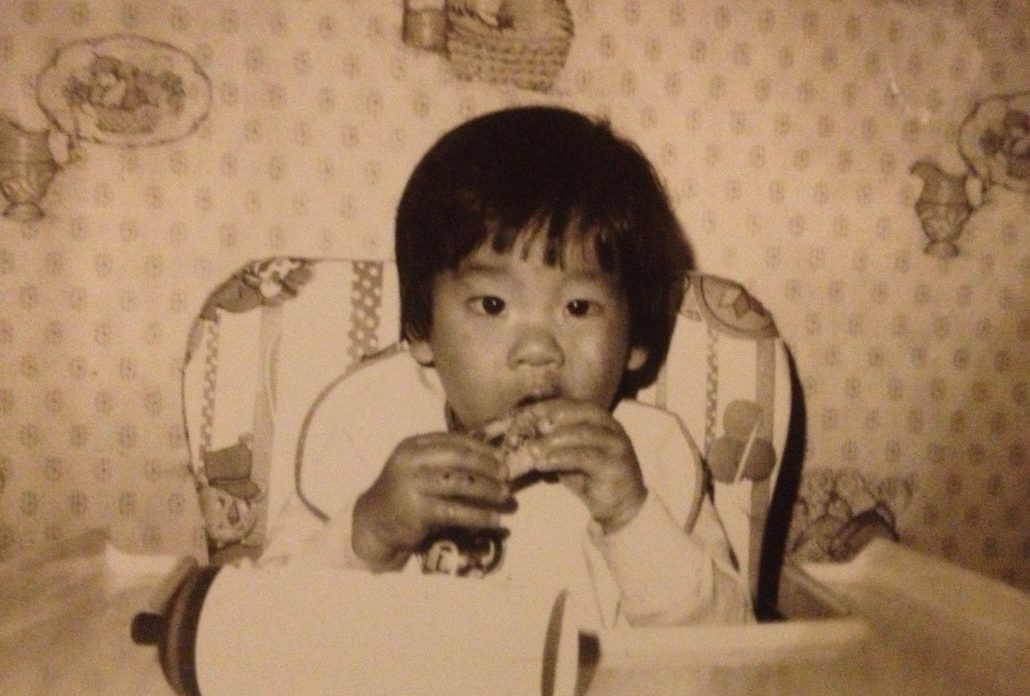 He was supposed to be a doctor. At least, that is the career his parents chose for him. And that is the path he followed until the day a career fair came to his college campus. But let's not get ahead of ourselves; let's start a bit earlier in Dan Santat's life.
Caldecott Medal-winning illustrator and award-winning author Dan Santat was born just a few years after his parents emigrated from Thailand. He spent his first three years in New York before his family moved to California. Santat's childhood there was shaped by his parents' belief in hard work and their dream for him to be a physician.
A self-described hyper child, Santat found sitting still and focusing difficult. Books really held no interest for him unless they explored subjects he liked. "Things didn't really click with me until I started using books more as a utility purpose of understanding how to do certain things," says Santat. "If I played soccer, I checked out books on how to play soccer. If I played baseball, I checked out books on how to play baseball and things like that." And yes, that is how he learned to draw: He checked out a book from the library.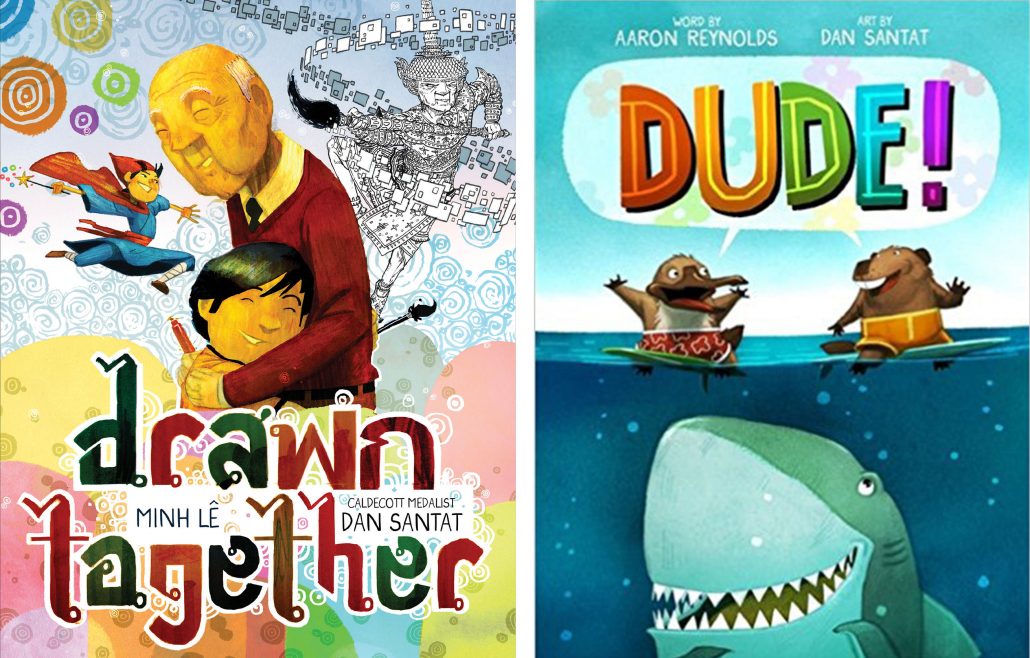 In creating art, Santat found himself and his passion. But when it came time for college, Santat followed the direction that had been set for him: medicine. "I had always loved art, but the idea of making art for a living never felt like a viable option. My entire life I was told it should just be a hobby, and so I just accepted it as fact."
While pursuing his degree in microbiology at the University of California, San Diego, his friends told him that he should go to art school. He brushed off their suggestion until one fateful day. "I remember walking through an on-campus job fair on my way to class, and I stopped by a booth for the Academy of Art in San Francisco. I looked through the catalog. When I saw the various ways art could be applied, I suddenly realized at that moment that there were actual jobs you could get as an artist. I think that was the moment I followed my heart."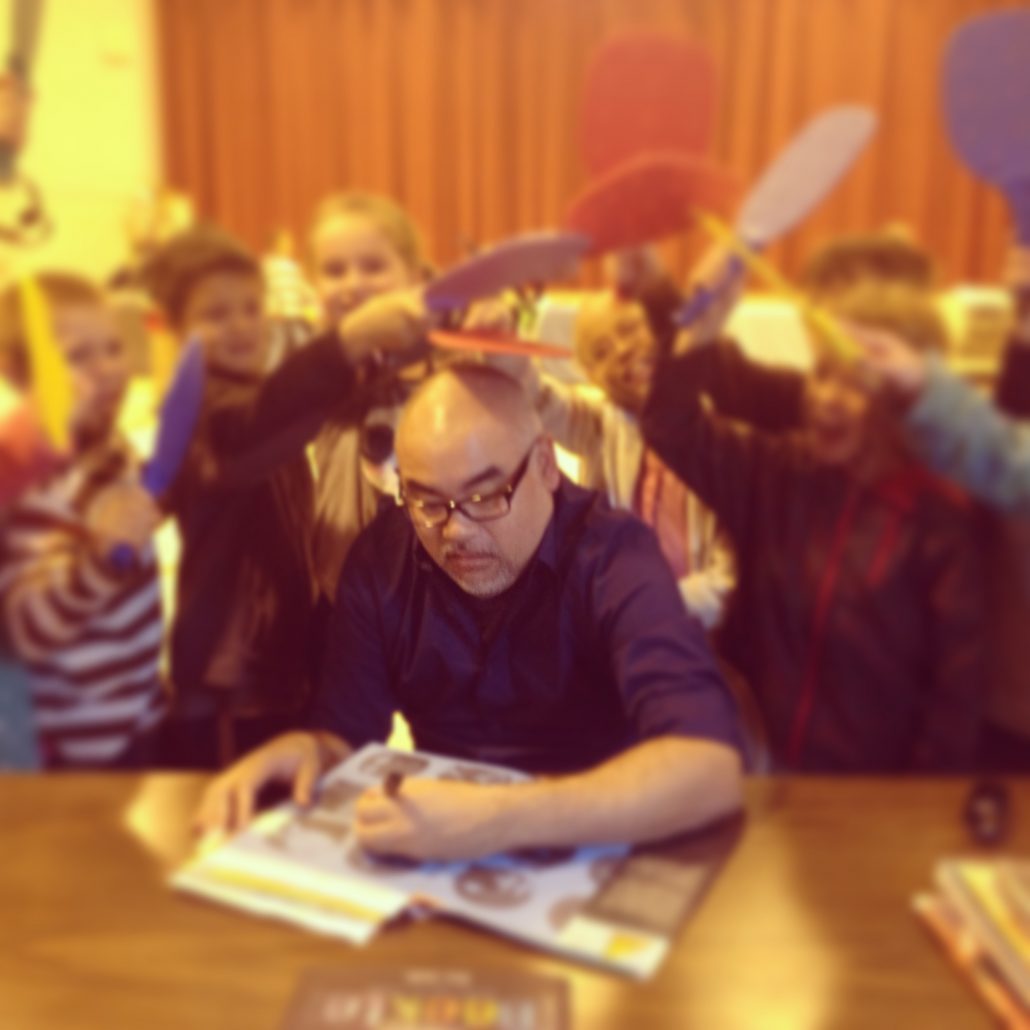 After graduation, Santat enrolled at the Art Center College of Design in Pasadena and never looked back. "I'm thrilled with my decision. I would have been a horrible doctor. My parents are happy, too, and I think they agree that I would have been a horrible doctor, as well."
Though following one's heart is important, Santat knows it also takes work to be successful. Lots and lots of hard work. After graduating with honors from art school, Santat worked as a commercial artist, a 3D modeler, and even a concept artist for video games. He created a popular animated series for Disney called "The Replacements." He was even offered a job to be a Google doodler. But he had his eye on children's books, and that goal was the only one he set his heart on pursuing.
Santat's break came with the publishing of his first title, The Guild of Geniuses (Arthur A. Levine Books, 2004).  Then he spent the next 10 years literally working day and night, churning out page after page for book after book. Gradually, he built a name for himself as an illustrator and an author, as well as a solid reputation as the hardest worker in the children's book industry.
"My home actually was not filled with books. My parents, as immigrants, weren't knowledgeable about Western culture classics and so they mainly went by my judgment in my youth, which wasn't too great. I was kind of a hyper kid in my youth so it was hard for me to sit still during story time in school. The first book that really clicked with me wasn't until junior high when I read S. E. Hinton's book, The Outsiders (Viking Press, 1967). I just found the characters to be absolutely compelling."
But in 2014, Santat was at a tipping point. Though just 39 years old, he felt much older. He was overcommitted professionally. Family members were experiencing medical crises and hospitalizations. He was exhausted. "I was struggling at that point," Santat admits. "I was working long hours trying to meet deadlines, and I was juggling way too many projects at the time. It's hard when you're constantly churning out books and feeling like no one reads them or cares. I felt really burned out."
The Adventures of Beekle: The Unimaginary Friend (Little, Brown Books for Young Readers, 2014) had come out earlier that year, and there were rumors of a possible Caldecott Medal mention. Santat had read the reviews and had heard the rumors, but didn't really see any substantial indicators. "I thought it was the strongest work I had ever done, and I figured it would probably be the only chance I ever had at winning such an award because I was the 'funny book guy' and was never the type of illustrator/author who was considered as someone who created a work worthy of merit." But as the year passed, and Santat found himself edging closer and closer to burnout, the hope of a Caldecott Medal flickered.
And then he got the call.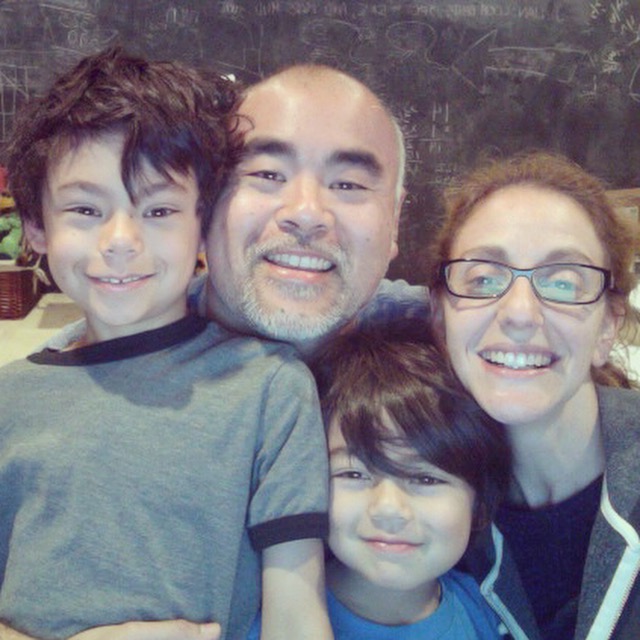 That morning, Santat was up early with indigestion, so the call didn't wake him but it did surprise him. "I got the call at 4:30 am and immediately assumed it was for an Honor because no one else would be calling that early in the morning. When they told me I won the medal, I broke down in tears. I had exceeded my own hopes and dreams."
When it comes to his work, Santat is all in. He knows his audience. He remembers their concerns, interests, and needs, and he writes and illustrates based on that knowledge. "I try to simplify the characteristics of my characters to what I see in kids so that they can relate. I often notice that kids are overwhelmed by the world because everything is new and a little frightening. I think it's only in our most ideal perception that kids are fearless and inquisitive when surrounded by adults. Kids typically are fearless when they explore on their own terms. They need to feel some sense of control. I was like that as a kid. I felt comfortable working at my own pace. A lot of things made me feel nervous when I was young, but when you finally overcome that fear is when you suddenly feel alive. It's the best feeling in the world."

Santat consciously tries to give kids that "best feeling" with every page he writes or illustrates. "Story always comes first, but a good story doesn't evolve without a strong solid concept. I spend years thinking of good concepts and metaphors for books. If you can do that, then everything else easily falls into place. The art is just a vessel for which I communicate, and I think I do that more effectively than with words."
With his most recent books and projects, it is clear that Santat communicates very well with pictures. His work published this year also emphasizes how skilled he is at conveying a wide spectrum of emotion through art.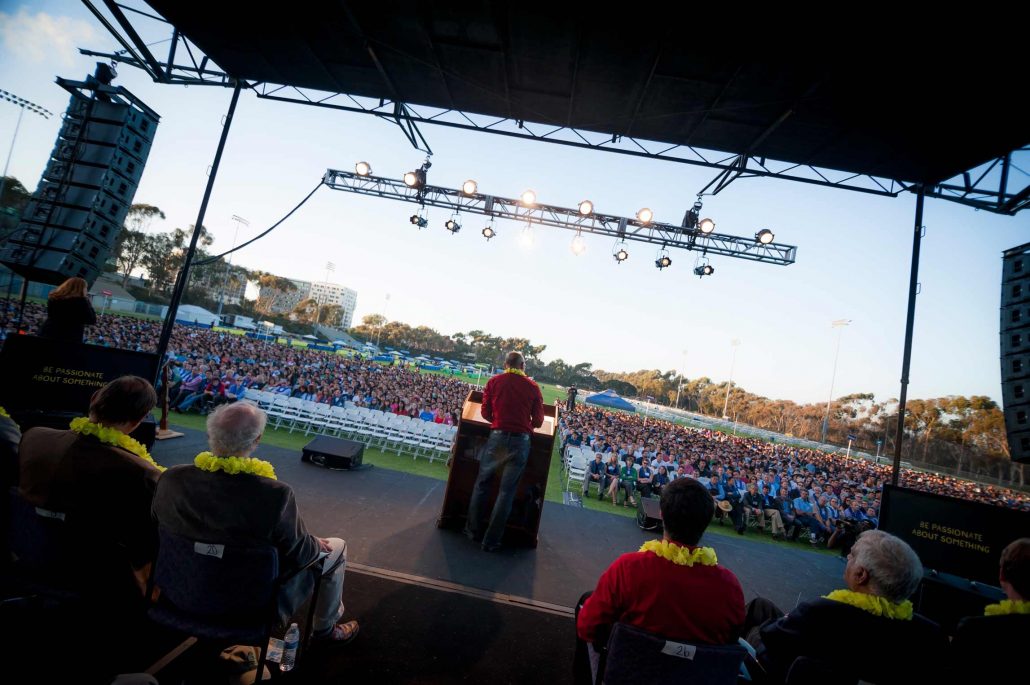 Dude! (Roaring Brook Press, April 2018), a wordless book by Aaron Reynolds, provided a fun challenge. "I think the misnomer is that wordless picture books are easier, and I don't necessarily agree. I had a basic outline of what was supposed to happen in Dude! and Aaron and I speak on the same wavelength in terms of humor, so we feed off of each other well. One joke I put in is on the cover where it says WORD by Aaron Reynolds. I just thought it was a funny joke and Aaron loved the idea. (He, of course, did more than just one word!) The notes were all fairly loose and my job was to punch up the laughs."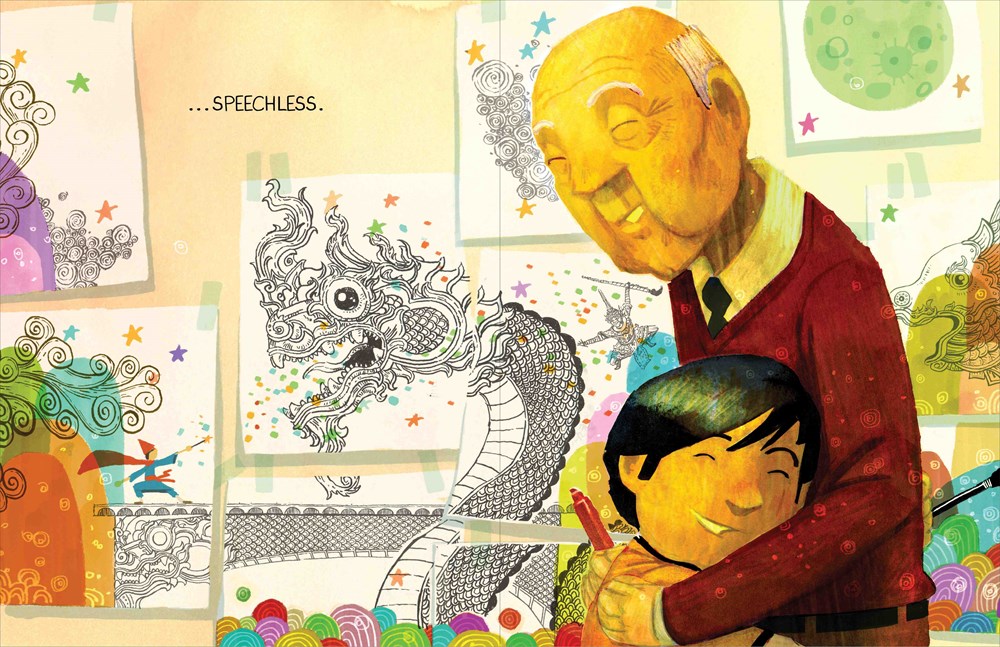 Drawn Together (Disney-Hyperion, June 2018) took Santat from a work of humor to a work of the heart. The story by Minh Lê conveys tender emotion, and Santat masterfully gave that emotion color and expression and context. "I kind of felt bad that I've been an Asian American artist who was making work for years that was not speaking to Asian heritage. I was making books about superhero house pets and imaginary friends, but never anything that was culturally informative about myself and the culture I came from. I received this great manuscript written by Minh Lê, and it was a story that just spoke to my soul. Minh is Vietnamese and had written this book for his grandfather, but I always had a great love for art from Thailand, which is my background; so I decided to blend the two together.
"I always make art to serve the author's words. I never want to let the author down, so I always try to deliver more than what is in the text. You always get a little sense of direction in what is happening in the story, but it's up to you, the artist, to really drive that message home."
"I had a similar experience with my own grandmother where we could not communicate with one another except with food, so she just kept feeding me as a sign of love and affection. Art is the thing I communicate with the world and so I kind of envisioned myself as the grandfather speaking with a young version of myself. This is a story I needed as a kid and I'm honored to have had the opportunity to do the art for it and share with the world."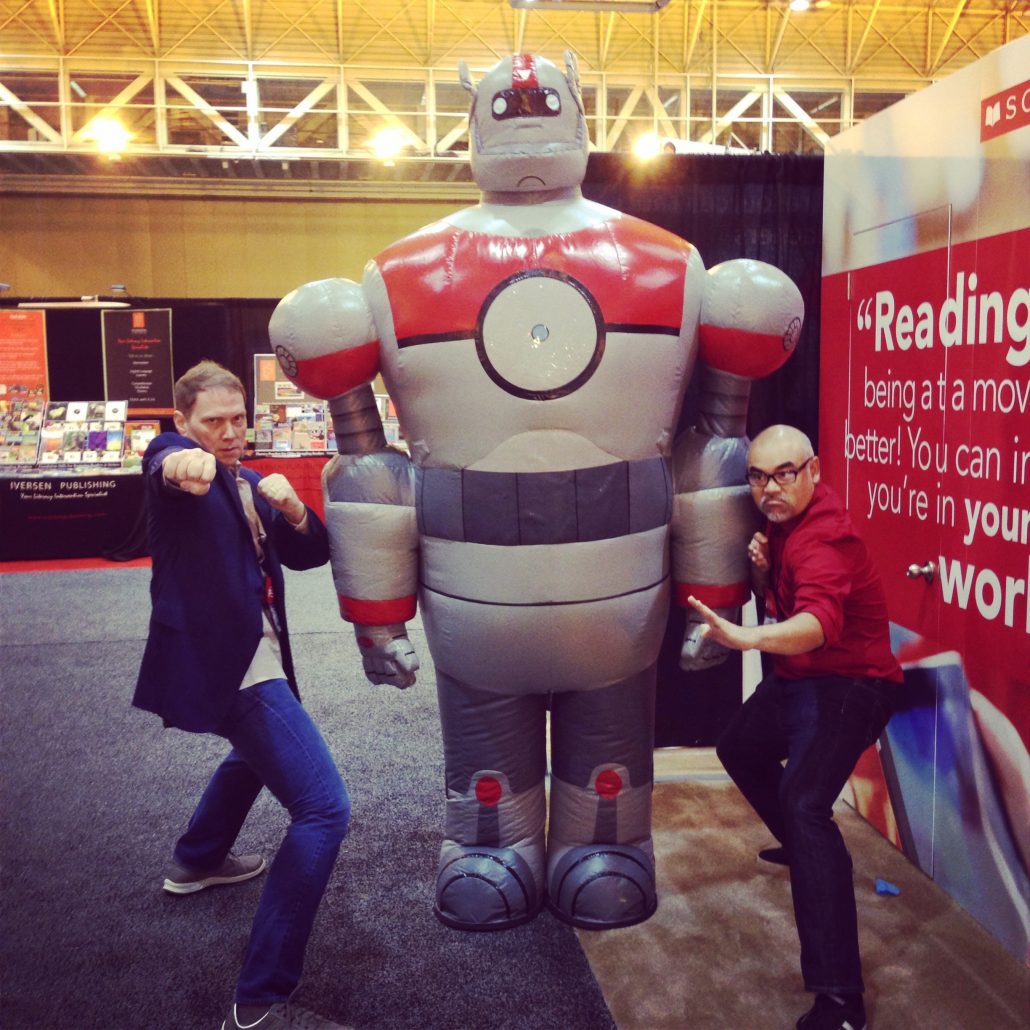 In addition to these two books, Santat fans will see his work in The Princess and the Pit Stop (Abrams Block Book, July 2018) by Tom Angleberger. In the near future, readers will see what occupies Santat at the present time. "I'm currently working on two graphic novels that I've both written and illustrated. The first is The Aquanaut with Scholastic Books, and the other is a memoir of how I got into art school called You Bad Son. I'm also writing/illustrating another Elephant and Piggie book with Mo Willems."
Though Santat has an extensive book list to his credit as well as many awards, including the Caldecott Medal, he continues to pour himself into his work. "One day I'd like to have someone look at my list and say, 'He was full of good ideas and never slowed down until his last dying breath.'"