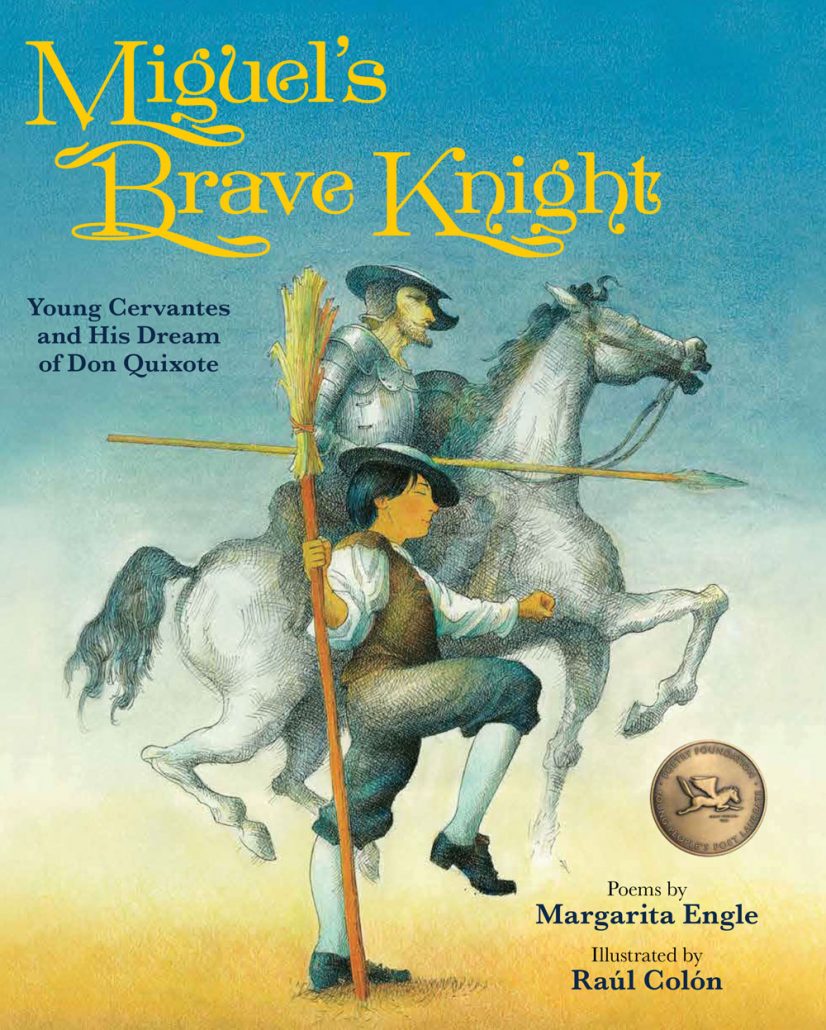 Margarita Engle has received multiple Pura Belpré Awards, a Newbery Honor, and several other accolades; and she is currently serving a two-year term as The Poetry Foundation's Young People's Poet Laureate—the first Latino to do so.
"Being chosen as the national Young People's Poet Laureate was such an astonishing honor that at first I felt a bit uncertain of how to proceed. All I knew was that I wanted to choose a theme of peace, in every sense of that word. I'm working with that theme whenever I speak to adults, children, or teens, and I'm in the process of developing a poetry workshop based on the image of bridges as a metaphor for building peace. We need to offer young readers an alternative to all the destructive ranting about walls between nations, between cultures, between genders. We need bridges of words to cross barriers of all sorts, including international borders. We need a way to embrace the whole world, instead of being haters."
Engle, a Cuban American, is passionate about creating stories and characters authentic to the culture she loves in both her poetry and her prose. In some of her work, she even includes bits and pieces of her family's own experience.
"My deep attachment to Cuba grew from childhood summers spent with my abuelita and extended family. My memoir, Enchanted Air (Atheneum Books for Young Readers, 2015), tells how this happened, and how profoundly traumatic it was to lose travel rights after the Missile Crisis. I have included family history in The Wild Book (Harcourt, 2012), which is based on stories my grandmother told me about her childhood. In general, I write about subjects that inspire me because people in a certain time and place were independent thinkers, persevering, and kind."
Engle's path to publishing all started when, as a young child, she began writing poetry. And she never stopped. "For decades, I published separate poems, articles, essays, and short stories. My adult novels were in prose, but when I switched to children's literature, I also returned to poetry."
Many of Engle's novels and picture books are written in free verse. Miguel's Brave Knight (Peachtree Publishers, 2017) is a fictionalized first-person biography told in a series of free verse poems imagining the life of famous author Miguel de Cervantes Saavedra who finds refuge from his difficult childhood by daydreaming about the adventures of a brave but clumsy knight. He is inspired by storytellers and wandering actors who perform at festivals, and grows up to write poetry and pen Don Quixote, the first modern novel. "It's a tribute to the comforting power of the imagination, which cannot be defeated even by a force as intimidating as the Spanish Inquisition."
Her writing style has attracted a devoted audience of readers representing all age groups, and impressed awards committees; and these feats, in turn, have caught the attention of publishers.
"When The Poet Slave of Cuba (Henry Holt and Co., 2005) received a Pura Belpré Award, followed by a Newbery Honor for The Surrender Tree (Henry Holt, 2008), doors opened that allowed me to continue getting published. Without those awards, I'm afraid that my verse novels might have been regarded as too unusual. At the time, poetry was marginalized, but today, thanks to the inspiring works by Jacqueline Woodson, Kwame Alexander, and Jason Reynolds, verse novels are flourishing. I am so grateful to poets who pave a pathway for others! With respect to picture books, Drum Dream Girl's (HMH Books for Young Readers, 2015) Charlotte Zolotow Award opened the gate for future biographical stories, as well as family ones like All The Way to Havana (Henry Holt, 2017). Of course, a great deal of the credit for any picture book's success must go to the illustrator!"
Engle's poems and stories are also welcomed in classrooms and libraries across the country, and she makes it easy for educators to utilize her titles with Latino and non-Latino students by offering a wealth of resources on her website. "Fortunately, my publishers usually produce wonderful teaching guides written by people like Sylvia Vardell, who specializes in advocating for poetry. I've also been able to produce some bilingual videos with the help of the Arne Nixon Center for the Study of Children's Literature. A few of the ways that my poetry can be used in classrooms are as reader's theater for the verse novels, as puppet shows using Cuban music in the case of Drum Dream Girl, by making a cardboard car for an All the Way to Havana road trip, etc. Teachers can set their imaginations free to imagine all sorts of interactive ways to use poetry."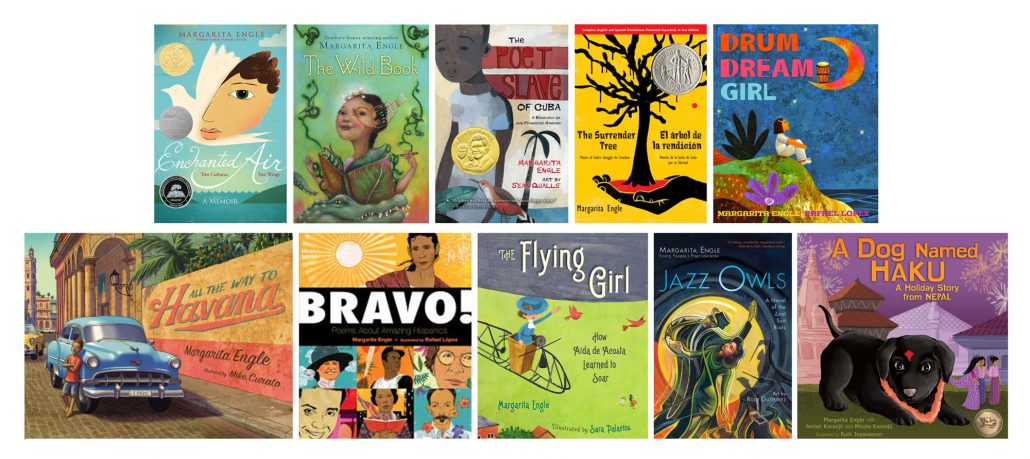 In addition to her responsibilities as the Poet Laureate, Engle keeps busy with promotional activities and writing new material. "My love of biographical picture books and historical verse novels continues! I'm working on a sequel to Bravo! (Holt, 2017), two biographical verse novels, and a collaborative picture book of science poems, co-authored with Padma Venkatraman, who is an oceanographer as well as one of my favorite poets."
"I love the rhythm and flow of language in free verse, and it feels very natural to link shorter poems in a way that tells a longer story. By using multiple voices, all in first person, I am able to distill complex situations down to their emotional essence. Basically, poetry is satisfying, and it makes me happy."
In early 2018, readers will also see The Flying Girl: How Aída de Acosta Learned to Soar (Atheneum Books for Young Readers) and Jazz Owls, a Novel of the Zoot Suit Riots (Atheneum). In the fall, Haku Finds a Home (Lerner) will be published. ("It is quite different, because it's about a dog-feeding festival in Kathmandu, co-authored with my Nepali son-in-law and my daughter.") In 2019, Soaring Earth (Atheneum), a high school/college sequel to Enchanted Air, will debut as well as another biographical picture book illustrated by Rafael López. Finally, Dreams From Many Rivers (Holt) will be published in the fall of 2019.
Don't Spread the Virus!
"I rarely hear young people say that they dislike poetry. Children love rhymes and rhythms! When I hear adults repeat negative stereotypes about poetry, I think of it as a virus that they're spreading to children. Here's a true-life parable: I'm afraid of water. I learned my fear from my mother, who learned it from her mother. In Cuba, there were sharks, moray eels, and crocodiles in the ocean and estuaries. Those are not dangers in a California swimming pool, but my fear extends to pools. In order to make sure that my children did not copy my fear, I let my husband teach them to swim. They are wonderful swimmers. In a similar manner, I think adults who are afraid of poetry should step back and let children learn directly from poets, just enjoying the experience instead of having to dissect and analyze."
Contact Margarita Engle
"I do answer letters. Both adults and children can write to me by going to my website and clicking 'contact.' If teachers want to send batches of snail mail letters, they can email me to ask for my P.O. Box."