Jacqueline Woodson always knew she would be a writer. In fact, by the time she was in fifth grade, Woodson was dreaming of winning a Pulitzer Prize. Today, Woodson has not won a Pulitzer, but she has been awarded nearly every other honor, including multiple Coretta Scott King Awards, Newbery Honors, and even, most recently, the National Book Award.
"I don't feel pressure from anyone but myself to write the best book I can possibly write," says Woodson. "The awards are for the books I've written. Those books are behind me, and I'm glad for the recognition they've gotten."
Woodson was discovered as an adult taking a class at the New School. The teacher read an excerpt from her manuscript, Last Summer with Maizon (Delacorte Press, 1990). An editor was present, enjoyed what she heard, and bought it. "Wendy Lamb became my editor for many years. I think I was lucky in that I had finished a book—I think that's one of the hardest things about writing."
Since that fateful day, Woodson has about 30 books to her credit focusing on subjects like abuse, addiction, identity, race, friendship, and faith. "I write realistic fiction so the fiction has to represent the real world. And the real world is at once complicated and hopeful. This is how I've always seen it—I have always been a good witness—bearing witness to the world."
Last Summer With Maizon hit the shelves nearly 25 years ago when active discussions were taking place about diversity in publishing. The selection of Woodson's Brown Girl Dreaming (Penguin Young Readers Group, 2014) for the 2014 National Book Award is evidence that discussions about diversity are still very much alive.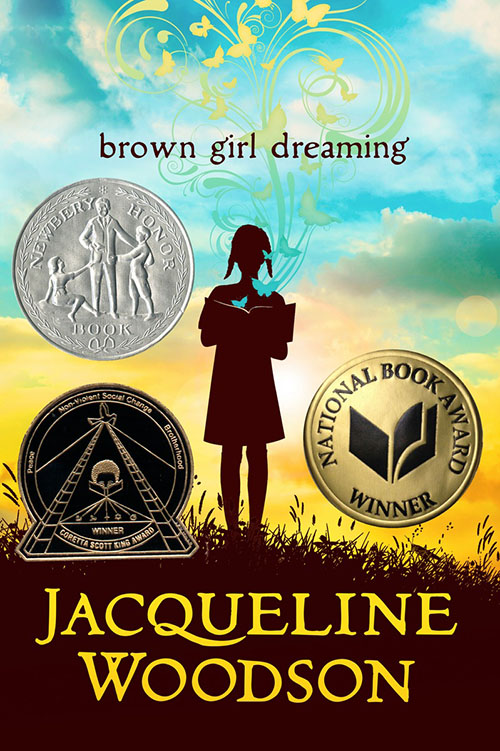 "Diversity has always been a 'hot topic.' We are there again now.  It's just that now, more non-diverse people are listening. Race is still an issue in this country and in many others. With the whole We Need Diverse Books movement, I'm hoping that more writers emerge with great stories. I hope, in the future, it won't even need to be a conversation—that it will simply be."
"I think good literature is literature where anyone can come to it and see a part of themselves in the book, while at the same time getting a glimpse into a world they wouldn't have otherwise ever imagined."
Beyond the future of publishing itself, Woodson has hopes for her own legacy. "I think, more than anything, I want to leave a world behind me that is more accepting, more tolerant, more unlocked and open." To that end, she continues to participate in interviews, to update her website where readers can learn more about her, and most important, to write. "I can't let go of a book until I feel like it's the best story I can write."