Before we started working at Mackin, most of us were quite ignorant of the entire process of making a book. We all read extensively, some of us even write, and a couple might realize that getting published requires an agent, an editor, and hours and hours (and days and months) of revising a manuscript.
But when it comes to the illustrations, I for one had no idea how much thought and work an artist puts into getting the pictures just right. In today's guest post, Daniel Salmieri, author and illustrator of Bear and Wolf, explains how and why he created the beautiful illustrations in this book.
_________________________________________________________________________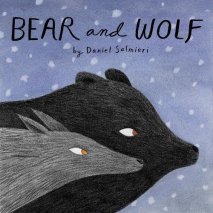 Bear and Wolf  by Daniel Salmieri. 9781592702381. 2018. Gr K-2.
To me, this book is about being present and experiencing life fully, centering on a quiet understanding between two animals that eventually grows into a close friendship.
I had the title Bear and Wolf in my head for years before writing the story. I experimented with many different storylines, jotting notes and making a bunch of false starts, until one day I sat down and wrote the whole thing in an afternoon. Although it happened so fast, I think that it was having kicked the idea around for so long that allowed it to happen in this way.
Once the story felt finished to me, I made the book dummy. I wanted to break the book into double-page spreads only. I chose to make it without any single-page or spot illustrations, and I wanted the type to be set in their own boxes so the paintings could stand on their own as full compositions. I did this to try and give the book an even and calm pacing that would complement the idea of being in the present moment.
It turned out that I was able to make the sketches in a similarly inspired way to the writing, and they came out pretty fast. When I was finished, they had just the right feeling to them and really meshed with the story. This ended up being a blessing and curse (more on that later). The images were soft edged and shaded with pencil. They were made on tracing paper, and the subtle texture of the crinkly paper gave them a nice feeling of atmosphere and snowy surfaces. This tracing paper texture was a total happy accident. And because these black-and-white sketches looked just right to my eye, it made creating the finished paintings a real challenge for me to achieve that same feeling.
When the story and sketches were finished, all of a sudden this book was important to me. I had a clear idea of what it was supposed to be and what it could become. I knew I didn't want to stray from this vision in any meaningful way through the process of getting it published. When submitting it, I got a lot of feedback (not bad––just not in line with what the book was to me) about how we could up the stakes of the story. Maybe Bear and Wolf don't get along at first. Maybe they could come across an obstacle that could be overcome through cooperation. That wasn't in line with my vision for the book, and I decided that I would rather not publish it than change the core of the story.
Luckily, Claudia (Daniel's publisher and editorial and art director) of Enchanted Lion totally got it. The editing process and working with her generally on making this book was really amazing for me. From the beginning, we were in agreement about what this book should be. It was about the idea of a quiet understanding between the two animals, the meditative feeling of the story, and about being present. We worked on ways to enhance that concept for the book through pacing, phrasing, and art cues.
Once Claudia and I had the story edited, and it was time to make the illustrations, it took me months to figure out how the final art would look. I obsessively made tests and attempts at final paintings and nothing felt right. I wasn't getting the softness and texture of the sketches. Finally, I took a close look at the sketches to understand what was working so well about them. I imagined how I could achieve the same subtle, soft textures and values in color. Eventually, I experimented with shaving colored pencil pigments right onto the paper and rubbing them in with my thumb. That was the missing piece that helped me figure out how the book could be colored. I used watercolor, gouache, colored pencils, and crushed colored pencil pigment to make the illustrations. I approached each one as a separate painting to stand on its own and tried to get the feeling right for each spread.
Later on, once the art was finished, we tried to be considerate of everything else––the paper stock and color, inks, dust jacket designs and layouts. It took us a long time to make this book and it was a very collaborative process. Claudia was amazing throughout and through our collaboration we were able to make it much more than it could have ever been if it were just up to me.
This book was four years in the making and I really hope people enjoy it.
My mother read picture books to me when I was a kid. She passed away when I was six, and this book is dedicated to her.
_________________________________________________________________________
Other books illustrated by Daniel Salmieri:
Dragons Love Tacos 2: The Sequel by Adam Rubin. 9780525428886. 2017. Gr PK-3.
Robo-Sauce by Adam Rubin. 9780525428879. 2015. Gr K-3.
Meet the Dullards by Sara Pennypacker. 9780062198563. 2015. Gr K-2.
Big Bad Bubble by Adam Rubin. 9780544045491. 2014. Gr PK-3.
Secret Pizza Party by Adam Rubin. 9780803739475. 2013. Gr K-3.
Dragons Love Tacos by Adam Rubin. 9780803736801. 2012. Gr PK-3.
Those Darn Squirrels Fly South by Adam Rubin. 9780547678238. 2012. Gr K-3.
Those Darn Squirrels and the Cat Next Door by Adam Rubin. 9780547429229. 2011. Gr K-3.
Those Darn Squirrels! by Adam Rubin. 9780547007038. 2008. Gr K-3.
From the publisher:
Dan Salmieri grew up in Brooklyn, drawing ninja turtles, fighter jets and '90s Knicks players, and is now a well-known illustrator. His book Dragons Love Tacos has spent a wild number of weeks on the New York Times best-seller list. He still lives in Brooklyn, where he takes long walks with his wife Sophia and their dog Ronni. Bear and Wolf marks his debut as an author/illustrator.