When the pumpkin spice latte makes its appearance at your favorite coffee shop, it can only mean one thing: fall is upon us. Although this year the release of the favorite fall coffee flavors was the earliest ever in late-August, it always seems to put us on the fast track to wrap up summer and bring out the cozy sweaters and tall boots.4 Fall equinox will officially arrive on September 22, 2021, according to the Farmer's Almanac.3 For me, here in Minnesota, the start of the season brings nostalgia for annual fall events like apple picking at a local orchard, visiting a pumpkin patch, or hiking at a state park during the peak season for beautiful fall foliage.1
As an elementary teacher, I loved to incorporate lessons around fall activities. My favorite activity involved collecting leaves with students on a nature walk and having the students sort and classify the leaves, do leaf rubbings, and learn all about the parts of a leaf.2 This was such a fun hands-on unit and it also required little prep which is a huge bonus! There are many ways to incorporate learning about the fall season into your classroom. You can dig into the science of fall by studying why leaves change color and fall from the trees. Take a poll about your students' favorite fall activities and create a graph to show the data. Get in touch with nature and help develop social-emotional skills by using all of the senses to observe fall and practice gratitude that the fall season brings. There are also many fall holidays from different cultures to celebrate and learn about, creating connections and building community for students. There are many great books to support learning about the fall season and all it has to offer. Below are some categories of books to incorporate in your fall learning.
Fall Holidays, Festivals, and Traditions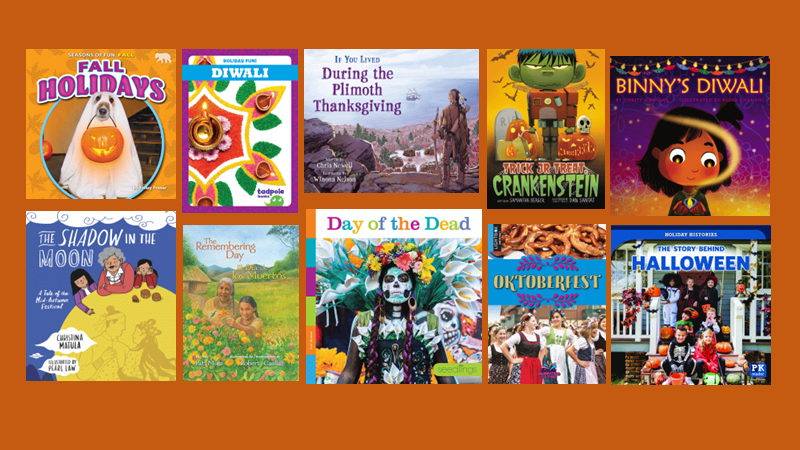 Fall Holidays by Finley Fraser
Diwali by Adeline J. Zimmerman
If You Lived During the Plimoth Thanksgiving by Chris Noodlz
Trick or Treat, Crankenstein by Samantha Berger
Binny's Diwali by Thrity Umrigar
Shadow in the Moon: A Tale of the Mid-Autumn Festival by Christina Matula
Remembering Day = El Dia De Los Muertos by Pat Mora
Day of the Dead by Lori Dittmer
Oktoberfest by Jill Foran
Story Behind Halloween by Melissa Rae Shofner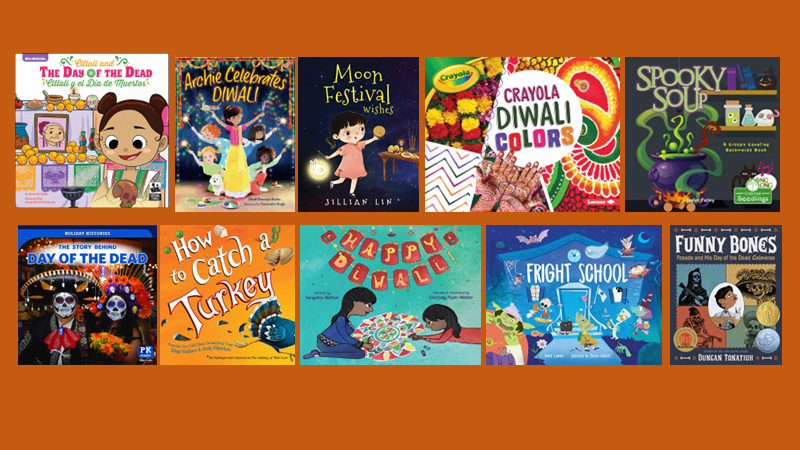 Citlali and the Day of the Dead: Citlali Y El Día de Muerto by Berta De Llano
Archie Celebrates Diwali by Mitali Banerjee Ruths
Moon Festival Wishes by Jillian Lin
Crayola Diwali Colors by Mari Schuh
Spooky Soup: A Creepy Counting Backwards Book by Taylor Farley
Story Behind Day of the Dead by Melissa Rae Shofner
How to Catch a Turkey by Adam Wallace
Happy Diwali! by Sanyukta Mathur
Fright School by Janet Lawler
Funny Bones: Posada and His Day of the Dead Calaveras by Duncan Tonatiuh
Fall Activities
Fall Sports by Finley Fraser
Fall Leaves by Katie Peters
People in Fall by Sophie Geister-Jones
Apple Picking Day! by Candice Ransom
Let's Go to the Apple Orchard by Lisa J. Amstutz
Back to School by Sophie Geister-Jones
Hiking Day by Rockwell, Anne
Let's Go to the Pumpkin Patch by Lisa J. Amstutz
Harvest by Finley Fraser
Get Outside in Fall by Bonnie Hinman
Science of Fall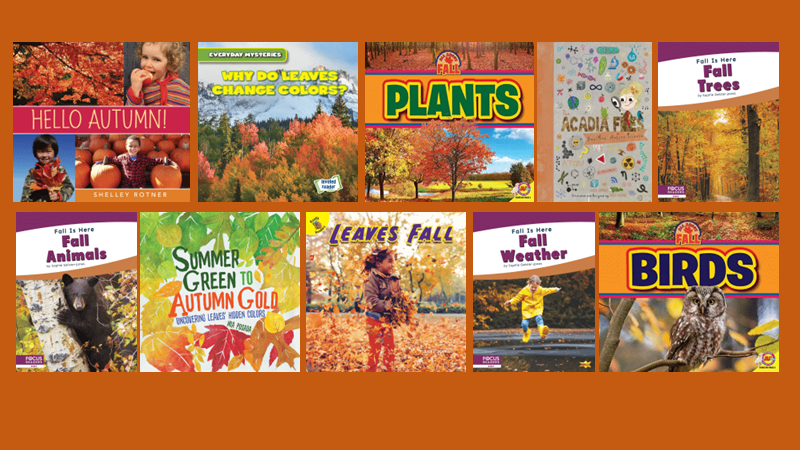 Hello Autumn! by Shelley Rotner
Why Do Leaves Change Colors? by Marie Roesser
Plants by Jenna Lee Gleisner
Acadia Files: Autumn Science
Fall Trees by Sophie Geister-Jones
Fall Animals by Sophie Geister-Jones
Summer Green to Autumn Gold: Uncovering Leaves' Hidden Colors by Mia Posada
Leaves Fall by Lisa K. Schnell
Fall Weather by Sophie Geister-Jones
Birds by Ruth Daly
Fall Season Celebration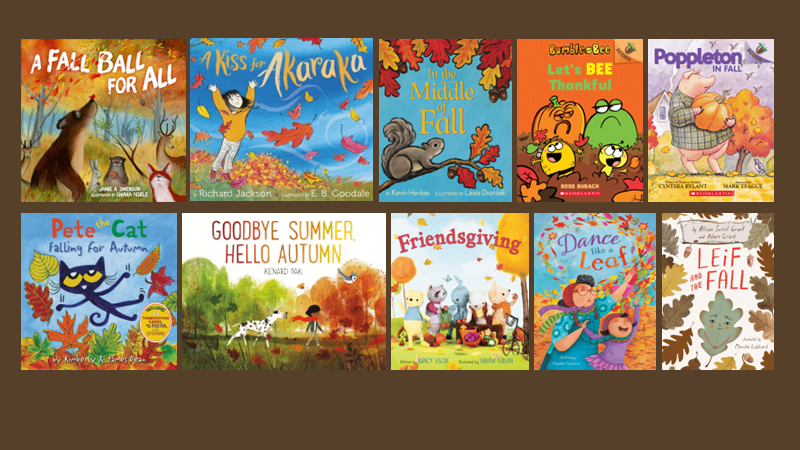 Fall Ball for All by Jamie A. Swenson
Kiss for Akaraka by Richard Jackson
In the Middle of Fall by Kevin Henkes
Let's Bee Thankful by Ross Burach
Poppleton in Fall by Cynthia Rylant
Pete the Cat Falling for Autumn by James Dean
Goodbye Summer, Hello Autumn by Kenard Pak
Friendsgiving by Nancy Siscoe
Dance Like a Leaf by AJ Irving
Leif and the Fall by Allison Sweet Grant
References
 1"2020 Fall Prediction Map." smokymountains.com, 2021. https://smokymountains.com/fall-foliage-map/.
2Elaun, Spramani. "Leaf Crafts Archives." Teach art in the Montessori classroom, October 11, 2018. https://montessori-art.com/tag/leaf-crafts/.
3Old Farmer's Almanac. "Autumnal Equinox 2021: The First Day of Fall." Old Farmer's Almanac, August 6, 2021. https://www.almanac.com/content/first-day-fall-autumnal-equinox.
4Tyko, Kelly. "Pumpkin Spice 2021: Starbucks PSL, Pumpkin Cream Cold Brew Are Back with New Apple Crisp MACCHIATO." USA Today. Gannett Satellite Information Network, August 26, 2021. https://www.usatoday.com/story/money/food/2021/08/23/starbucks-pumpkin-spice-latte-fall-drinks-psl-2021-return/8214019002/.