There aren't many children's book authors who have written close to 200 nonfiction books and not a single fiction title, so it's no surprise that one of the most common questions children ask me during school visits is if I'll ever write fiction. For years, I gave the same answer every single time: "Maybe, I just need to find the right story."
I don't know if that answer satisfied the students, but it certainly didn't satisfy me because it was a lie. You see, in my professional life, I'm surrounded by people who prize stories and storytelling, and, for a long time, I thought I should too.
I remember praising the format of a particular picture book biography during a presentation at a writing conference in Texas. Later, a friend who is a celebrated children's book author kindly pointed out that, to her, the characters in that book seemed a bit wooden. That comment, and others like it from authors, editors, and educators I respect, gradually made me realize that I don't experience stories in the same way as my colleagues. I felt like an oddball like I was all alone in a world that valued narratives.
But then in 2014, I was doing a week-long residency at a small school in Maine. By the last day, I was really getting to know the students, and I felt comfortable with them. So, when a fourth-grader asked THE question, I finally decided to be honest.
I asked the group, "How many of you like to write fiction?" Many hands went up, as I knew they would. Then I took a deep breath and said, "I know lots of writers who love to create characters and invent imaginary worlds. But for me, the real world is so amazing, so fascinating that I just want to learn as much as I can about it and share it with other people. That's why I write nonfiction."
And then something astonishing happened. A boy in the back row—a child none of the teachers expected to participate—lifted his arm, extended his pinky and his thumb, and enthusiastically rocked his hand back and forth. A half dozen other students joined him.
"Me too," they were saying. "We agree."
I had validated their way of thinking, their experience in the world, and they were validating me right back. It was a powerful moment.
I now know that those students are what educators Ron Jobe and Mary Dayton-Sakari call "Info Kids." While many teachers and librarians think of nonfiction, especially expository nonfiction, as broccoli, about 40 percent of children think differently. To these Info Kids, expository text on topics they find fascinating is like chocolate cake.
My hope is that sharing my experience will help educators gain a deeper understanding of the children they serve, so that they can stock their bookshelves and enhance their instruction with the kinds of books that fact-loving kids find delicious.
Here are 25 high-interest expository nonfiction books that will excite the Info Kids in your life:
Beastly Bionics: Rad Robots, Brilliant Biomimicry, and Incredible Inventions Inspired by Nature by Jennifer Swanson (National Geographic for Kids, 2020)
Beware of the Crocodile by Martin Jenkins, illustrated by Satoshi Kitamura (Candlewick, 2019)
Born in the Wild: Baby Animals and Their Parents by Lita Judge (Roaring Brook, 2014)
Crossings: Extraordinary Structures for Extraordinary Animals by Katy S. Duffield, illustrated by Mike Orodán (Beach Lane, 2020)
Exploding Ants and Other Animal Defenses by Rebecca E. Hirsch (Lerner, 2017)
Eye by Eye: Comparing How Animals See by Sara Levine, illustrated by T.S. Spookytooth (Millbrook, 2020)
Handimals: Animals in Art and Nature by Silvia Lopez, illustrated by Guido Daniele (Holt, 2019)
How We Got to the Moon: The People, Technology, and Daring Feats of Science Behind Humanity's Greatest Adventure by John Rocco (Crown, 2020)
Ick! Delightfully Disgusting Animal Dinners, Dwellings, and Defenses by Melissa Stewart (National Geographic for Kids, 2020)
A Hundred Billion Trillion Stars by Seth Fishman, illustrated by Isabel Greenberg (Greenwillow, 2017)
Jumbo: The Making of the Boeing 747 by Chris Gall (Roaring Brook, 2020)
The Next President: The Unexpected Beginnings and Unwritten Future of America's Presidents by Kate Messner, illustrated by Adam Rex (Chronicle, 2020)
Odd Bods: The World's Unusual Animals by Julie Murphy (Millbrook, 2021)
Oil by Jonah Winter, illustrated by Jeanette Winter (Beach Lane, 2020)
Pink is for Blobfish: Discovering the World's Perfectly Pink Animals by Jess Keating, illustrated by David DeGrand (Knopf, 2016)
Pipsqueaks, Slowpokes, and Stinkers: Celebrating Animal Underdogs by Melissa Stewart, illustrated by Stephanie Laberis (Peachtree, 2018)
Poison: Deadly Deeds, Perilous Professions, and Murderous Medicines by Sarah Albee (Crown, 2017)
Rotten! Vultures, Beetles, and Slime: Nature's Other Decomposers by Anita Sanchez (Houghton Mifflin Harcourt, 2019)
The Street Beneath My Feet by Charlotte Guillain, illustrated by Yuval Zommer (words & pictures, 2017)
Small Matters: The Hidden Powers of the Unseen by Heather Ferranti Kinser (Millbrook, 2020)
Summertime Sleepers: Animals that Estivate by Melissa Stewart, illustrated by Sarah S. Brannen (Charlesbridge, 2021)
Tiny Monsters: The Strange Creatures That Live on Us, in Us, and Around Us by Steve Jenkins (Houghton Mifflin Harcourt, 2020) 
Trees: A Rooted History by Piotr Socha and Wojciech Grajkowski (Abrams, 2019)
Wait, Rest, Pause: Dormancy in Nature by Marcie Flinchum Atkins (Millbrook, 2019)
Zoobots: Wild Robots Inspired by Real Animals by Helaine Becker, illustrated by Alex Reis (Kids Can, 2014) 
---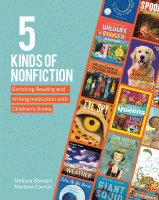 This essay was adapted from 5 Kinds of Nonfiction: Enriching Reading and Writing Instruction with Children's Books (Stenhouse, 2021)