I write children's books that draw upon my Indian heritage. I remember fondly storytimes during school and at home. My parents would read me children's stories that drew upon well-known Indian folk tales and rich Indian mythology. I was mesmerized by the vivid imagery and fantastic stories that I discovered in literature when I was a child.
Later when I became a university professor in the United States and I was raising my own children, I wanted to expose them to stories similar to those I had heard growing up. But the children's books that I found were written by Indian authors for Indian readers. There were few if any books that sought to share Indian culture and traditions with the large Indian diaspora around the world, let alone non-Indian readers.
I started to write children's books because I wanted to help kids and parents alike discover the people, places, traditions, and festivals of India. Now my son Kabir Sehgal and I write books together. We try to demonstrate the richness of Indian family life in our books and by example. It is special to be able to collaborate with members of your own family in such a creative activity such as writing.
My writing process begins with making a list of ideas and topics that might resonate with children. I carry around a notebook and detail my daily observations. I also have gained a deeper understanding regarding what may resonate with children. I have read my books to thousands of children at many schools around the world. Indeed, they are my teachers as I study what characters they enjoy and develop insights as to what may entertain them.
Many of my books involve the theme of service. While teaching at the university, I encouraged students to apply classroom learning in real life, working together to find solutions for problems in the community and to make a difference in the lives of others.  In my first book, A Bucket of Blessings, an Indian folk tale, the main character, Monkey, tries to bring water to a village that is suffering a drought. Through his service, collaboration with an old friend, and respect for nature and faith, rain finally comes. This story—like all my books—speaks to universal morals and values through one's inner voice. I wanted to start my writing career by sharing a life-affirming story of grace and generosity.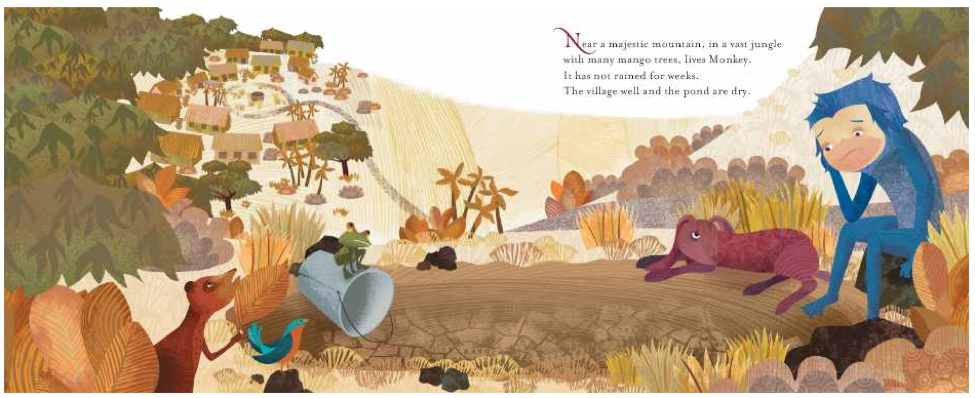 I like to dramatize the service theme in my books when reading to children. At school readings, I always address children by saying, "Namaste" and putting my hands together. This simple act signifies how we can embrace the world. I also bow to them, to show that I respect their goodness and internal divinity.
Diversity is important in children's literature. The sooner children learn about people and places that are different from them, the sooner they become more prepared for the world that awaits them. Kids understand that it is important to build bridges with others in their classrooms, neighborhoods, and beyond. However, many studies have found that children's literature isn't diverse enough—it isn't reflective of the communities in which many of us live. As an educator, I see our books as a way to add much-needed diversity to classrooms and libraries around the world. Storytime is a time of comfort and ease for children, and I want my books to make my young audience feel enlightened, entertained, and at peace.