Many teachers have embraced the importance of mindful moments for themselves and for their students. We're living in uncertain times, and now more than ever, I'm reminding myself to breathe. As we transition into darker and colder days, let a great book be your lighthouse. Books can inspire us, teach us, and guide us. I picked out three books—all available in both print and digital formats—that inspire and beg to be followed by a mindful moment, whether for yourself, your students, or both. These mindful moments focus on three SEL skills that can help students during these darker months: awareness, connection, and gratitude. While all three titles are picture books, I recommend using them at any grade level K-12.
---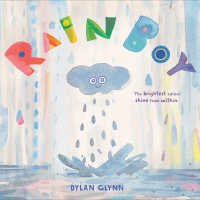 Awareness: Rain Boy by Dylan Glynn
This story follows two classmates, Rain Boy and Sun Kidd. Everywhere Rain Boy goes, rain follows. As you can imagine, he's not very popular with his classmates. Sun Kidd, on the other hand, is followed by sunshine and is very popular. One day, Sun Kidd has a big sleepover and invites the entire class, including Rain Boy. The sleepover turns into a rainy mess. What follows is a lesson on appreciation, self-love, and acceptance of differences. Spoiler alert: There is a beautiful rainbow at the end when Rain Boy and Sun Kidd come together.
When you practice the mindfulness skill of awareness, you practice noticing your experiences. You notice what is going on around you, what thoughts are in your head, and how you're feeling. Rain Boy is a great title for discussing awareness. Because Glynn's writing and illustrations engage all five senses, each page offers a moment to be aware of the senses of sight, sound, touch, smell, and taste. It also encourages awareness of thoughts and emotions. Following each page, ask your students to stop and notice any senses, thoughts, and emotions that the characters are experiencing. (Bonus: What a great cross-curricular connection if you're also teaching the five senses!)
This book ends with a beautiful invitation to practice awareness: "So the next time you're feeling down and your world is dark and gray… just look up." This is a call to notice when you're sad and then to bring yourself to the present by noticing the beauty around you.
After reading Rain Boy, end your lesson with a simple mindful moment. Ask students to close their eyes and notice how they're feeling. When they're ready, ask them to open their eyes and draw, paint, or create an image that represents their feelings. Somewhere in their image, ask them to add something that makes them happy, like a rainbow or an animal.
---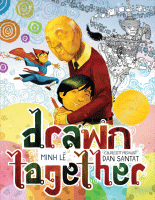 Connection: Drawn Together by Minh Le
In this story, a young boy visits his grandfather but has trouble crossing the language and cultural barriers. That is, until the grandfather spots the boy drawing, and the two connect over their love of art and storytelling. The story is told in a combination of wordless images with some narration.
I found this to be a great title for practicing the mindfulness skill of connection. Creating connections with others—friends, family, and strangers—is a great way to strengthen our own well-being. This past year, many of us have felt more disconnected and divided than ever. However, if we look closely, we can find things that we appreciate in others and the things that we have in common.
One of my favorite mindfulness practices is to explore this idea of connection. After reading Drawn Together with your students, you can ask them to practice this skill in several ways—whether through reflection, drawing, or writing. For example, ask students to write a letter to someone to express a quality that they appreciate. It might be a quality that they have in common, or it might be a quality that they admire. Some examples for students: Do you appreciate the way the coach gives you a high five every morning because it demonstrates how much they care? Or do you admire a friend's drawing skills? Write a letter to let them know. Letting others know about the qualities that we appreciate about them creates positive feelings for ourselves and others, and it helps build stronger connections.
---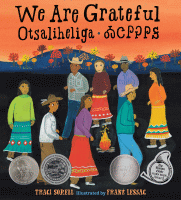 Gratitude: We Are Grateful: Otsaliheliga by Traci Sorell
This book follows celebrations and traditions of gratitude throughout the four seasons of the year from the perspective of a citizen of the Cherokee nation. The title features Cherokee words throughout and ends with an author's note on Cherokee culture, present-day experiences, and ways of life.
Even through moments of remembering hardship and pain, Sorell's words express the importance of gratitude. The skill of gratitude is one that can uplift our hearts. One example of a simple activity students could complete after reading this book is to reflect on something in their life that they are grateful for right now and spend a moment thinking of that thing. Another option is to ask students to write a list of 5-10 things they are grateful for, and then share one with the class.
It is easy to focus on negative aspects of our lives or to distract ourselves. This might be evident in your life if you find yourself dreading getting out of bed or checking social media first thing in the morning. Both have become habits in my own life. To train the mind towards the skill of gratitude, you can challenge students (or yourself) to instead start or end each day by writing down one thing that they are grateful for that day. This can help them remember the positive aspects of life.
---
I found these three books to be great tools for inspiring mindful moments in one's own life or for mindful moments with students. Please feel encouraged to use these ideas, share them, and expand upon them. If you have other great title recommendations on this topic or other great mindful moment ideas, please share in the comments. Also, join the conversation on Twitter by Tweeting @MackinClassroomSerivces using #MackinTeacherTalk. Happy reading!