Collaboration is a crucial skill for all students to learn. In today's guest post on the Mackin Community Blog, authors Shannon Hitchcock and Naheed H. Senzai discuss strategies for successful intercultural communication, and how they used collaboration to write their new middle-grade novel, Flying Over Water.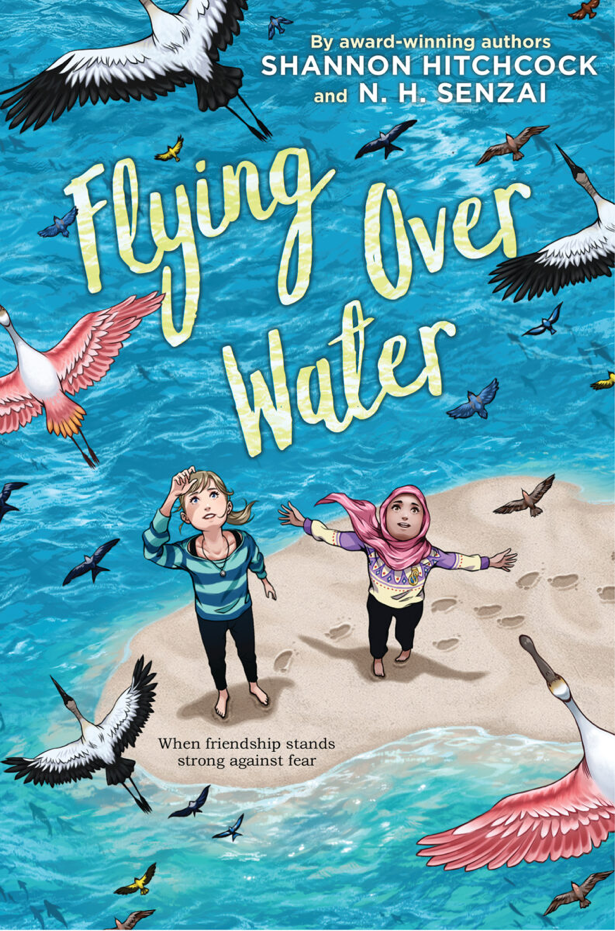 In the summer of 2018, Shannon Hitchcock contacted Naheed H. Senzai with a proposal to write a book together. Flying Over Water describes how a young Syrian girl named Noura and her family are granted asylum in Jordyn's hometown of Tampa, Florida. It's an adjustment for everyone. But despite their differences, the two girls quickly form an unshakable bond. Neither is prepared, though, for the prejudice and adversity that Noura and other Syrian refugees encounter. As bigotry begins to take hold, unrest spreads through their community. But it is love and understanding that stands tall against fear and hatred in this gripping story told through the eyes of two friends in the wake of the president's 2017 Muslim ban.
The two authors, who have different ethnic, cultural, and religious backgrounds, had never met or spoken to each other before. So the first thing they did was have a long phone conversation. They got to know each other and discussed how to co-author an engaging and interesting story that incorporated both their ideas. They worked together for a year and successfully wrote the middle grade novel, Flying Over Water. Here they offer some tips for working together that might help student collaborators, especially if those students don't know each other very well, or have different backgrounds.
Our Top Ten 
Get to know each other—meet and talk about your backgrounds, interests, and ideas. Be honest and open, this leads to creating a truly collaborative project.
Do some brainstorming—watch the news for current events, talk to people, read newspapers, magazines, and books. The initial inspiration for our book came from the on-going Syrian Civil War.
Prep work helps. When working with someone from a different culture, do a bit of research first. Shannon read Islam for Dummies and parts of an English translation of the Qur'an before their first meeting. Naheed read Shannon's books and investigated the setting, politics, and current events taking place in Tampa, Florida, where the book takes place.
Interactive technology is your friend. The authors planned out and plotted the novel using Google Docs, kept detailed notes, and provided feedback for each other in a central place.
Make a list of each individual's strengths and play to them. A person good with details can serve as a proofreader, while a really imaginative person might be better with the plot.
Compromise is key. Keep an open mind and take a while to really consider each other's ideas. If you feel it's not a good fit, sleep on it before saying no. Then openly discuss your position.
Agree to deadlines and responsibilities for your project.
Practice constructive criticism. The goal is to strengthen the work without hurting your collaborator's feelings. Also, compliment your partner—let them know when their work is outstanding.
Share credit equally.
Have fun! When you have laid a foundation of trust and respect, be creative, and enjoy the co-writing process and its results.
Recommendations for other books by collaborators:
When Stars Are Scattered by Omar Mohamed and Victoria Jamieson
A Place At The Table by Saadia Faruqi and Laura Shovan
Same Sun Here by Silas House and Neela Vaswani
Two Naomis by Audrey Vernick and Olugbemisola Rhuday-Perkovich
Save Me A Seat by Sarah Weeks and Gita Varadarajan