One of the great joys of my first few years as a published author has been visiting schools and talking to kids about my books. I have been energized and inspired by the excitement of my young readers, and even more, I've been endlessly amazed by the resourcefulness of their educators. So many of the librarians and teachers that I've met have gone above and beyond to offer engaging educational and enrichment opportunities at their institutions, and yet, many of them are now severely limited by the harsh realities of COVID-19 in 2020.
It's a time of uncertainty and scrambling to make the best of a difficult situation. Remote learning imposes countless limitations on children, making each of our lives feel smaller and separate. Even those kids who can go to school in-person will face significant new changes to their schedules and to the ways that they can interact with their classmates and teachers. In this ever-shifting environment, how can we ensure that students feel not only seen and heard but celebrated? How can we make the best of these circumstances?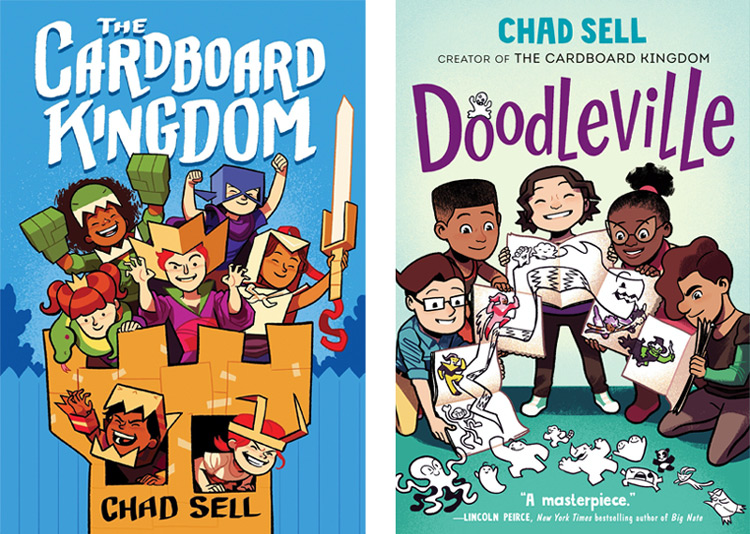 In the past, when I was invited to schools and libraries to talk about my graphic novels The Cardboard Kingdom and Doodleville, I would always emphasize the fact that both of my books are celebrations of children's creativity. Whether it's by creating colorful cardboard costumes or imaginative illustrated worlds, I wanted all of my young readers to understand that they, too, have a story worth sharing.
Obviously, a virtual author visit isn't the same as presenting to hundreds of children in a school gymnasium. However, I've found some unexpected advantages in the digital format, and they've offered even more exciting opportunities to share and to see kids' creativity at work!
During one of my first virtual visits, I was leading a "draw-along" where I was showing the kids step-by-step how to draw some of the simple cartoon characters from my book Doodleville. As we completed one character, and I was preparing to move on to the next, I was surprised to see that several of the kids, unprompted, lifted up their drawings to their cameras to share them with me. It was a simple, surprising thing, but it was magical. Despite the limitations and distance imposed by the digital format, this was a way that the kids could share their work in a much more immediate and personal way than could be accommodated at an in-person event. During subsequent virtual author visits, I've encouraged kids to share the drawings they make during the draw-alongs, and I've been delighted to see them adding their own imaginative touches—mermaid tails, funny word balloons, and unexpected color choices.
This spirit of sharing has continued to evolve and expand during my visits. During a library event this week, the librarian asked the young audience members whether they had any other creative projects that they would like to share. I wasn't sure what to expect, as the level of engagement and interaction from kids during a virtual event can vary widely. But I was floored by their response! So many kids were eager to share their creations that the librarian had to step in and helpfully queue them up to impose some order on the chaos! (Thanks, Angela!) Children shared their cardboard creations with me, their illustrated cookbooks, their own original characters, and countless other whimsical ways they had brought their ideas to life.
I chose cardboard as the main creative building block in The Cardboard Kingdom because it is something that is immediately accessible to many children, something that would otherwise be recycled or thrown away. I wanted readers to see everyday materials used in unexpected ways and be inspired to do the same. In a time when all of our worlds feel a little smaller, and we grapple with the limitations of public health realities, creativity can vastly expand our worlds, and imagination is limitless.
Every child has their own interests and needs. Some might be independent, eager to start their own projects unprompted. Others might benefit from structure and suggestions, or simply need help figuring out what particular subject will spark their creativity. My virtual author visits have been a wonderful opportunity to see this remarkable variation, to witness every kid's endless enthusiasm and boundless imagination.
I feel so lucky to be given the opportunity by teachers and librarians to keep engaging with their students, and to continue exploring what opportunities can be found amid the constraints of our present reality. All of you have already done so much to give your students the best educational opportunities possible, despite constantly changing circumstances and ever-present uncertainty over the near future. My hope is that I can offer a little bit of encouragement and a few suggestions for creative projects that kids can do at home—alone or with family members. Hopefully, they can be done with everyday materials that can be found around the house, though some level of adult supervision is advised!
Cardboard Costumes: Use all kinds of everyday materials like construction paper and cardboard to create a unique cardboard costume for yourself! Or create a custom outfit for a toy or stuffed animal!
Homemade Minicomics: By folding just a few pieces of paper, you can create your own comic or zine! Bring a character to life and tell your own story! Check out From A to Zine for free tutorials and lesson plans: https://www.fromatozine.com/
Homemade Greeting Cards: Make a funny or heartfelt greeting card for someone in your home or for a distant family member or friend! I love how greeting cards are great ways to share both funny jokes and emotional messages.
Cardboard Backdrops: We all have a favorite spot where we do most of our video calls. Well, what if you transformed that into a cardboard castle or some other cool setting? Create a backdrop or make a fantastical prop for video calls with friends and family!
Doodle War: One reader shared a fun activity he did with his mom: A Doodle War! They each took turns drawing made-up characters on the same piece of paper, and to keep track of who made what, they gave white or black hats to all of them. If you don't want to make your creations fight, what else could they be doing? Having a parade? Or a dance party?
Free Creative Activities on My Website: I have a number of free activities that can be downloaded from my website and printed at home! These range from Cardboard Kingdom papercraft designs to Doodleville coloring book pages! I also have a YouTube channel with lots of drawing tutorials and readings from my books!