by Katy Tessman, New School Services Project Manager & Makerspace Specialist
---
Things have changed dramatically since the COVID-19 pandemic hit the U.S. A new school year has started and, in most settings, classrooms have changed to ensure everyone stays healthy. In addition to the presidential election taking place, social justice issues are being addressed. These changes are complicated and it's important to support students during these turbulent times.
When I was faced with a breast cancer diagnosis, I turned to books to help my sons gain confidence, find courage, and be comforted during all the changes taking place. I was inspired to write about our family's cancer journey and publish Our Mama is a Beautiful Garden to help other families during a time that can be so dark. It's important to instill courage, confidence, and comfort in children during a time of uncertainty, and to establish a new normal.
With distance learning and hybrid learning models, teachers are trying new ways to establish relationships with their students. One way that educators can do this is by reading picture books aloud to their classes. Books encourage students to have confidence in being themselves. Change is hard, and having the courage to deal with the changes that are happening in the world right now can be difficult, but books can comfort students and assure them that despite all the changes, everything will be okay.
The following are new titles and the publishers' summaries that can be used to reinforce courage, confidence, and comfort during times of change. These books are available in print and digital formats.
---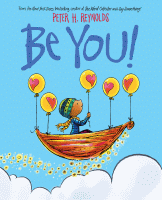 Be You! by Peter H Reynolds (Orchard Books / Scholastic, 2020)
A joyful reminder of the ways that every child is unique and special, from the beloved creator of The Dot, Happy Dreamer, and New York Times bestseller, The Word Collector. Here, Reynolds reminds readers to "be your own work of art." To be patient, persistent, and true. Because there is one, and only one, YOU. In the tradition of books like Oh, the Places You'll Go! and I Wish You More, comes a wholly original, inspirational celebration of individuality as only Peter H. Reynolds can create!
---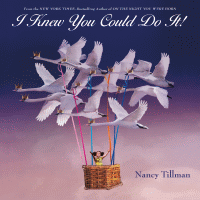 I Knew You Could Do It by Nancy Tillman (Feiwel & Friends, 2019)
Here comes another heartfelt picture book from bestselling author Nancy Tillman, this time about resilience and reaching one's goals. A celebration of everyday accomplishments as well as life's milestones, I Knew You Could Do It applauds anyone who has overcome hurdles and challenges, and also cheers them into the future. And for anyone who needs an infusion of support or reassurance, it tells them, "I believe in you."
---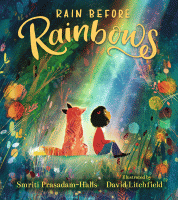 Rain Before Rainbows by Smriti Prasadam-Halls (Candlewick Press, 2020)
In this heartfelt story about courage, change, and moving on, a girl and her companion fox travel together away from a sorrowful past, through challenging and stormy times, toward color and light and life. Along the way they find friends to guide and support them, and when the new day dawns, it is full of promise. With gorgeous, richly realized illustrations and immense hope at its heart, Rain Before Rainbows holds out a ray of sunshine for anyone looking for light.
---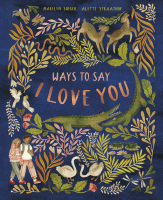 Ways to Say I Love You by Marilyn Singer and Alette Straathof (Words & Pictures, 2020)
A sweet and lyrical picture book for younger children celebrating all the ways that creatures on our planet say "I love you." From snuggling garter snakes to big, cozy bear hugs, this book in verse shares how animals we'd expect, and some we wouldn't, express affection for each other. Each animal interaction is compared with a similar human one, in beautifully blended illustrations composed by the talented Alette Straathof—showing that we are not so different from our animal neighbors. Find out more about the animals in the back pages and discover how to say "I love you" in different languages.
---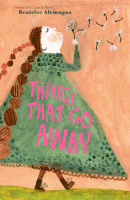 Things That Go Away by Beatrice Alemagna (Abrams Books For Young Readers, 2020)
A playful ode to things that come and go in life—and the one special bond that never fades. There are many things that go away: leaves fall, tears dry, music lasts only for a few moments, and bubbles pop, vanishing without a trace. Everything in life passes, moves on, or transforms—except one thing that never fades. With her signature warmth, playfulness, and beautiful illustrations, Beatrice Alemagna reminds us that in a changing world, the love between parent and child remains constant.