by Katy Tessman, New School Services Project Manager & Makerspace Specialist
---
Have you ever wondered why so many people believe in "fake news"? One reason for this is cognitive bias, which is a limitation in our thinking that can cause flaws in our judgment.1 When fake news is widely shared, it becomes an obstacle to learning real facts. Often the purpose of fake news is to generate ad revenue via web traffic or to discredit a public figure, political movement, company, etc. 2 Introducing the concept of fake news to students is important, especially during a presidential election year.
Identifying untruthful information and avoiding sharing fake news is an essential 21st-century skill. In a  TEDEd lesson, Damon Brown explains how news media has evolved with the internet, and students' responsibility as news consumers.3 Social media is filled with posts that have thousands of likes and shares. The idea that others have "liked" a post and shared it gives the new viewer the impression that it's factual information.
By tapping into students' creativity and imagination, maker education can be a helpful tool in teaching how to recognize fake news. Here are just a few suggestions on how educators can utilize the tools in their makerspace to teach how to identify fake news:
Design a meme that contains silly information as if it's fact.
Alter photographs. (For example: add wings on pigs and place them in the sky over a city, flying in between skyscrapers.)
Create a stop-action film using LEGOs, Play-Doh, or action figures to tell a fake story.
Use the iMovie app to make a movie trailer about the fake news.
Craft a news headline that reads as fact but is clearly not possible.
Using a journalistic style of reporting, write a news story that includes fake names and quote these fictional characters.
Write a short play and cast classmates to perform it.
Combine creative writing and graphic design projects to create a social media post. Be sure to manipulate the number of likes and shares it has received.
Last spring, during National Library Week, we published a blog article highlighting new books about digital literacy. Digital literacy is about teaching students how to investigate information, specifically what is available on the internet. Analyzing the mass amounts of information that is available is a skill all students need to learn. Interpreting, evaluating, and understanding the difference between fact and opinion, and understanding the reliability of sources, develops a better understanding of how to avoid being tricked into believing or sharing fake news.
The following are new books about fake news and the publishers' summaries that may be helpful supplements to maker education lesson plans. These books are available in print and digital formats.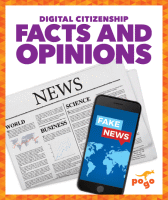 Facts and Opinions (Digital Citizenship) by Kristine Spanier (JUMP!, 2019) Interest Level: 2-5
In this book, readers will learn the differences between facts and opinions. Carefully leveled text and vibrant, full-color photographs help readers understand that an informed citizenship relies on the critical and responsible usage of media and information. Facts and Opinions features reading tips for teachers and parents, a table of contents, a Take Action! activity, compelling questions to encourage deeper inquiry, a glossary, and an index.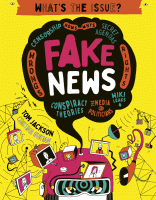 News: Fact or Fake? (What's the Issue?) by Tom Jackson (QEB PUBLISHING, 2020) Interest Level: 4-7
The concept of fake news and the media as a whole is discussed as part of the What's the Issue series that asks "What's all the fuss about?" It reviews what is at stake when we think about fake news, with the aim of helping young people to understand this difficult subject and provide them with the tools to inform their own opinions on the issue.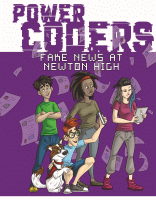 Fake News at Newton High (Power Coders Graphic Novel) by Amanda Vink (POWER KIDS PRESS, 2020) Interest Level: 4-6
Power Coder Grace is detail-oriented. It shows in her coding work as well as in her job as the copy editor of the school's online newspaper. When a new student journalist submits an article about Coach Jenkins and his star running back Henry Lewis, Grace can tell that something doesn't smell right about the facts. She enlists the help of her fellow Power Coders to fact-check sources and reverse search photographs in the article. Thanks to their tech savvy, fake news doesn't stand a chance at Newton High with the Power Coders.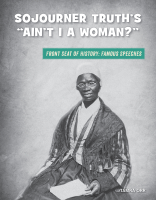 Sojourner Truth's Ain't I a Woman? (21st Century Skills Library: Front Seat of History) by Tamra Orr (CHERRY LAKE PUBLISHING, 2020) Interest Level: 4-7
Akron, Ohio, 1851: A brother and sister listen to Sojourner Truth deliver her speech. Aligned with curriculum standards, this narrative, nonfiction book also highlights key 21st Century content: Global Awareness, Media Literacy, and Civic Literacy. Thought-provoking content and hands-on activities encourage critical thinking. The book includes a table of contents, glossary of key words, index, author biography, sidebars, and timeline.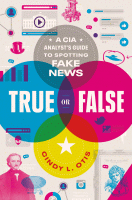 True or False: A CIA Analyst's Guide to Spotting Fake News by Cindy L. Otis (FEIWEL & FRIENDS, 2020) Interest Level: 8-12
In True or False, former CIA analyst Cindy Otis takes readers through the history and impact of misinformation over the centuries, sharing stories from the past and insights that can help readers today. Then, she shares lessons learned in over a decade working for the CIA, including actionable tips on how to spot fake news, how to make sense of the information we receive each day, and, perhaps most importantly, how to understand and see past our own information biases, so that we can think critically about important issues and put events happening around us into context. True or False includes a wealth of photo illustrations, informative inserts, and sidebars containing interesting facts and trivia sure to engage readers in critical thinking and analysis.
---
Resources
1 "Why Do Our Brains Love Fake News?" Above the Noise. KQED Education, PBS Learning Media, https://www.pbslearningmedia.org/resource/bias-brain-kqed/why-do-our-brains-love-fake-news-above-the-noise/
2 "What is Fake News and Why is it a Problem?" Teaching Your Students About Fake News, Listenwise, https://support.listenwise.com/teaching-your-students-about-fake-news/
3 "How to Choose Your News – Damon Brown." TED, TED-Ed, 2019, ed.ted.com/lessons/how-to-choose-your-news-damon-brown