By Rachel Benzine, Collection Management Librarian
---
Happy National Library Week! As a librarian, I'm excited to be able to chat with you about what I see as one of the most important functions of libraries: promoting literacy of all kinds. When most people think of literacy, they probably think of the ability to read and write. If you've gone to library school, you might think of information literacy, or the ability to accurately evaluate information. Today I want to focus on another kind of literacy: digital literacy.
As defined by the Digital Literacy Task Force of the American Library Association (ALA), digital literacy is "the ability to use information and communication technologies to find, evaluate, create, and communicate information, requiring both cognitive and technical skills."1 If I was describing digital literacy to a student, I would say that digital literacy is the way you figure out if what you're seeing on the internet is true and valuable.
Libraries have long been champions of literacy in all formats. In recent years, they've stepped up to the challenge of embracing digital literacy as technology has proliferated. Public librarians are teaching classes for all ages on executing internet searches, as well as classes on how to use computers, smartphones, tablets, and other forms of technology. Academic librarians are engaging in instruction on database searching and digital archiving. Many K-12 school systems now utilize the job title School Media Specialist, rather than the traditional title School Librarian, to reflect the increased emphasis in this role on technology instruction, digital literacy, and meeting students' information needs.
As access to the internet has increased, so has access to information. However, not all of the information that students access online is accurate. As the ALA points out, being a digital native does not equate to being digitally literate.2 One of the responsibilities of working with students, be it as a teacher or as a librarian, is to help them learn how to evaluate information. Especially in the current unique time period we're in, when many schools have moved to distance learning programs, empowering students to evaluate the information that they find on the internet is crucial.
Below I've listed some of my favorite books on digital literacy for K-12 students. These books are available in both print and eBook formats. All descriptions come from the publisher.
---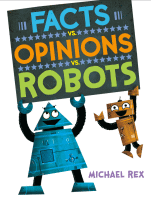 Facts vs. Opinions vs. Robots by Michael Rex (IL K-3, Nancy Paulsen Books, 2020)
Do you know the difference between a fact and an opinion? It can be a hard thing to understand. Some things are facts—like the number of robots in this book. Other things are opinions—like which robot would make the best friend, or which robot dances best. And sometimes to tell the difference between a fact and an opinion, you need to wait to get more information—that's because facts can be proven true or false, and opinions are things you feel and believe—but you can't prove. Mike Rex introduces young readers to the very important distinction between facts and opinions, and he reminds us that it is nice to listen to one another's opinions, and to stand up for the facts!
---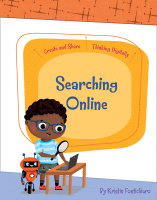 Searching Online by Kristin Fontichario (IL 1-4, Cherry Lake Publishing, 2020)
Using the AASL Standards Framework for Learners, the Create and Share: Thinking Digitally series provides younger readers with the necessary tools to successfully and safely navigate the digital world. In Searching Online, readers are equipped with new information and tips to improve their internet search skills. Activities throughout the book prompt students to think more deeply, be creative, share information and resources, and grow their knowledge. Includes a table of contents, glossary, index, author biography, sidebars, and educational matter.
---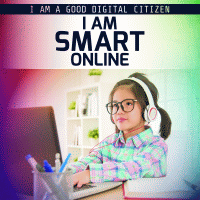 I am Smart Online by Rachael Morlock (IL 2-4, Power Kids Press, 2019)
Being smart on the internet involves knowing where to find good information, thinking critically about websites, and understanding safe ways of sharing online. With straightforward explanations and instructions, this book helps readers become smart digital citizens who know how to recognize reliable sources and safe websites. Readers will learn to navigate the internet, think carefully about the content they view and share, follow rules for healthy interactions, and reflect when they make mistakes. Photographs provide examples of important guidelines in action.
---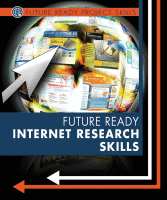 Future Ready Internet Research Skills by Lyric Green (IL 4-7, Enslow Publishing, 2017)
The internet has a wealth of information, and there are many quick ways to get answers. But, students must know how to perform real research on the internet. Using clear and concise text with descriptive examples, this book shows readers how to perform their own research and teaches them skills for citing their sources as well as figuring out which ones are reliable. Full-color photos, quick facts, and sidebars help students understand internet research better, while the glossary reinforces new vocabulary. A Further Reading section inspires further research.
---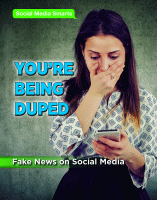 You're Being Duped: Fake News on Social Media by Jennifer Peters (IL 5-8, Enslow Publishing, 2020)
It's nearly impossible for most of us to imagine what our lives would be like without social media. However, today's teens unarguably eclipse their elders in their reliance on and adept, intuitive use of a whole range of social media platforms. Savvy though they may be, teens are still plagued by the same specters that haunt all social media users, such as trolls and bullies, privacy issues, and fake news. Arm readers with the knowledge, tools, and critical perspective they need to navigate the tricky world of social media and educate others about how to do so in an informed, intelligent way.
---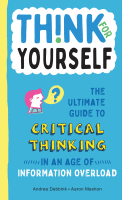 Think For Yourself: The Ultimate Guide to Critical Thinking in an Age of Information Overload by Andrea Debbink (IL 6-8, Duo Press LLC, 2020)
This unique and timely book won't tell you what to think—that's up to you!—but it will show you how to think more deeply about your own life and current events. Covering a wide range of subjects affecting the world today, including human and animal rights, social media, cyberbullying, the refugee crisis, and more, Think for Yourself will help you to learn how to ask questions, analyze evidence, and use logic to draw conclusions, so you can solve problems and make smart decisions.
---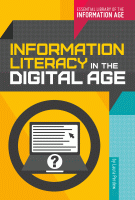 Information Literacy in the Digital Age by Laura Perdew (IL 7-12, Essential Library, 2017)
The flow of information through our modern digital world has led to many new issues and controversies. Information Literacy in the Digital Age examines the challenges involved in seeking and evaluating information from the vast array of sources available through digital technology. Compelling text, well-chosen photographs, and extensive back matter give readers a clear look at these complex issues. Features include essential facts, a glossary, additional resources, source notes, and an index. Aligned to Common Core Standards and correlated to state standards.
---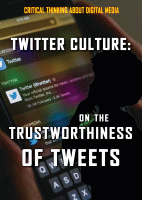 Twitter Culture: On the Trustworthiness of Tweets by Carolyn DeCarlo (IL 7-12, Enslow Publishing, 2019)
As the use of social media has become more pervasive across all segments of the population, social media platforms have become the primary way many of us get our information, not only about our family and friends, but about worldwide news and events. How reliable is this information? How much faith can we place in it? How can we know what to trust? In this book, readers will look at the origins of Twitter and its development as a news source, as well as its darker turn as a source of misinformation and propaganda. This essential book includes a glossary of useful terms and a list of helpful references.
---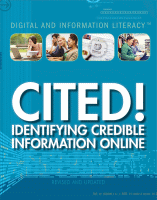 Cited! Identifying Credible Information Online by Larry Gerber (IL 8-12, Rosen Publishing Group, 2018)
In an online world where the amount of information seems to increase exponentially week to week, student researchers can find it a challenge to distinguish credible, vetted content from hearsay and misinformation. This volume on citing internet sources will help them determine which online sources are trustworthy and which are not. Its lively and engaging instructional tips will help readers successfully negotiate the vast landscape of information out there. They will produce quality research for papers now and later in their academic careers with skill and confidence.
---
References
1American Library Association. (2020). Digital literacy. ALA Literacy Clearinghouse. https://literacy.ala.org/digital-literacy/
2Martin, A. M., & Roberts, K. R. (2020). Digital Native ≠ Digital Literacy. American Association of School Librarians. http://www.ala.org/aasl/sites/ala.org.aasl/files/content/aaslissues/MartinRoberts_JF15.pdf