Many of my books spring from social or environmental injustices—oceans struggling with plastic, the alarming decrease in biodiversity around the world, children who cannot attend school because they can't afford the fees. I want to motivate young readers to recognize injustice and to do something about it.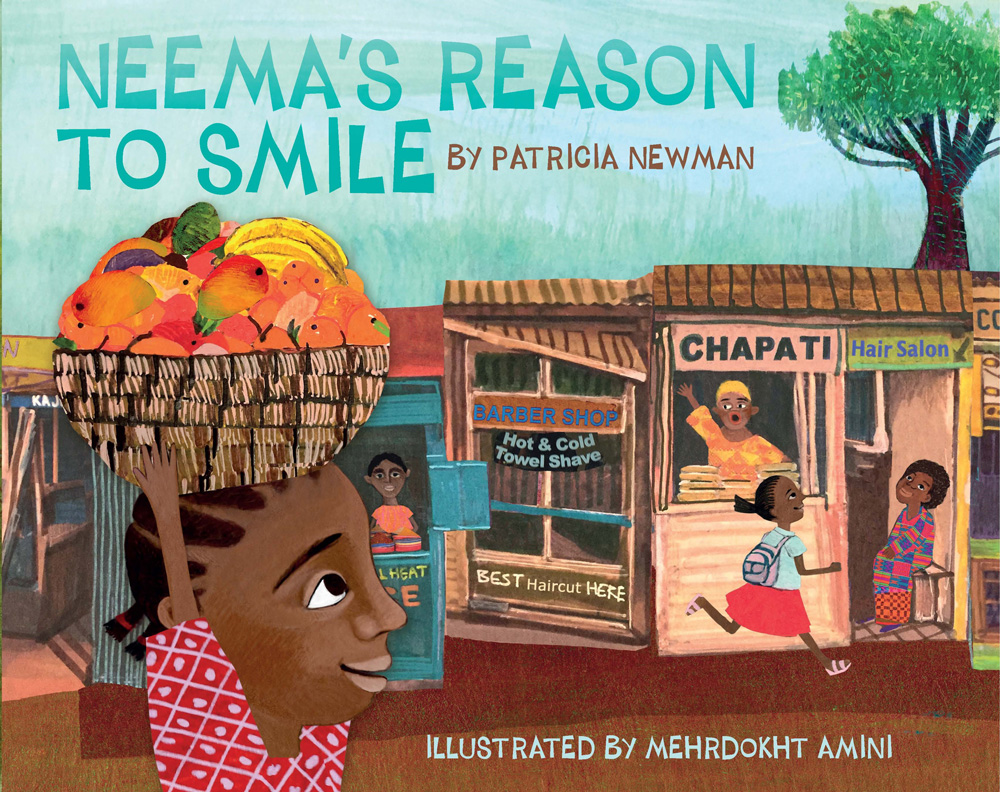 Every book I write takes me on a journey, and the journey for Neema's Reason to Smile is filled with role models who act—in the back story, inside the pages of the book, and behind the scenes with readers.
Librarian Donna Rosenblum first contacted me about an idea for a book about the power of education. She told me about Christine Mwende, a Kenyan nurse from Mtwapa, Kenya, where many kids do not attend school. Some are too poor to buy the uniforms and supplies; others have parents who don't understand the importance of formal schooling. Christine calls her school Jambo Jipya—Swahili for "something new." She believes everyone has the right to learn, so she works with tribal chiefs to convince families that education is the key to a well-paying job.
Donna also introduced me to Keela Grimmette who volunteered at the Jambo Jipya School after college. Keela loved the school and its children so much she founded Reason2Smile to help support Christine's vision. Donna, the current executive director, says, "Reason2Smile has built new classrooms, remains the sole financial supporter of the orphans in the Jambo Jipya Children's Home, sponsors several Jambo Jipya graduates to attend university and trade schools, and performs community outreach to schools in the U.S."
In addition to these three wonder women, my publisher, Lightswitch Learning, generously donates a portion of the sales of the book to Reason2Smile. Every book sold helps put another child in school.
When I present the book to students during author visits, they tell me Neema is "kind," "determined," "never gives up," and "generous." One third grader volunteered that she noticed "a pattern" in Neema: "At first, Neema was the girl who wanted to go to school," she says. "At the end, Neema helps a different girl go to school."
Although Neema's Reason to Smile is a work of fiction, it is based on the real-life students at Jambo Jipya School who understand the power of education. "They were thrilled to read [the book] and so excited to see the story in print," Donna says. "This was especially true for the students featured at the end of the book as well as Christine Mwende, our very own Teacher Madam. They are grateful for all Reason2Smile accomplishes for the children's home and the Jambo Jipya School."
From the time I became acquainted with Jambo Jipya's students, I noticed how they handled life with grace and perseverance, and I wanted my seven-year-old main character to be like them. In fact, I chose the name Neema (pronounced NAY-ma) because it means "grace" in Swahili.
Neema's grace is inspiring readers to be like her. Long Island sixth graders instituted an Act of Kindness campaign to be more like Neema. They also raised money to sponsor Reagan, a student at the Jambo Jipya School. As one sixth-grade class graduates, the next class assumes responsibility for Reagan's yearly tuition and board.
Sisters Sarah and Liliana Johnson, ages ten and six respectively, planned and executed a successful campaign that increased awareness about and raised money for Reason2Smile. After getting their principal's approval, Sarah and Liliana presented their idea to the school using a PowerPoint they'd created. They rallied their peers to buy paper-bead bracelets and raised $400 for the students at Jambo Jipya School. The girls' campaign integrated several curriculum areas, including goal-setting, character education, persuasive speech, and math skills, and provided a project-based learning model for other schools.
At a New York City school, teacher Maria Grasso describes the concentration and resolve of her students who created their own dream baskets (an activity in the book's back matter). "I am always in awe of their focus and determination when students put their heart into making something meaningful to them," Maria says. "When I finished reading the book, the whole class made their own dream baskets using African prints. It almost felt as if they did not want the book to finish. I hope all their dreams come true, just like Neema's."
The book is also responsible for bringing blogger Terra Heck's blended family together. "When my daughter wed last October, she took on a package deal. Her husband, George, is a full-time father to eleven-year-old Rahjae. That made me an automatic grandma. Because Rahjae didn't have a whole lot of time to bond with me before the marriage, we weren't really close. I've been working on that by taking Rahjae to church every Thursday and that's where Neema's Reason to Smile comes in. During one of the first times I picked her up for church, Rahjae noticed the book in my vehicle. She picked it up and started reading aloud. Since then, it's become a ritual for Rahjae to read me parts of the book on the way to and from church. Then we talk about the story. That in itself makes this a special book to me."
Donna and I hope Neema inspires you and your students to pursue your dreams, become involved in social action, and be a force for change in the world.