What is a Maker? What does a Maker look like, sound like, or feel like? These are all questions I would ask young students when introducing the concept of Makerspace to get them thinking about the process of making. There is a recent surge of Maker inspired literature for all ages that can be helpful in providing concrete examples of a Maker and the process. Beyond what a Maker is or does, I noticed a reoccurring theme in these titles that I can only describe as a Maker Mindset. Maker Mindset is a composition of many different characteristics. Some of the main characteristics of a Maker Mindset include: open mind, complex out of the box thinker, collaborator, and creator. In addition, a Maker Mindset compliments the idea of growth mindset as the process often leads to failure and trial and error. Most importantly, a Maker has the tenacity to persevere and find understanding through failure.
The Maker characteristics listed above are complex and deserve to be nurtured as a part of Makerspace in the library or classroom. The characters in each story listed below show different examples of a Maker Mindset through experiences with trial and error, communication, collaboration, design, prototype, stepping away and finding new solutions, and change or growth in thinking and perspective. These books highlight a common purpose of making that can open student's minds, welcoming higher order thinking skills, collaboration, and comfort in the unknown. The stories below are highly engaging and give students a great example of different types of making and Maker Mindset. Pairing Makerspace activities with books is a great way to open the conversation with students about what it is like to be a maker and what to expect, as well as give a space of communication and understanding about the making process among student peers.
Below are a few of my favorite books about makers who identify problems and make solutions, happen upon brilliant ideas, and collaborate with unlikely friends: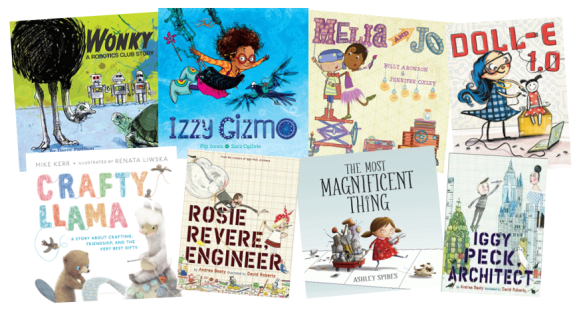 WONKY : A ROBOTICS CLUB STORY by PATTISON, DARCY
IZZY GIZMO by JONES, PIP
MELIA AND JO by ARONSON, BILLY
DOLL-E 1.0 by MCCLOSKEY, SHANDA
CRAFTY LLAMA by KERR, MIKE
ROSIE REVERE, ENGINEER by BEATY, ANDREA
MOST MAGNIFICENT THING by SPIRES, ASHLEY
IGGY PECK, ARCHITECT by BEATY, ANDREA
A few more of my favorite Maker books below focus on Maker stories that highlight a diverse set of fictional and real life characters who create useful inventions to solve a problem.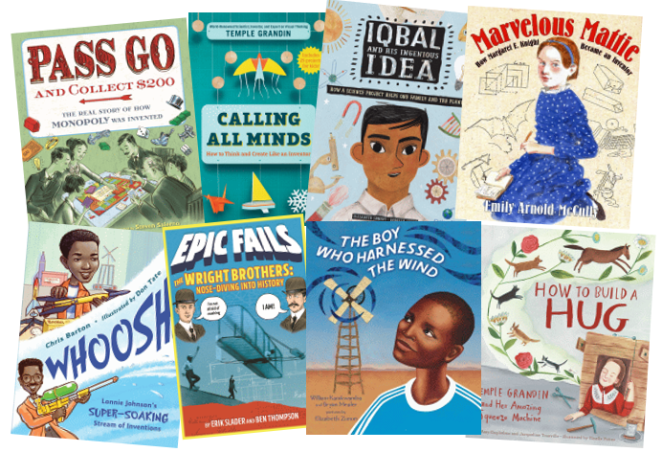 PASS GO AND COLLECT $200 by STONE, TANYA LEE
CALLING ALL MINDS : HOW TO THINK AND CREATE LIKE AN INVENTOR by GRANDIN, TEMPLE
IQBAL AND HIS INGENIOUS IDEA : HOW A SCIENCE PROJECT HELPS O (CITIZENKID) by SUNEBY, ELIZABETH
MARVELOUS MATTIE : HOW MARGARET E. KNIGHT BECAME AN INVENTOR by MCCULLY, EMILY ARNOLD
WHOOSH! : LONNIE JOHNSON'S SUPER-SOAKING STREAM OF INVENTION by BARTON, CHRIS
WRIGHT BROTHERS : NOSE-DIVING INTO HISTORY (EPIC FAILS) by SLADER, ERIK
BOY WHO HARNESSED THE WIND by KAMKWAMBA, WILLIAM
HOW TO BUILD A HUG : TEMPLE GRANDIN AND HER AMAZING SQUEEZE by GUGLIELMO, AMY