Check out these exciting easy and fiction titles published in February. You'll find magic, talking animals, dystopian societies, science fiction, and fantasy. Happy reading!
ELEMENTARY PICTURE BOOKS
The Babysitter from Another Planet by Stephen Savage. 9780823441471 Neal Porter Books. 2019. Gr PK-3.
Children are a little nervous about meeting their new babysitter, but she soon becomes their favorite when they realize that she is an extraterrestrial.
Bearnard's Book by Deborah Underwood (ill. by Misa Saburi). 9781627797573. Henry Holt & Co. 2019. Gr PK-2.
Bearnard the bear is asked to star in a book. Having never been in a book before, he seeks out his duck friend Gertie to help him prepare. After a series of mishaps, Bearnard learns that he doesn't need to try so hard and should just be himself.
Bim, Bam, Bop…and Oona by Jacqueline Briggs Martin (ill. by Larry Day). 9781517903954. U of MN Press. 2019. Gr K-2.
The farmyard ducks all race to the pond in the morning. Short and stubby Oona is frustrated that she never gets there first. Then her friend the frog reminds Oona that she is good with gizmos, and maybe she could come up with something to help herself.
The Brain Storm by Linda Ragsdale (ill. by Claudio Molina). 9781486715565. Flowerpot Press. 2019. Gr K-2.
In this wordless book, a boy wakes up in a bad mood, evidenced by the funnel-like cloud over his head, and it spreads to his classmates at school. Back at home, his grandmother helps him deal with it.
Chicks Rule! by Sudipta Bardhan-Quallen (ill. by Renee Kurilla). 9781419734144. Abrams. 2019. Gr PK-2.
When a chick carrying a rocket under her arm reads the "No Chicks Allowed!!!" sign on the door of the Rocket Club, she gets fed up. Gathering all the other chicks that have been banned from their clubs, she starts a revolution to change the rules.
Crab Cake : Turning the Tide Together by Andrea Tsurumi. 9780544959002. HMH. 2019. Gr PK-2.
Under the sea, all the creatures do different things, but only crab bakes cakes. When a load of trash is dumped into their water, most of the creatures freeze in fear. But crab bakes a cake and brings everyone together to help move the garbage back to the surface for the humans who dumped it.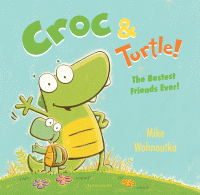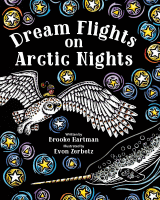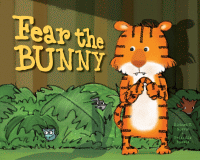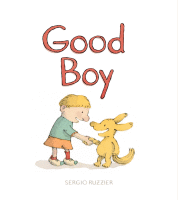 Croc & Turtle by Mike Wohnoutka. 9781681196343. Bloomsbury Children's. 2019. Gr PK-1.
Although other animals are better at lifting, jumping, and running, friends Croc and Turtle discover something they are best at.
The Donkey Egg by Janet Stevens & Susan Stevens Crummel. 9780547327679. HMH. 2019. Gr PK-2.
After fast-talking Fox leaves him with a large green egg, Bear spends minutes, hours, days, and weeks lovingly caring for it with the help of his neighbor Hare, waiting for a new donkey to emerge.
Dream Flights on Arctic Nights by Brooke Hartman (ill. by Evon Zerbetz). 9781513261898. Alaska Northwest Books. 2019. Gr PK-2.
A child dreams of flying over the Arctic and seeing the different animals that reside there, from prowling wolves to sea lions on glaciers.
Fear the Bunny by Richard T. Morris (ill. by Priscilla Burris). 9781481478007. Caitlyn Dlouhy Books. 2019. Gr PK-2.
The forest animals, afraid of the bunnies, chant, "Bunnies, bunnies, burning bright, in the forests of the night…"  Tiger disagrees. Bunnies aren't scary, but tigers are! When night falls, however, Tiger learns just how scary bunnies can be!
Good Boy by Sergio Ruzzier. 9781481499064. Atheneum BYR. 2019. Gr PK-1.
A boy gives his dog increasingly difficult and improbable commands, which leads them on a spectacular adventure.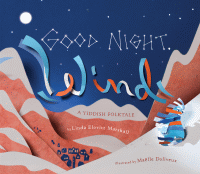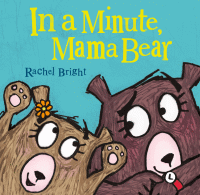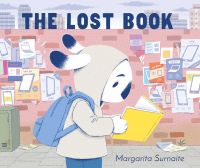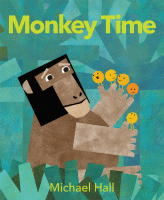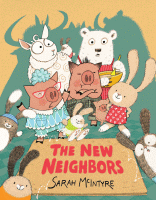 Good Night, Wind : A Yiddish Folktale by Linda Elovitz Marshall (ill. by Maelle Doliveux). 9780823437887. Holiday House. 2019. Gr PK-3.
The winter wind, exhausted after preparing the season for coats of snow and ice, needs a place to rest, but no one wants to shelter something so unpleasant. The wind throws a tantrum but is approached by two young children who help find a place for wind to rest.
In a Minute, Mama Bear by Rachel Bright. 9780374305789. Farrar Straus Giroux. 9780374305789. 2019. PK-2.
Mama Bear is in a hurry, but daughter Bella is a dawdler. When they are finally in the car, Mama Bear has a case of road rage—until she notices how her words and actions are affecting Bella. She tosses her to-do list and they head to the park for some play time instead.
The Lost Book by Margarita Surnaite. 9781534438187. Margaret K. McElderry Books. 2019. Gr PK-3.
All the bunnies in Rabbit Town like books, except for Henry. When he discovers a lost book under a mysterious hedge, he finds himself on the streets of a city where all the humans are staring at hand-held devices. No one pays attention to anything else, until Henry catches the eye of a small girl. They play together the rest of the day, and Henry gives her the book before they each head home.
Monkey Time by Michael Hall. 9780062383020. Greenwillow. 2019. Gr PK-2.
As a monkey chases brightly colored minutes on a minute tree in the forest, he helps young readers understand the passing of time and counting skills. Back material reinforces math concepts and describes the rainforest animals found in the book.
The New Neighbors by Sarah McIntyre. 9781524789961. Penguin. 2019. Gr PK-2.
Lettuce and her young bunny siblings are excited when they hear that rats have moved into their apartment building, but the other residents are none too pleased. When the tenants head off to tell their new neighbors of their concerns, they find that the rats are clean and pleasant and welcoming. This picture book offers a good lesson about prejudice.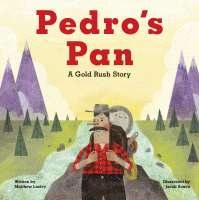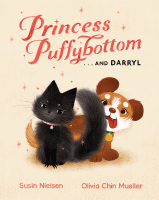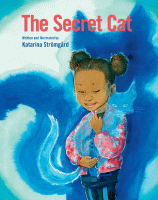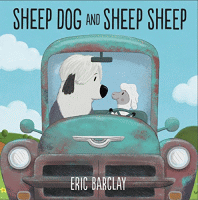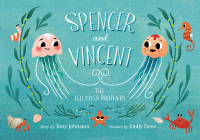 Pedro's Pan : A Gold Rush Story by Matthew Lasley (ill. by Jacob Souva). 9781513261874. Alaska Northwest Books. 2019. Gr K-2.
This picture book tells the story of an Italian immigrant who has come to Alaska looking for gold—from the perspective of his trusty pan.
Princess Puffybottom … and Darryl by Susin Nielsen & Olivia Chin Mueller. 9781101919255. Tundra Books. 2019. Gr PK-2.
A spoiled cat, Princess Puffybottom, who once had all her needs taken care of easily, is disgusted when a puppy, Darryl, invades her kingdom. She tries everything she can think of to banish him, until his blind devotion and limitless love win her over.
The Secret Cat by Katarina Stromgard. 9780802855114. Eerdman's. 2019. Gr PK-3.
A young girl wants a real pet—one with fur—but her mother won't allow it. That night when the girl is in bed, she hears a scratching from the wall and finds a secret cat. Together they go on adventures outside, where she meets other people with their dreamlike secret pets.
Sheep Dog and Sheep Sheep by Eric Barclay. 9780062677389. Harpercollins. 2019. Gr PK-2.
A sheep who loves to dance meets a sheepdog whose job is to watch sheep. Not to be outdone, she declares that she is a sheep SHEEP and also watches sheep. While she is "helping" the dog do his job, he saves her from dangers she doesn't notice.
Spencer and Vincent, the Jellyfish Brothers by Tony Johnston (ill. by Emily Dove). 9781534412088. Simon & Schuster. 2019. Gr P-2.
Jellyfish brothers Spencer and Vincent become separated after a massive wave strikes, and they rely on the help of all their ocean-going friends to help them reunite.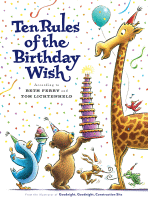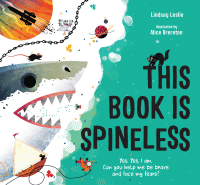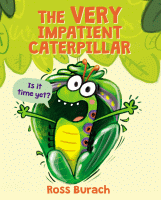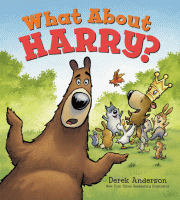 Ten Rules of the Birthday Wish by Beth Ferry & Tom Lichtenheld. 9781524741549. Penguin. 2019. Gr PK-2.
Animals explain the rules of celebrating a birthday properly, including all the exceptions to those rules, in this humorous picture book.
This Book Is Spineless by Lindsay Leslie. 9781624146589. Page Street. 2019. Gr PK-3.
A self-aware book goes through the different genres it might be, from horror to sci-fi, realizing as it goes through each that it doesn't need to be afraid of what it will become.
The Very Impatient Caterpillar by Ross Burach. 9781338289411. Scholastic. 2019. Gr PK-2.
An impatient caterpillar struggles with being patient as he morphs into a butterfly.
What About Harry? by Derek Anderson. 9780062402592. Harpercollins. 2019. Gr PK-2.
Big bear Harry and little bear Sam are good friends until they decide to play kings. Sam's pretend play is better than Harry's, and a chorus of woodland animals cheer for him. Harry finally loses his temper and stomps off to play on his own. But neither is happy by himself, and soon they figure out how to mend their friendship.
ELEMENTARY CHAPTER BOOKS & FICTION
AZ and the Lost City of Ophir (Alliance of World Explorers, Book 1) by Andrew Zimmern & H.E. McElhaton). 9781643439860. Beavers Pond Press. Gr 4-7.
Instead of being the world's greatest explorer, AZ is stuck in summer school. His only companion is Odd Uncle Arthur, who takes him time-traveling—oops!—to the lost city of Ophir.
Klawde: Evil Alien Warlord Cat (Book 1) by Johnny Marciano. 9781524787202. Penguin. 2019. Gr 4-6.
Wyss-Kuzz is such a horrible warlord that his feline subjects overthrew him and exiled him to the worst place in the galaxy—Earth! He finds himself in a backyard in Oregon, where hairless monsters find him. The smaller one, Raj, promises his parents that he will go to survival camp if he can keep this cat. The story alternates between Raj trying to survive camp and Wyss-Kuzz trying to build a teleportation device to get back home.
The Lost Girl by Anne Ursu. 9780062275097. Walden Pond Press. 2019. Gr 4-6.
Iris and Lark might be identical twins, but they are not the same, and they have always looked after each other. But this year they will be in separate classes at school and different activities after school. Despite their feelings of abandoment and a sinister fairy-tale like mystery, this is a story of empowerment for both girls.
Rise of the Dragons by Angie Sage. 9780545864961. Scholastic. 2019. Gr 4-6.
Sirin, an orphan, remembers tales her mother told about how dragons and humans used to live and work together. In another world, cruel humans have trained their dragons to be vicious Raptors, and they have almost destroyed their world. Silvers are the only dragons that can pass between worlds, so they need a Silver to help them find a new one to exploit. When a rare Silver hatchling and a young shepherd boy become Locked telepathically, they are captured and must try to escape to a different world.
Straw Into Gold : Fairy Tales Re-spun by Hilary McKay. 9781534432840. Margaret K. McElderry Books. 2019. Gr 4-6.
Ten Western fairy tales are inventively and humorously retold with mostly happy endings.
MIDDLE SCHOOL FICTION
Bone Hollow by Kim Ventrella. 9781338042740. Scholastic. 2019. Gr 4-7.
Gabe saves his guardian's prize chicken who'd made it on the roof in the middle of a storm. After falling off the roof, he wakes to find out that he died in the storm, and that no one can hear him except for his trusty dog and a young girl named Wynne. She offers to let him stay with her, but he makes a startling discovery—that she is the personification of death and wants Gabe to replace her.
Eventown by Corey Ann Haydu. 9780062689801. Katherine Tegen Books. 2019. Gr 5-7.
To Elodee, things seem a little too perfect in Eventown when she moves there with her parents and identical twin, Naomi. Especially valued—and worrisome—is the town's insistence on forgetting the past.
Owls Have Come to Take Us Away by Ronald L. Smith. 9781328841605. Clarion. 2019. Gr 5-7.
After something strange happens during a camping trip, alien-obsessed Simon suspects he has been abducted, but was it real or just his overactive imagination?
Watch Hollow by Gregory Funaro. 9780062643452. Harpercollins. 2019. Gr 4-7.
When a mysterious stranger makes their father an offer to fix the clock at Blackford House, Lucy and Oliver Tinker join forces with the magical clock animals to defeat a vicious monster that wants to take possession of the house.
HIGH SCHOOL FICTION
An Affair of Poisons by Addie Thorley. 9781624147135. Page Street. 2019. Gr 8-12.
Mirabelle is a talented alchemist who creates potions. Unbeknownst to Mirabelle, her mother, a member of a shadowy society intent on overthrowing the crown, has used one of her potions to kill the king. Josse, one of the king's illegitimate children, resents his half-brother, the dauphin, and flees with his siblings to Versailles. As a deadly poisoner and a bastard prince, Mirabelle and Josse form a tenuous alliance to bring down her mother's society.
The Afterward by E.K. Johnston. 9780735231894. Penguin. 2019. Gr 9-12.
This tale of romance, adventure, and questing is set in a female-centric medieval-type world. Sir Erris and her band of lady knights, a mage, and a thief have returned from a quest to find the godsgem and destroy the evil Old God. Now they all struggle to integrate themselves back into regular life.
Courting Darkness ( Book 1) by Robin LaFevers. 9780544991194. HMH. 2019. Gr 8-12.
When Sybella discovers there is another trained assassin from St. Mortain's convent deep undercover in the French court, she must use every skill in her arsenal to navigate the deadly royal politics and find her sister-in-arms before her time—and that of the newly crowned queen—runs out.
Crown of Feathers (Book 1) by Nicki Pau Preto. 9781534424623. Simon & Schuster. 2019. Gr 9-12.
Hundreds of years ago Queen Nefyra became the first queen to ride one of the great phoenixes. Now, Veronyka's great dream is to become a Rider, but a feud with her sister Val has split the kingdom, and now the Riders are considered rebels. Veronyka disguises herself as Nyk to join the rebels and to hide from Val.
Dark of the West (Glass Alliance, Book 1) by Joanna Hathaway. 9780765396419. Tor Teen. 2019. Gr 9-12.
Athan, the youngest son of General Dakar of Savient, wants nothing to do with his father's military and political ambitions. When his mother is murdered, he is ordered to go undercover in the kingdom of Etania, befriend Princess Aurelia, and gather intelligence about her indomitable mother, who stands between the general and his ultimate goals of conquest.
The Dysasters (Book 1) by P.C. Cast & Kristin Cast. 9781250141040. Wednesday Books. 2019. Gr 10-12.
Teens Foster and Tate discover that Foster's adoptive father had genetically engineered them so they would be able to control the Earth's elements. The Core Four, powerful adults who also each manipulate one of the elements, are searching for the teens. As they flee, Foster and Tate must learn to control their powers and unravel the mystery behind their creation.
Early Riser by Jasper Fforde. 9780670025039. Penguin. 2019. Gr 11-Adult.
In a world with winters so brutal that humans must hibernate in order to survive, Charlie is spending his first winter as a Winter Consul. His job is to keep the sleeping humans safe. This winter some people start to have vivid and lethal dreams which seem to be contagious. When Charlie starts having these dreams, he must find out where they are coming from—in addition to his regular duties of catching Nightwalkers and avoiding Villains.
Enchantee (Book 1) by Gita Trelease. 9781250295521. Flatiron Books. 2019. Gr 8-12.
After smallpox takes their parents, Camille supports herself and her sister by magically transforming herself into a baroness in the court at Versailles, and then faces difficult choices as the French Revolution looms.
Four Dead Queens by Astrid Scholte. 9780525513926. Penguin. 2019. Gr 9-12.
Keralie is a thief and a liar. Varin is an upstanding citizen from one of Quadara's four regions. When Keralie steals a package from Varin, he goes after her. They find themselves drawn into a conspiracy that leaves all four of Quadara's queens dead. As they go on the run to clear their names and find the real killer, they grow close, but wonder if they can overcome the secrets in their pasts.
Last of Her Name by Jessica Khoury. 9781338243369. Scholastic. 2019. Gr 7-12.
This retelling of the story of Anastasia, the youngest Romanov daughter, is set in space. Stacia grows up thinking that every member of the royal family had died in the bloody Union rebellion. When she was 16, the government leaders declare that the youngest daughter, Princess Anya, is alive—and she is Stacia! Suddenly Anya's life is full of danger, and when her best friend is kidnapped by the Union, Stacia will do anything to rescue her.
The Past and Other Things That Should Stay Buried by Shaun David Hutchinson. 9781481498579. Simon & Schuster. 2019. Gr 8-12.
Dino and July, seventeen, are granted time to resolve what was left unfinished between them after July's sudden death, one year after their friendship ended over Dino's new relationship.
Spectacle by Jodi Lynn Zdrok. 9780765399687. Tor Teen. 2019. Gr 8-12.
Nathalie Baudin, the writer of a newspaper's daily morgue report, must use her supernatural visions to discover the identity of a killer targeting the young women of nineteenth-century Paris.
The Waning Age by S.E. Grove. 9780451479853. Penguin. 2019. Gr 8-12.
The adults of San Francisco have been purged of emotion and the children are losing their feelings—a process called "waning." Supposedly already waned, Natalia is confused by the profound love she feels for her little brother. When the young boy is kidnapped by an evil corporation, Natalia must use all her skills, wits, and emotions to take on the world's biggest company and rescue her brother—and learn the truth about waning.
Warrior of the Wild by Tricia Levenseller. 9781250189943. Feiwel & Friends. 2019. Gr 8-12.
Rasmira has been training all her life to become a warrior who will protect her village from the monsters in the forests. But her trial is sabotaged, and when no one believes this claim, she is banished. She won't be allowed to come back until she has killed the cruel god who demands tribute from the village every year.
We Set the Dark on Fire by Tehlor Kay Mejia. 9780062691316. Katherine Tegen Books. 2019. Gr 9-12.
An island nation is split by a wall, dividing the upper- and lower-classes. At the Medico School for Girls, young ladies are groomed to be one of two wives for prominent men; they will either run the household or bear children. Dan is at the top of her class and slated to be married—along with Carmen—to the scion of a political family. When a revolutionary force learns that Dani was born from the low-class side of the wall, they blackmail her into spying on her new family.