Check out these exciting easy and fiction titles published in March. Everything here is realistic, and includes historical fiction, mysteries, and adventure. Happy reading!
ELEMENTARY PICTURE BOOKS
All the Animals Where I Live by Philip C. Stead. 9781626726567. 2018. Gr PK-3.
The author, once a city-dweller, records his feelings about the world around him when he moves to the country. He captures the natural world around him as his dog, Wednesday, watches the animals that share their space until winter comes, turning his world to white.
Down By the River by Andrew Weiner (ill. by April Chu). 9781419722936. 2018. Gr K-2.
A young boy goes fishing with his mother and grandfather. He loves learning about fishing from his grandfather, but after hearing a story about the big fish his mother caught on her first cast as a child, Art begins to feel insecure about his own skills. Afterward, he reflects on his day and promises to continue the fishing tradition.
The Field by Baptiste Paul (ill. by Jacqueline Alcantara). 9780735843127. 2018. Gr PK-2.
Two young siblings clear a field so people in the community can play a pickup soccer game—but a thunderstorm threatens their plans by turning the whole field muddy.
Food Truck Fest! by Alexandra Penfold (ill. by Mike Dutton). 9780374303181. 2018. Gr PK-1.
As a family heads off to Food Truck Fest, the workers on the food trucks prepare for the day. The trucks offer free samples and food from cultures all over the world.
A Hippy-Hoppy Toad by Peggy Archer & Anne Wilsdorf. 9780399556760. 2018. Gr PK-2.
A tiny toad sits on a twig. As small sounds warn him, he hops away from birds and boys and other dangers in this lively read-aloud.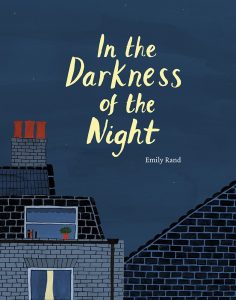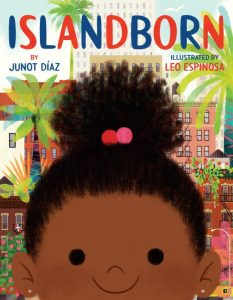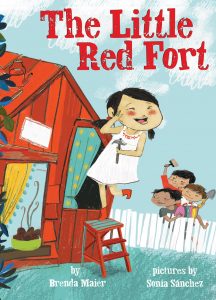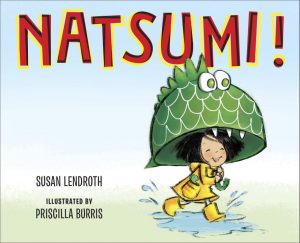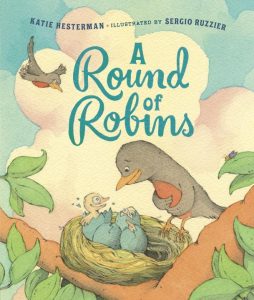 In the Darkness of the Night by Emily Rand. 9781849764810. 2018. Gr PK-1.
A child, warm in his bed under the blankets, listens to all the normal night sounds, from people and his house inside, and from animals and cars and trash cans outside.
Islandborn by Junot Diaz (ill. by Leo Espinosa). 9780735229860. 2018. Gr K-3.
Lola's teacher asks the students to draw the countries their families immigrated from, but Lola doesn't remember The Island she left when she was a baby. Her friends and family help with the memories—and her imagination takes her back to The Island where she learns about her family's story.
The Little Red Fort by Brenda Maier (ill. by Sonia Sanchez). 9780545859196. 2018. Gr K-2.
In a reimagining of The Little Red Hen, Ruby decides to build a fort with the boards she's found. When she asks her brothers for help, they refuse…until, of course, her amazing fort is done, and they all want to play in it!
Natsumi! by Susan Lendroth (ill. by Priscilla Burris). 9780399170904. 2018. Gr PK-3.
Young Natsumi is too rambunctious for her family's quiet, traditional tea ceremony, but then her grandfather introduces her to taiko drumming, giving her an outlet for her exuberance.
A Round of Robins by Katie Hesterman (ill. by Sergio Ruzzier). 9780399547782. 2018. Gr K-3.
This collection of poems and art follows a pair of robins as they build the nest, feed their hatchlings, and watching their fledglings leave.
This Is the Nest That Robin Built by Denise Fleming. 9781481430838. 2018. Gr PK-2.
A robin's animal friends help her build a nest for her eggs. A squirrel brings twigs, a dog finds string, and a horse offers straw. When the eggs hatch, the nestlings grow quickly and prepare to spread their wings. The story is told with cumulative and alliterative text.
Up in the Leaves : The True Story of the Central Park Treehouses by Shira Boss (ill. by Jamey Christoph). 9781454920717. 2018. Gr K-3.
Based on the life of Bob Redman, a boy in New York City who wanted a haven from the hustle and bustle of the city. He built a treehouse in Central Park, and when officials tore it down, he built another. And another. And another. Then park officials come up with an ingenious solution. (When Shira Boss, the author, needed help to prune one of her trees, her friends recommended Bob, who by then was an arborist. She did, and now they are married.)
ELEMENTARY CHAPTER BOOKS
Elle of the Ball (Hoops, Book 1) by Elena Delle Donne. 9781534412316. 2018. Gr 4-6.
Elle is tall—and not just for her age. Elle is a six-foot twelve-year-old girl, and her basketball team is thrilled to have her. But her coach wants her to switch positions and become the starting center, and she needs to learn a lot of new skills. Not only that, but she needs to learn how to ballroom dance in gym class, and she'll be graded on how well she can dance with a boy much shorter than she is. Elle is sure she won't be able to do either!
Hurricane Child by Kheryn Calender. 9781338129304. 2018. Gr 4-6.
On the island of St. Thomas in the Virgin Islands, Caroline is known for her bad luck because she was born during a hurricane. A new student from Barbados named Kalinda arrives and becomes Caroline's only friend—-and her first crush. Along with a spirit that stalks the island and her mother's disappearance, Caroline must then confront her new feelings for Kalinda.
Me, Frida, and the Secret of the Peacock Ring by Angela Cervantes. 9781338159318. 2018. Gr 4-6.
Paloma never had a chance to spend much time with her now-deceased father, so she is traveling to Mexico City, hoping the trip will strengthen her memories. There, she and her new friends, Lizzie and Gael, set out to find a valuable ring that once belonged to Frida Kahlo, her father's favorite artist, so that they can return it. But as she learns more about her new friends, she wonders if they can be trusted.
The Parker Inheritance by Varian Johnson. 9780545946179. 2018. Gr 4-6.
After Candice's parents get divorced, Candice and her mother are living in her deceased grandmother's house while their old house is remodeled before being sold. While there, she finds a letter addressed to her in the attic, a letter with clues to a mystery. If she and the bullied neighbor boy can figure out the clues, they will be able to set right a wrong from decades ago in the Jim Crow era. This book discusses racial issues from today as well as the past.
Sherlock Holmes and the Disappearing Diamond (Baker Street Academy, Book 1) by Sam Hearn. 9781338193152. 2018. Gr 4-6.
A teacher at the Baker Street Academy takes a young John Watson and his class to the art museum, where John discovers that the Alpine Star—the world's most famous jewel—has been stolen. But even after the police catch the thief with the jewel, Sherlock Homes and Watson feel something else is going on and continue to investigate.
The Sky at Our Feet by Nadia Hashimi. 9780062421937. 2018. Gr 4-7.
Shocked to learn his Afghan mother has been living in the U.S. illegally since his father was killed in Afghanistan, Jason is terrified his mother will be discovered and they will be separated. When he sees his mother with two police officers, he panics and boards a train to New York to find his mother's friend. An accident puts him in the hospital where he meets a girl, and the two kids sneak out of the hospital and go on the run in the city on an adventure that is by turns scary and exhilarating.
Sneak Thief by Faith Harkey. 9781524717476. 2018. Gr 4-6.
Hush is a sneak thief, which helps her to fend for herself. When she is finally caught, she is sentenced to work at a nursery and learns how to make things grow. She discovers that she can do something strange—she can actually see people's pain. With her new friend Desiree, Hush sets out to get rid of all the pain in their town.
The Un-Friendship Bracelet (Craftily Ever After, Book 1) by Martha Maker (ill. by Xindi Yan). 9781534409088. 2018. Gr 1-3.
Emily and Maddie are BFFS and wear matching friendship bracelets. But then new student Bella arrives at school. Maddie finds out that Bella also likes crafts; they start to spend more time together, and Emily finds herself alone. When Emily notices that Maddie isn't wearing her friendship bracelet, she wonders if maybe it was an "un-friendship" bracelet. This series follows four friends who share the love of crafting.
MIDDLE SCHOOL FICTION
Dear Isaac Newton, You're Ruining My Life by Rachel Hruza. 9781510725263. 2018. Gr 5-7.
When Truth's scoliosis worsens, she finds out she has to wear a back brace—an uncomfortable, unfashionable, embarrassing back brace. Since she is convinced that gravity is to blame, she decides to blame Isaac Newton for all her middle-school problems. Problems that include secrets, lies, rumors, and a fight with her best friend.
The Elephant Thief by Jane Kerr. 9781338188431. 2018. Gr 5-7.
At an auction for a famous elephant, a menagerie owner sets Boy, a young pickpocket, up on a pillar so he can be seen above the huge crowd. When his bid wins, the owner offers Boy a job:  to ride the elephant 200 miles in seven days. Now named Prince Dandip (Danny), the boy finds this difficult task made even harder by thieves, broken bridges, and more, and as they negotiate these obstacles, Danny finds himself growing attached to the elephant. (Based on the true tale of the elephant Maharajah.)
The Falling Between Us by Ash Parsons. 9780399168482. 2018. Gr 7-10.
Roxanne and her boyfriend Joshua have no intention of leaving their small town. After Joshua posts their performance of an original song on YouTube, he becomes a sensation, and he and Roxanne are off on a national tour. But it's not the party they thought it would be. One day Joshua disappears, and Roxanne will do everything in her power to find him.
Good Dog by Dan Gemeinhart. 9781338053883. 2018. Gr 5-8.
When Brodie the dog dies, he just can't bring himself to let go of the boy he is leaving behind. Learning the boy is in danger, Brodie risks his place in heaven by recruiting a lovable pit bull and surly housecat to help protect his boy, which he will do even if it means not getting into heaven.
Ivy Aberdeen's Letter to the World by Ashley Herring Blake. 9780316515467. 2018. Gr 4-7.
When Ivy's Georgia home is destroyed by a tornado, she is displaced to a shelter where she befriends a girl named June who admires Ivy's drawings. Later than night, Ivy's beloved notebook goes missing, the one where she kept all her secrets—including the secret that she likes girls. To make it worse, someone starts leaving notes in Ivy's locker telling her to share her secret.
Knockout by K.A. Holt. 9781452163581. 2018. Gr 5-8.
Ever since Levi was a baby, a very sick baby with respiratory problems, his mother and brother have been treating him like he might break any time. He is not allowed to do anything fun. When his father (his parents are divorced) encourages him to take a few boxing lessons, Levi finds that he loves being in the ring—and he's good at it! He finds out about a boarding school with a great boxing team, but how can he ask his mom if he can go—when he hasn't even told her about the lessons?
Lights, Camera, Disaster by Erin M. Dionne. 9781338134087. 2018. Gr 5-8.
Hester struggles with her executive function disorder, which makes it difficult to keep her life in order, as well as causing anxiety attacks. She functions well only behind the lens of her video camera. When her failing language arts grade might hold her back in eighth grade, her parents threaten to take her video camera away. Knowing she can't cope without it, Hess is miserable—until she meets two people who show her a way out of her box.
Like Vanessa by Tami Charles. 9781580897778. 2018. Gr 5-8.
To stop the wind from blowing everything upside down, Kate uses her old wheelbarrow to drag some young trees up a steep hill where she plants them, providing a little green along with the wind protection to the man who lives on the hill.
The Night Diary by Veera Hiranandani. 9780735228511. 2018. Gr 5-8.
In 1947, India broke apart into India and Pakistan, leaving millions of people unsure where they belong. Hundreds of thousands are killed crossing the border. Nisha—half-Muslim, half-Hindu—doesn't know where she belongs; and when her father decides it's too dangerous to stay in Pakistan, they begin a long, dangerous journey to safety.
The Science of Breakable Things by Tae Keller. 9781524715663. 2018. Gr 5-8.
Natalie decides to win an egg drop competition with her best friend Twig and use the money to help her botanist mother who is suffering from depression. She wants to use the money to fly her mother to see the Cobalt Blue Orchids—flowers that survive against impossible odds—s o her mother will be inspired to begin living again.
The Sound of Freedom by Kathy Kacer. 9781554519699. 2018. Gr 4-7.
In 1936 Poland, early rumblings of Nazi rule leave young Anna and her family unsure of their future. Her father, a clarinetist in the Krakow Philharmonic Orchestra, refuses to leave until he witnesses a violent assault and narrowly avoids a beating himself. To leave the country, they must rely on violinist Bronislaw Huberman, who started what later became the Israel Philharmonic Orchestra. A successful audition could mean freedom for the family. All told, over 700 Jews were saved by Huberman and his symphony.
HIGH SCHOOL FICTION
After the Shot Drops by Randy Ribay. 9781328702272. 2018. Gr 9-12.
Nasir feels betrayed when his best friend Bunny accepts an athletic scholarship to play basketball at a school across town. As Bunny struggles to fit in amongst his new privileged peers, Nasir grows even more bitter as the community rallies around Bunny instead of taking care of the people in their own neighborhood.
And She Was by Jessica Verdi. 9781338150537. 2018. Gr 9-12.
Raised in a single-parent house, Dara uncovers her birth certificate and finds the names of two strangers listed as her parents. When she asks her mother, Mellie, about it, Mellie reveals that she is actually Dara's biological father, but transitioned to female after Dara's mother died shortly after Dara's birth. Stunned, Dara leaves with her friend Sam to look for the grandparents she never knew she had.
The Astonishing Color of After by Emily X.R. Pan. 9780316463997. 2018. Gr 9-12.
After her mother's suicide, Leigh travels to Taiwan where she will finally meet the grandparents she never knew and come to terms with her mother's death. As she immerses herself the culture, she finds signs and meanings all around her, and begins to believe that her mother has been reincarnated as a giant red bird.
The Beauty That Remains by Ashley Woodfolk. 9781524715878. 2018. Gr 9-12.
Music brings the lives of Autumn, Shay, and Logan together in tragic ways. In this story told through three diverse points of view, each loses someone close to them and must work through their grief.
Chaotic Good by Whitney Gardner. 9781524720803. 2018. Gr 9-12.
After winning a major cosplay competition, Cameron has to deal with online harassment from angry male fans and with the owner of the town's only comic shop, who challenges every woman who enters the shop. Wearing her twin brother's clothes, she becomes Boy Cameron. Now involved in a gaming group, she grows closer to the group members, finding it more and more difficult to reveal who she really is.
Finding Felicity by Stacey Kade. 9781481464253. 2018. Gr 10-12.
Socially awkward Caroline found it hard to make friends after moving to Arizona three years ago, so she made up a new life for herself based on an old TV show called "Felicity." She can't wait to leave her old life and go to college. When her mother finds out the truth, she gives Caroline one semester to make friends the traditional way, or Caroline will have to move back home and see a therapist. Caroline agrees, but real life is not as easy as the TV show made it out to be.
Fire Song by Adam Garnet Jones. 9781554519781. 2018. Gr 9-12.
After the suicide of his sister, Shane, an Indigenous Canadian, struggles to keep his family and life together. His girlfriend is too self-centered to help, and his best friend—and secret boyfriend—David, is keeping his distance. When he learns that his band did not approve his college funding, he asks David to move to Toronto with him, but he refuses. There are no openly gay couples in their community and even leaving to go to college is considered a betrayal, leaving Shane in turmoil about his identity.
Here So Far Away by Hadley Dyer. 9780062473172. 2018. Gr 9-12.
George's only plans for her senior year of high school are to party and then leave town for college. But her plans go awry when she has a fight with her BFF (bye-bye, social circle), and her police officer father is injured and might not be able to go back to work (bye-bye, college plans). She meets an older man and falls in love, but decides to keep their relationship secret, until tragedy strikes, and George might lose everything.
I Have Lost My Way by Gayle Forman. 9780425290774. 2018. Gr 9-12.
Three strangers are struggling with their own secrets when an accident draws them together in New York City. During the course of one day (with flashbacks), the three become fast friends, with each struggling to find the strength to confront the problems with their families.
In Search of Us by Ava Dellaria. 9780374305314. 2018. Gr 9-12.
Angie, who is mixed-race, discovers from her white, single-parent mother that she has an uncle on her dad's side she never knew about—and that her African American father may still be alive. She travels from New Mexico to LA with her ex-boyfriend to discover the truth about herself and her parents.
Mapping the Bones by Jane Yolen. 9780399257780. 2018. Gr 9-12.
In 1942, fourteen-year-old twins Chaim and Gittel escape from a Jewish ghetto in Poland. Separated from their family, they become involved with Nazi resisters who help them cross into Russia. This story includes elements of Sleeping Beauty and Hansel and Gretel in both plot and in Chaim's poetry.
More Than We Can Tell by Brigid Kemmerer. 9781681190143. 2018. Gr 8-12.
Rev and Emma are battling their own inner-demons. Emma struggles to cope with her parents' constant fighting and her mother's overt disapproval. Rev battles with the emotional scars left by his abusive biological father. When they meet, their connection is instant, and the friendship they share could lead them to overcoming their darkest secrets.
No Filter by Orlagh Collins. 9781681197241. 2018. Gr 9-12.
When Emerald's seemingly perfect life is shattered, she is sent to spend a summer with her grandmother in an isolated beach town, where she connects with Liam, who has secrets of his own.
Not I If Save You First by Ally Carter. 9781338134148. 2018. Gr 7-12.
Logan (president's son) and Maddie (Secret Service agent's daughter) are best friends until Maddie's dad packs her up and moves her into the middle of the nowhere in Alaska. With no outside contact—and no word even from Logan—Maddie learns to survive in the wilderness. Six years later, Logan suddenly shows up. Maddie is furious with him. But when he is kidnapped by enemy assailants, Maddie decides she'll first have to rescue him.
Olivia Twist by Lorie Langdon. 9780310763413. 2018. Gr 9-12.
In mid-19th century London, Olivia was forced to live as a boy among thieving street children in a gang run by Jack the Artful Dodger. After getting caught, she is taken in by her uncle, who enters her into high society as a highly eligible debutante. Years later, after a lifetime of crime in London's East End, Jack MacCarron enters society as an adopted nephew of a rich matron. Olivia recognizes the Artful Dodger from the old days, but Jack only knew her as a boy. As they fall in love, Olivia must reconcile her past with her present.
Orphan, Monster, Spy by Matt Killeen. 9780451478733. 2018. Gr 8-12.
In 1939 Germany, fifteen-year-old Sarah is blonde, blue-eyed, and Jewish. When her mother is killed, Sarah is drawn into the Nazi resistance. She is asked to enroll in a school for the daughters of top Nazis and become friends with the daughter of a key scientist in order to steal the blueprints to a powerful bomb. Sarah soon finds herself in a battle for her country, her people, and her very life.
The Place Between Breaths by An Na. 9781481422253. 2018. Gr 7-12.
Grace's mother, battling schizophrenia, left her family, fearing that she would hurt them. Ten years later, Grace's father has been distant, researching the disease for a cure. And Grace herself is an intern at his lab, working on gene sequencing. Though she has given up hope for a miracle cure, she notices some test results that seem to promise a major breakthrough. But when she realizes she has been exhibiting the same symptoms that her mother had, she begins to question her discovery, her life, and her future.
The Poet X by Elizabeth Acevedo. 9780062662804. 2018. Gr 8-12.
Fierce teen Xiomara Batista lives with her twin brother and conservative parents in a Harlem neighborhood. She pours all of her emotions into poems that she writes down in a leather notebook, such as her feelings for a boy at school named Aman. When Xiomara is invited to join her school's slam poetry club, she decides she must perform her poems but must also keep the secret from her disapproving family.
The Radical Element : 12 Stories of Daredevils, Debutantes & Other Dauntless Girls by Jessica Spotswood. 9780763694258. 2018. Gr 8-12.
This collection of twelve original stories by contemporary young adult writers is about diverse girls from different historical times and cultures standing up for themselves and their beliefs.
Tyler Johnson Was Here by Jay Coles. 9780316440776. 2018. Gr 9-12.
African American twins Marvin and Tyler live with their mother while their father is incarcerated. They witness police brutality, gangs, and drug activity in their poor neighborhood on a daily basis. When Marvin follows Tyler to a party to keep an eye on him, a shooting happens and the police arrive. In the chaos, Tyler goes missing and is later found dead. When a video surfaces online that shows he was shot by a police officer, Marvin and his family vow to get justice for Tyler.
The Way the Light Bends by Cordelia Jensen. 9780399547447. 2018. Gr 9-12.
This novel, written in verse, follows near-twins Linc and Holly as they search for meaning and acceptance. Linc is the artistic, biological daughter, who just wants her family to accept her; and Holly, adopted from Ghana, exemplifies the family's idea of success in academic achievement. As family secrets come to light, Linc must decide if her family's acceptance is worth obtaining.
ADULT CROSSOVER FICTION
The Escape Artist by Brad Meltzer. 9781455559527. 2018. Gr 11-Adult.
Nola, a soldier and a US Army Artist-in-Residence is supposed to be dead after a plane crash. But Jim "Zig" Zigarowski has just found out the truth: Nola is still alive, and on the run from those hunting her for something she saw on her last mission, something the government wants to hide.
Girls Burn Brighter by Shobha Rao. 9781250074256. 2018. Gr 11-Adult.
When Poornima's mother passes away, she is left with little affection until a girl named Savitha comes to her family's home in a small village in India. When a sexual assault leaves Savitha tainted in the eyes of her village, the elders determine she will marry the man who assaulted her—Poornima's father. When Savitha runs away, Poornima follows, determined to find her friend.