Recently I found myself in the middle of a heated "discussion" around leveling of books for students. It all started when the below tweet showed up in my Twitter feed. Kiarra Parrot got us talking again when she wrote her SLJ article, Thinking Outside the Bin: Why labeling books by reading level disempowers young readers. In my role as part of the Classroom Solutions team of educators here at Mackin, we are often asked by customers to create custom classroom library lists by "level." We build book rooms filled with 6 packs of fiction and nonfiction texts organized by "level." We are asked to put together sets of texts at a variety of reading "levels" aligned to content standards so educators can move away from teaching from a sole textbook and instead immerse students in rich literacy experiences where they can discover content from multiple perspectives.

Our company also provides library books to K-12 schools all over the world. Leveling books in a library is not a practice most in media science believe to be appropriate. Why? Because we want our students choosing books at the school library in the same way they would choose books in their public library or at their local bookstore. Our public libraries and local Barnes and Noble do not put lexile levels, F&P letters, or AR numbers on their books. So why are so many classroom teachers asking for levels on their books?
I also am an adjunct instructor in the K-12 reading licensure program at a Twin Cities college. One day after class, I had a middle school reading teacher come to me with a story about one of her students. She shared with me that her district required her to use a reading curriculum based on placing students into groups by the reading level the assessment determined. One of her 7th graders was currently in the "black" group. He went to the public library over the weekend to find a new book because he had finished the one he was reading the week prior in class. Yay! He asked for help and the public librarian took him all throughout the library to show him many books with African American characters and books about Black leaders from history. This young man kept asking her if they were "black" books, though? You can imagine the confusion on both sides.
So why all the effort in leveling texts? Should we be emphasizing levels as much as we are? Should we be limiting what students choose based on the level an assessment suggests the students should read? Jill Blackman addresses this in her November, 2016 blog post, A Level is a Teacher's Tool, NOT a Child's Label, appearing on the Fountas and Pinnell Community webpage–the very organization who provides some of the most comprehensive and research-based leveling for texts. Books are leveled to indicate the complexity of the text. A level "B" book will have features intentionally designed to support emergent readers. Repetitive text, large spaces between words, plenty of white space, picture support, and familiar topics. Contrast that with a level "J" text where the text font size will be much smaller, more words on the page, often topics unfamiliar to the reader, complex spelling patterns, and dialogue with speaker tags that include pronouns. Teachers understanding the development of readers and how appropriate text can help students move from where they are to where they can go is incredibly helpful in our supporting readers. Backman cautions us though saying, "Leveled books are instructional tools for teachers who understand them—nothing more."
Unfortunately, levels have been misused in so many ways. We misuse levels when we tell students they can only read books "at their level." We can't forget that we sometimes read easy books, we sometimes read really hard books, we sometimes read books we would never choose. It depends on our purpose and our interests. I am reading Harry Potter (finally, yes) not because I was intrinsically motivated to do so. I had gone this long without being a Potterhead, why start now? But I chose to start reading because my 13-year-old daughter discovered J.K. Rowling and is obsessed. I want to be able to share in her excitement. We need to encourage students to pick up any book they want and discover if they want to continue and why or if they want to abandon and why.
We misuse levels when we ask students to set goals related to their reading level. We need authentic goals. How many genres do they want to try? Is there a book they are intimidated by but want to tackle? Is there any author they want to study? Do they want to build their stamina for focused independent reading so they can discover the joy that comes from engaging in print/digital books?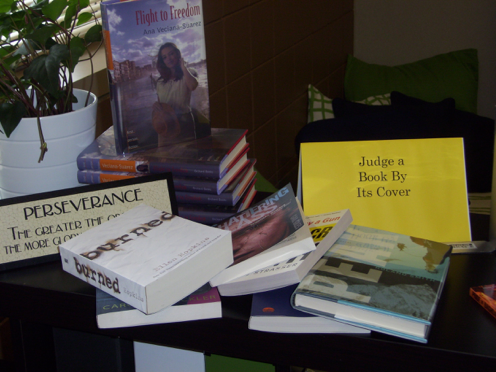 And we misuse levels when we level a child. Let's not ever say, "I worked with my level B readers today." Levels are for books and for teachers to use as their tool only!
And if we choose to put levels on our classroom library books or in our curriculum text sets, let's do so just to ensure we have a wide variety of levels so ALL students can find text they can access. But let's teach students how to choose books based on whether or not they can read it with some ease, if it is a topic they either know something about or have a thirst to learn more, and if they simply have a desire to give it a go. Let's NOT organize our classroom libraries by levels. It is way more fun to choose a book when grouped by genre or theme.
My 9th graders once unpacked a bunch of books we had received from Mackin (they thought it was their birthday) and I asked them to go ahead and put them on the bookshelves and in baskets however they wanted. It resulted in some fun groupings including: "Go ahead, judge a book by its cover," "Love and War," and "We recommend." Side note: I didn't have Mackin put the levels on my books. I trusted the team at Mackin to build a rich library customized for my students where they would have plenty of texts they could read with ease and would have an opportunity to see themselves in some way in the books they picked up. My students were never let down.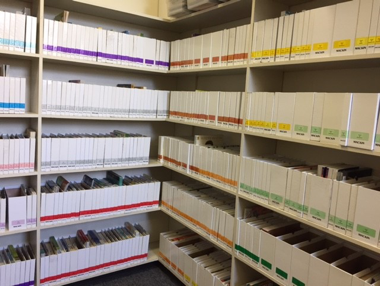 Levels on texts in a school's Book Room/Resource Room, also often referred to as a Leveled Literacy Library is completely appropriate. This room is not for students. This is a room where teachers can pull six packs of books for small group instruction. Teachers can use the assessment results to know where students are at with their understanding of text (the level they can read with support) and group students for instruction to move them through the continuum of literacy learning. These groups are fluid. They change as students progress. Having an organized place where teachers can pull leveled texts is a gift to busy teachers.
So the question perhaps shouldn't be "to level or not to level," but instead be "how will I use this level as an effective teaching and learning tool?"