Like most readers, we at Mackin love to meet authors. We go to conventions where they are speaking; drop by bookstores when they are on tour; and if we're really lucky, we get to go out to dinner with them.
The question "Where do you get your ideas?" is often asked by curious readers, and the answers are as varying as the authors—and the books—themselves. Today Chris Barton answers that question for two of his books, the funny and acclaimed Shark vs. Train and his latest Book or Bell?
______________________________________________________________________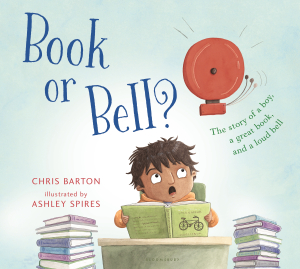 Book or Bell? by Chris Barton. 9781681197296. Gr PK-2. 2017.
The main character in my newest title, Book or Bell? (Bloomsbury Children's Books), is a boy named Henry who has had it with his enjoyment of his new library book getting interrupted by the school bell. He resolves to just stay put and keep turning those pages.
Amid the chaos unleashed by Henry's refusal to quit reading — and the even greater chaos caused by elected officials' efforts to resolve the situation through larger and louder bells — most of the characters in Book or Bell? overlook just what it is about Henry's book that has captivated him so.
But his teacher, Ms. Sabio, notices. We do, too. It's right there on the cover of his book: a bicycle. And between Henry's bicycle obsession and Ms. Sabio's recognition of that obsession, a solution to the impasse is found. It's a solution that allows all the characters (even those elected officials) an opportunity to be at their best by spending time immersed in something they love.
The ending of Book or Bell? is a bit of a nod to one of my favorite pieces of writing advice: get outside and get active. Many story ideas have come to me while I'm walking or jogging through my neighborhood. They come from things I observe with my eyes, things I overhear (a good argument for leaving the earbuds at home), interactions with people I encounter, and random thoughts that occur to me while I'm on the move. Educators, if you ever need to point to someone to illustrate the benefits of recess, I'm your guy.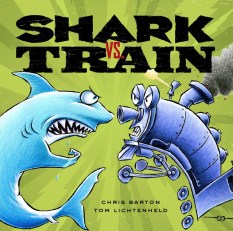 My bestselling book, Shark Vs. Train, is the most notable example of how physical activity helps me write. I had no intention when I set out on a jog one October day to come up with an idea for a picture book about a shark and train battling it out in various goofy competitions. But among the things rattling around in my head that afternoon was my then-seven-year-old's passions for wooden trains and for nonfiction books about sharks.
That jog provided the opportunity, as my mind wandered, for those two elements to come together. Once they did, the thoughts wouldn't stop. By the time I made it home from my three-mile run, I had come up with what would become the first four contests in Shark Vs. Train. I was a sweaty mess, but I had the beginnings of a book, and as quickly as I could, I wrote down everything I could remember. If I hadn't gone out for a little exercise that day, my life and career would have been a lot different.
Those long sojourns — often with my dog, Ernie, leading the way — also provide opportunities for my brain to solve storytelling problems that I've been grappling with at my writing desk. (For that matter, they also allow me to figure out solutions to problems that have nothing to do with storytelling, and often they help me figure out what's bugging me in the first place.) Many times, if I will just tell myself while I'm setting out what it is that needs my attention — this character's emotional arc, that character's motivation, etc. — my brain will deliver the goods before the hour is up.
And, in fact, the ending to Book or Bell? came about in just such a way. My previous conclusion for the story — with Henry happily reading alone in a classroom after everyone else had moved into a new building next door — no longer felt right to me. But I didn't know what to replace it with.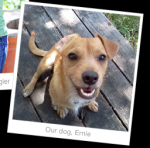 So what did I do? I went for a walk with Ernie, and I came home with a new ending for Henry. Like the characters in Book or Bell?, I went outside and got a chance to be at my best.
Of course, as with those initial ideas for competitions in Shark Vs. Train, I had lots more work to do on Book or Bell? after I got home. That half-hour or hour or however long it was that I was walking (my mind was elsewhere and did not keep track) did not neatly wrap up my work on that book. Time spent away from my writing desk is the exception, not the rule, and I count at least 13 more drafts of Book or Bell? after that breakthrough. But if I hadn't gotten up and gone out and about, I might still be waiting for the inspiration I needed.
When students ask me where my story ideas come from, I mention lots of things — articles I've read, podcasts I've heard, interactions with my family. But I always make a point of letting kids know that many of those ideas arrive when I leave my phone in my pocket (or back at home entirely) and simply let my mind wander along with my feet.
Along with Ernie, too, though so far he's been too humble to take credit for any ideas that result. But if that ever changes, well, that's another story. And one that I'd do well to think about on my next walk — or maybe on a bike ride.
–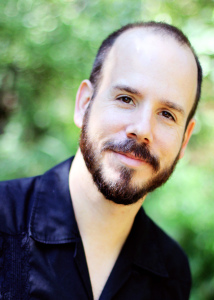 Chris Barton is the author of picture books including bestseller Shark Vs. Train, Sibert Honor-winning The Day-Glo Brothers, and Texas Bluebonnet Award Master List books The Amazing Age of John Roy Lynch (2016-17) and Whoosh!: Lonnie Johnson's Super-Soaking Stream of Inventions (2017-18). His new books in 2017 include Book or Bell? and Dazzle Ships: World War I and the Art of Confusion. He visits schools by the score and also loves speaking to professional gatherings of librarians, educators, and his fellow writers. Chris and his wife, novelist Jennifer Ziegler (Revenge of the Flower Girls, How Not to Be Popular), live in Austin, Texas, with their family. For more information about Chris, please visit www.chrisbarton.info.