The latest in our series of author/illustrator guest posts features George Ancona sharing how he came to write for children. His curious nature and interest in exploring has led to an interesting life, and his books are an opportunity for young readers to discover a bit about the world themselves. His two newest books, It's Our Garden and Can We Help?, offer a documentary-style look at kids making a difference. Both books are inspiring and eye-opening!
—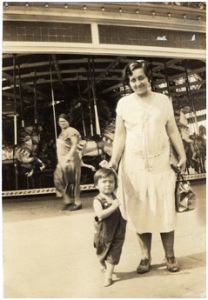 Because my name is George and I am curious. I never thought I'd be an author. My father's hobby was photography. He would turn the bathroom into a darkroom where he developed film and made prints. He would take me in with him. My job was to agitate the prints in the developing trays, up and down, up and down.
It was boring, and I vowed never to be a photographer.
I grew up in Coney Island, an island off the coast of Brooklyn, New York. Some of my neighbors worked on the amusement rides. I got to ride the merry go round for free. When other kids saw me on the horses they would ask their parents for a ticket to ride.
The Dutch were the first settlers of Coney Island. Coney means rabbit in the Dutch language. The island was separated from Brooklyn the mainland by a creek. We kids would play along the polluted filthy water. One day I saw a platform floating on the water by the shore. I stepped onto it and pushed off with a pole. It was great. I could sail around the world on it. But I shifted my foot, the platform tipped and I fell into the stinking water.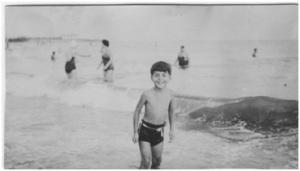 I ran home. When my mother saw me running down the alley to our apartment she stood in front of the door. "Apestas!"
"You stink!" She wouldn't let me in until I took off all my clothes. I was scared stiff because our upstairs neighbor had two daughters. What would they say if they saw me naked in the hallway? Once my clothes were a wet pile on the floor my mother let me get into the bathroom tub. I never went back to the creek.
When I grew up I became a graphic designer and worked together with some great photographers. I discovered that they were having more fun than I. They traveled all over the world, took pictures, and got paid for it. One day I quit my job and started to take pictures and began to travel. I did picture stories and documentary films for television. I went to countries in Europe, Asia, North Africa, Mexico, Peru, Brazil, Iceland, Spain, Italy, Morocco, Pakistan, Japan, and all over the United States
One day my wife and I were having lunch with an artist friend whose wife wrote children's books. She asked if I would like to take pictures for a book she was writing. Never having done this I said yes. We did a book called Faces. It was fun. The book was published in 1970.
So I began to collaborate with other authors. One day my editor, Ann Troy, suggested I write a book. "Who me? I don't know how to write." "But George", said Ann, "If you write the text you will get the other fifty percent of the royalties." By then I was married, had three kids and a mortgage, so I wrote my first book, took the pictures, designed it, and it was published in 1974. It was called Monsters on Wheels. I had become an author. Of the 115 books I've done, about half are collaborations with other authors and the rest I've written, photographed, and designed.
When I finish a book I always feel that the cover is a door to the world and the people in it. I like people and enjoy meeting people to photograph in their world. I may not speak their language but after explaining that I'm making a children's book they ask me into their homes, workplaces, and introduce me to their families. Sometimes I can return to visit them and give them a copy of their story.
Spanish was my first language and in my travels I've been able to make my way in French, Italian and Portuguese.  If I can't speak the language I can always dance to their music.  Perhaps not their way but my way. It's always good for a laugh.
Children are in my mind when I photograph and write my books. All my books are non-fiction. I try to show reality. My father would take me with him when went out to photograph. It gave me the opportunity to discover things I didn't know existed. I do the same thing with my books.
—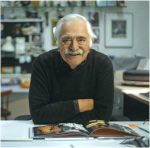 About the Author: George Ancona is an author and photographer who has published more that one hundred books, some of them bilingual. He is known for his exquisite photography and close-up looks at a variety of cultural subjects. He lives in Santa Fe, New Mexico.
Recent Books:
Can We Help?: Kids Volunteering to Help Their Communities. 9780763673673. 2015. Gr. 1-4
It's Our Garden: From Seeds to Harvest in a School Garden. 9780763653927. 2013. Gr. K-3