"There were three of them, three girls. They were standing side by side. They were standing at attention." And so begins the newest novel by renowned author Kate DiCamillo.
Raymie Nightingale (Candlewick Press, April 2016) is set in Florida and focuses on a little girl who is trying to get her dad—who ran away with a dental hygienist—to return home by winning the Little Miss Central Florida Tire pageant. At least that is what the book seems to focus on. But like all of DiCamillo's books, there are the familiar underlying themes of friendship, love, loss, and grief all wrapped up and presented to the reader in an engaging and endearing story.
"Are good deeds important? Yes. The smallest gesture, the smallest kindness can have the hugest impact."
"When I started Raymie, I intended to tell a funny story about a kid entering a beauty pageant," states DiCamillo, whose own father left when she was a child. "I did not think that I was going to wrestle with all of the things that Raymie wrestles with. But every story I've told deals with the pain and confusion of loss, so I guess it is always therapeutic to some degree."
In Raymie Nightingale, readers follow the antics and adventures of Raymie Clarke, Beverly Tapenski, and Louisiana Elefante. The girls meet while attempting to take baton twirling lessons, and all three are trying to win the pageant but for very different reasons.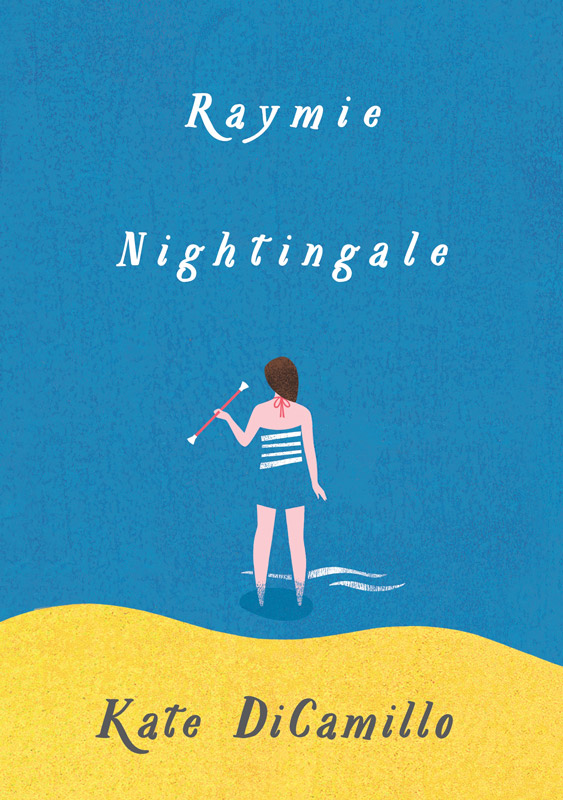 "If I have a talent for twirling a baton, it is very, very, very well hidden indeed. I took baton twirling lessons, but they didn't stick."
"Raymie has a lot of me in her," admits DiCamillo. "And the story started with her, and her loss. But then—wham—here came these other characters. I didn't anticipate them. I didn't base them on anybody. They just showed up and started talking. And they were so real. And they were so exactly who Raymie needed. It is one of the great delights of writing, how characters find me, how characters find each other."
Of course, winning the pageant is very important to each of the girls, and as readers turn the pages, they will discover why each girl thinks she must win and what each girl does to meet the pageant requirements, including doing good deeds.
"Raymie has this feeling that if she were good then her father would return, and that is why good deeds are in the contest, because that hope (of being good) is tied up with the hope of her father returning."
"It will be okay. You will be okay. You are stronger than you know."
And why does Raymie Clarke become Raymie Nightingale? "When I was growing up, there was this series of books about famous people that was in the elementary school library. I can't remember what the series was called. I just remember reading those books and thinking that—what? I don't know—that I wasn't ever going to measure up, that I wasn't ever going to do anything that mattered. That Florence Nightingale book of Raymie's comes from those books, that feeling."
When the story concludes, the winner of the pageant is crowned and the girls find themselves standing together once again—just like at the beginning of the book. So what is next for DiCamillo and the three girls?
"Raymie and Louisiana and Beverly and I are taking our batons and heading out into the world this spring!"