It is a fact: Minnesota is a great place for children's literature. Award-winning Author Kate DiCamillo is here. The Collaborative Summer Library Program was founded here. And Mackin Educational Resources, a leading book and media distribution company, is here. What makes Minnesota's children's lit environment even better? When all these superpowers come together.

Kate DiCamillo, a multiple Newbery Award winner and current Library of Congress's National Ambassador for Young People's Literature, was just named as the Collaborative Summer Library Program's National Summer Reading Champion. In her newest role, DiCamillo will emphasize the importance of summer reading and encourage families to sign up for and to participate in summer reading programs at their local libraries.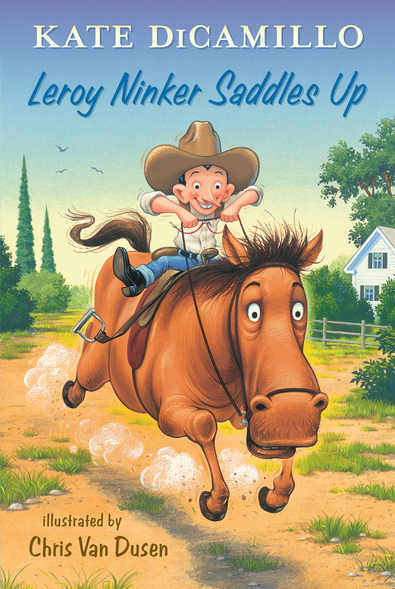 DiCamillo's love of reading started early and was fostered by her experiences with the local public library. "Libraries changed my life," DiCamillo says. "First, I had a mother who took me there. That was really important. But the thing that impacted me most was the librarian who waived the rules for me. The public library had a four-book rule, so you could only check out four books at a time. But the public librarian told the people behind the desk, 'Kate can check out more because she is a true reader.' It was at that point I knew who I was. It was like being seen, and it made me feel like I understood who I was—I was the person who read and I was given access to the whole library."
Though in the middle of her two-year term as the National Ambassador for Young People's Literature, in the middle of writing her newest series Tales from Deckawoo Drive, and in the middle of finalizing her newest novel due out in 2016, DiCamillo did not hesitate when conversations started about being the National Summer Reading Champion.
"Absolutely I wanted to do that," DiCamillo states. "I was the kid who signed up at my public library for the summer reading program every year. I lived for it! I was like, 'Are you kidding me? You are going to give me prizes for doing what I already do?' That reading program was like Christmas in summertime. So when they asked me I said, 'Yeah, I'd love to do that!' It made total sense."
DiCamillo plans to include the summer reading theme for 2015 Every Hero Has a Story in an extension of her ambassadorship platform, Stories Connect Us, which aims to promote community reading initiatives. In fact, this year she will be promoting these messages in 20 cities, including Providence, Rhode Island; Anchorage, Alaska; Bowling Green, Ohio; and Parma, Ohio.
"Go to your library and sign up for summer reading. There is stuff going on all summer long. It is free and it is fabulous!" – Kate DiCamillo
"This year is going to be really busy," admits DiCamillo. "But I'm going out there to do something that I believe in with my whole heart and soul. When people read together, they understand each other in deeper ways than they did before. And when they read the same book, it gives them a common language to speak."
"We are so proud to see Kate honored by the Collaborative Summer Library Program as its first National Summer Reading Champion," says Kitty Heise, Mackin's Cofounder and President. "For several years, Mackin has partnered with her and Candlewick Press to provide quality reading materials to prevent summer slide through our summer reading programs, and we are committed to continue our efforts to keep kids reading all year long."