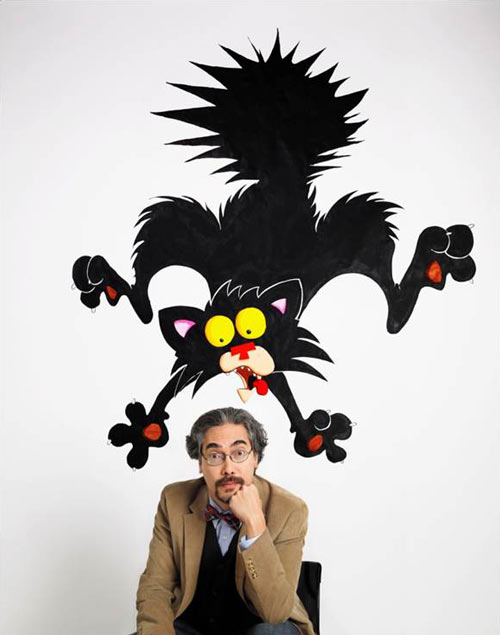 Ten years ago readers were introduced to a persnickety, cunning, mischievous housecat known simply as Bad Kitty. It all started with Bad Kitty (Roaring Brook Press, 2005), an alphabet picture book revealing all the things Bad Kitty would like to do—including eat Uncle Murray. Yes, Uncle Murray. That is one bad cat.
"As with almost all of my books, the title actually came first," says acclaimed Bad Kitty author Nick Bruel. "I occasionally like to give myself simple creative exercises in which I'm not challenging myself to think of an entire story. Instead, I think of just a title and then contemplate what I could do with it. So about a dozen years ago, I was sitting at home jotting down titles onto a piece of paper when the words 'Bad Kitty' stood out to me. I started wondering about what terrible things a cat could do. Pretty soon I came up with a long list of mayhem. But it wasn't until I realized that I could put this list into alphabetical order that the book started to take shape.
"When I completed the first Bad Kitty book, I didn't intend for there to be a series at all. And I don't think I even wanted to make a series. Those alphabets are hard! It wasn't until a few years later, when I first came up with the idea to make chapter books about the character, that the notion that I could sustain a series came into play."
"I was always a pretty good reader, but I can't say that I was ever a voracious reader. And even though I had wonderful teachers and librarians as a child, it wasn't until I discovered comic books that I really became obsessed with books. It's almost certainly the reason I chose to make books that are also 'graphic novels' in the most literal sense of both those words."
A decade after the Bad Kitty empire was created, it is still going and growing strong. In fact, 2015 will be a banner year for Bad Kitty. There will be a Bad Kitty birthday party in May during Children's Book Week and new books will be introduced during the year. "2015 will see three new Bad Kitty books in addition to Bad Kitty: Puppy's Big Day (Neal Porter Books/Roaring Brook Press). In May, there will be Bad Kitty Makes Comics…and You Can Too (Neal Porter Books/Square Fish), a fun instructional guide that shows kids how to make their own comic books. Also in May, the first two early readers featuring Kitty—Bad Kitty Does Not Like Dogs (Neal Porter Books/Square Fish) and Bad Kitty Does Not Like Candy (Neal Porter Books/Square Fish). And the first book Bad Kitty will have a special 10th anniversary edition. The cover will be a little different, but more importantly, it will include a special free poster of Kitty and Puppy and a birthday cake."
In addition to participating in anniversary celebrations for Bad Kitty, school visits, and book events, Bruel continues to create new adventures for the feisty feline. "I'll keep writing these books for as long as I'm able. I have no idea when I'll stop. But if I ever do stop, I'll tell you why. It will be because writing these books stopped being fun. If I'm not enjoying myself while writing these books, then that lethargy will come out in the work itself, and the last thing I want to do is compromise the integrity of the series as a whole with even a single book I didn't have fun writing.
"If you want kids to read, then you have to set the example. I honestly think that kids need to see the adults in their lives reading. And I think it also really helps if the adults are reading the same thing as the kids. Most people don't think of books this way, but books really are the most interactive of media. Two different people who live thousands of miles apart can read the same book and talk about it together while holding it in their hands. What a marvelous notion!"
"Right now I've just finished the Bad Kitty chapter book that will come out in 2016—Bad Kitty Goes to the Vet, a topic that's already been suggested to me by hundreds of kids over the years. This one goes in some pretty wild directions that I don't think anyone will predict. At some point, I'll be making another Bad Kitty picture book, but I don't have a story for that one yet. And A Wonderful Year (Neal Porter Books/Roaring Brook Press, 2015) has just been published. I truly hope this one is embraced by my readers even though it's not a Bad Kitty book. I often tell people that I do not have a favorite book of mine, and it's true. But having said that, A Wonderful Year may be the best book I've ever made."  Reviewers seem to agree. The book has received two starred reviews so far including one from Kirkus Reviews that said, "From silly to quite touching, an array of emotions spans this whole, wide wonderful year."
"The notion of having fact sections in the Bad Kitty books came to me when I started contemplating who my reader would be. I never had a particular age group in mind when I began writing these chapter books. So instead I began thinking about that thorny creature that educators call 'the reluctant reader.'
"I already knew that I wanted to make the kind of book that would be a bridge book from picture books to chapter books. When I started contemplating what little I knew about those kinds of kids who needed a little help transitioning, I remembered my nephew who was a reluctant reader early on. I discovered by watching him that he was not a reluctant reader so much as a reluctant fiction reader. Early on, he liked facts like the ones he would find inside The Guinness Book of World Records (Guinness World Records). Facts were useful to him and gave him the encouragement he needed to read.
"So that's why I felt as if a section of facts, not hidden or integrated into the story itself, was needed. Even though the fact sections don't integrate into the stories themselves, they always need to be on topic. So really it's the story that dictates what's going to be discussed in the fact sections.
"I chose Uncle Murray as the facts guy almost completely for practical purposes. When I first began writing Bad Kitty Gets a Bath (Square Fish, 2009), the first in the chapter book series, I needed a spokesperson. He was the only character who actually talked even though he barely appeared in the original book. I created him as a simple gag for the letter 'U' in the foods that Kitty wants to eat. He's based on my own real-life Uncle Murray, a lovely ol' guy from my childhood."