Rarely are the highest honors in children's literature for illustration and for text bestowed on the same person. Most recipients are awarded either the Caldecott or the Newbery Medal for a book they helped to create. But, there is always an exception to the status quo. Kevin Henkes is that exception. Most recently, Henkes' The Year of Billy Miller (Greenwillow, 2013) was named a Newbery Honor book. A few years back, Olive's Ocean (Greenwillow, 2005) was also named a Newbery Honor book; Owen (Greenwillow, 1993) was named a Caldecott Honor book; and Kitten's First Full Moon (Greenwillow, 2004) was honored with the Caldecott Medal.
As a beloved author and illustrator of books for children and young adults, it makes sense that Henkes' childhood was filled with positive reading and drawing experiences. "I've always loved books and I cannot remember a time when I did not love to draw. I think I was born an artist. Writing came much later; although I did attempt writing a novel in fourth grade. I do remember my first 'favorite' book. It was Is This You (W.R. Scott, 1955) by Ruth Krauss and Crockett Johnson. It is essentially a manual for making a book about oneself. I like to think of it as a perfect guide for a future writer and illustrator of picture books. It was one of the few books I owned. I adored it and still have it."
It seems that this "perfect guide for a future writer and illustrator" truly served Henkes well. In addition to the Caldecott and Newbery awards, Henkes has been honored with numerous other awards including the Phoenix Picture Book Award from the Children's Literature Association, the Charlotte Zolotow Award, and many "best of" book awards.
With such success, one would assume Henkes would feel pressure to meet the high expectations of devoted readers as well as awards committees. "It's truly thrilling to be recognized by the Newbery and Caldecott committees. I suppose the best thing the awards do is to ensure that the honored book will have a longer life and therefore reach more kids. That's huge. I don't think the awards have changed me nor have they made me feel pressure of any kind. When I'm deep into my work all those kinds of external things disappear. It's just me and the book.
"Although I didn't own many books, my parents took us to the public library on a regular basis and so I always had books in my life. Going to the library was part of life like going to the grocery store or to school. My family had a wonderful relationship with our children's librarian. She always had suggestions for new things to read. I was lucky with teachers too—I had a few who inspired me greatly."
"I always begin with characters. To make the story interesting, my characters have to grow or change in some way. I'm drawn to interior, quiet books—or small domestic stories. So, often there is a new awareness about life or self that happens to my character as he or she grows. But I don't work with an outline, so those kinds of changes take place on the page as I'm working and are not planned."
Henkes created his first book, All Alone (Greenwillow, 1981), while in high school. It was later accepted by a publisher while Henkes was in college and released in 1981. Now, just over 30 years later, Henkes has published nearly 50 books including picture books, chapter books for new readers, and middle grade novels. Most feature quiet storylines focusing on the stages and emotions of children with bits of humor sprinkled throughout.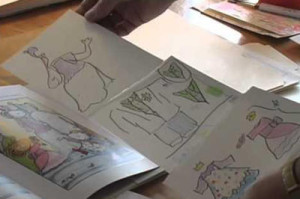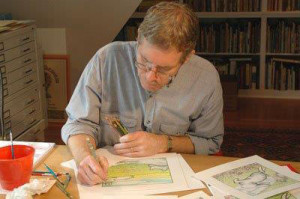 "I'm drawn to writing about childhood because it is such a complex time of life. Children face the world from a position of powerlessness. And, yet, the world of a child can be full of wonder and discovery. That's complicated. And compelling. Flannery O'Connor wrote: 'I think you probably collect most of your experiences as a child—when you really had nothing else to do—and then transfer it to other situations when you write.'
"I love weaving humor into my books, particularly my mouse books. Small details can speak volumes and are often more powerful than if I'd tried to use words to convey the same idea. That's one of the great joys of making a picture book—to take advantage of both the visual and the written elements and how they work together to make a thickly textured, concise whole. I don't think I've ever hidden a picture within a picture, but I do like to have layers of meaning to discover within my illustrations."
"I think the best way to encourage a love of reading is to expose kids to books early on, and to continue to do so with enthusiasm. Early and regular exposure to books leads to understanding relationships, to having a substantial vocabulary, to learning to think in a complex way. And maybe, most important is the personal bond—the human connection—that takes place when sharing a book one on one with a child. It is invaluable."
Henkes' work has found a place in the hearts of readers. In fact, Henkes has been identified as a genius by Bruce Handy, a New York Times book reviewer. Even without that acknowledgment, fans consider him a favorite author. So what can eager readers expect to see from Henkes in the near future?
"My next book is a picture book called Waiting. I wrote and illustrated it. It will be published in the fall of 2015. Coming after that, in the spring of 2016, is When Spring Comes. It is also a picture book. I wrote the words and my wife Laura Dronzek did the illustrations."