February is "I Love to Read" month, and Rita Marshall and Etienne Delessert, the well known creators of the popular I Hate to Read (2013, The Creative Company) books, are passionate about introducing children to good books. Delessert is a respected artist with world-wide acclaim for his surreal work; and Marshall is a key player at The Creative Company where she works with Publisher Tom Peterson to determine which books are going to be published, to hire writers and illustrators, and to design the books.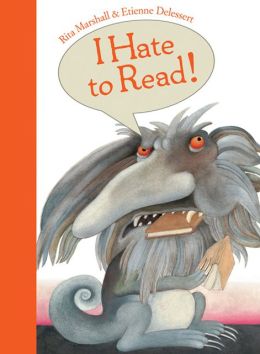 In 1992 the married couple and collaborative team first introduced readers to Victor Dickens, a young boy who believes he dislikes reading, in I Hate to Read. Then, in 2007, the couple brought back Victor Dickens as a teenager in I Still Hate to Read! (The Creative Company).
"We had a son in that rebel, teenage stage at the time. He didn't want to talk to us and didn't want us to know what he was reading or studying. A lot of that second story came from him," concedes Marshall. Delessert is quick to add, "Our son is now 26 and living in New York. He is in the technology business and doing great!" The couple attributes much of his success to reading to him as a child. "We read to him a lot," says Delessert.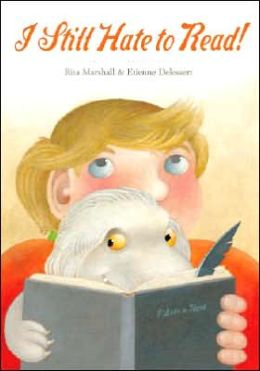 Rereleased in 2013, I Hate to Read, with its rich and fanciful illustrations and pithy text, is garnering a whole new audience of fans. "It had gone out of print, and we at Creative are trying to bring back classic out-of-print titles and give them a new look. We edited the text down because kids seem reluctant to read more than a few sentences per page," says Marshall, "but it is a way to bring old books back to life. I Still Hate to Read! is still in print, so another version probably will not come out, and I don't anticipate another book. We are very busy with other projects!"
The busy couple first met in the 1970s. American-born Marshall was working as an art director in Denver, Colorado, and Swiss-born Delessert had become a renowned artist who had built a business and a team to create illustrations, films, and books.
"I was already collecting books of Etienne's when I had the great opportunity of hiring him for a big job for Bell Telephone. I went to Switzerland to work with him, and I never really returned. I was there for a week and then took the work back and said, 'Here's the work. I fell in love. I'm moving to Switzerland.' I was young," laughs Marshall.
"We got along so well," says Delessert of their early relationship, "a few years later we had a son and have had a very nice life together."
"We started out in Switzerland working at the same table in a little apartment," recalls Marshall. "Then we moved after four years to Connecticut. We still had one large table and were still sitting together. But Etienne is a total slob, and I am obsessively clean. His garbage kept moving over and squeezing my clean side of the table. Finally, I said, 'I've had it! I'm almost 40 years old and I have to have my own table!' I think Etienne felt like it was almost a divorce when I moved to the other side of the room and got my own table."
Marshall continues, "I had to start hiring people because I had so much work and the FedEx man kept coming in and out of the house. So Etienne decided to build a studio with two floors. Then we had our own floors. But he would eavesdrop on all my conversations and meetings with employees. He would yell down, 'Can you speak louder? I can't hear what you are saying to each other!' That's a little bit of a joke, but he eventually moved out of the studio and into the attic of the house. So now I have the whole studio and he has the whole attic of the house."
"We both have strong personalities," says Delessert, "but we can have little fights and then get along fine afterward."
Though both are definitely opinionated, Marshall and Delessert are united in their mission to create and introduce intelligent, quality literature and artwork to readers. "I would say we both have very similar standards of what is good and what is bad," says Marshall.
"It is troubling in today's world where the future of nations depends on the ability of the young adults to create things by asking questions. You have to start very early asking children questions. It is really an insult to children to assume they don't or can't understand. When parents fight and divorce, when death happens, kids know what is happening. They want to be left alone, sometimes, and have space to think for themselves. Only good fiction can provoke a similar kind of attitude."

–Etienne Delessert
"A good book has to have its own identity," says Delessert. "It should be funny, intelligent, well drawn with nice art; and the text and visuals should match. I feel these days that not enough great fiction with a lot of imagination is being produced. If you go to the 'best sellers' lists, the books are flat. Many times there is more nonfiction than fiction, and I feel that kids in this competitive world should be faced with deep, important questions found in well written books. Too many of the millions of books printed around the world are so flat, indulgent, and lazy in their intellectual stimulation."
"Most of the best sellers are very superficial, cute, and designy," agrees Marshall. "Kids love them, but they are not challenging at all. That is our biggest frustration with the publishing market, and that is why we have such great respect for Tom Peterson at The Creative Company. He will still take those chances on publishing books even if they won't be big sellers. There is nobody else around that is doing that."
One of those new projects is a book Delessert just signed with Creative. "The final title is not yet settled," says Delessert, "but it is a book about the circus. I always wanted to do a circus story, but it needed a point of view. This one is a different way of telling the story. Each spread is a story in itself but part of the bigger story, and the characters in the circus ask direct questions to the reader." It is due to be published within the United States in a year or so and released a little sooner in Europe.