Known as Snot-Nose and various other nicknames during her childhood, friends and relatives may not have believed Gennifer Choldenko would one day be a prolific writer with a Newbery Honor Book. "I don't think I showed much early sign of anything promising," says the author, "except that I had a really strange imagination. I would come up with these odd jokes that were not funny at all to anyone else. They called them 'Gennifer jokes.' And I loved to make up songs and scenarios."An avid reader, Choldenko remembers reading books of her own choosing as well as her oldest sister reading out loud to her. "Reading was very important to me. As an adult, you read books and they are memorable; but as a kid, you own them. You really feel like you are a certain character and you really believe it."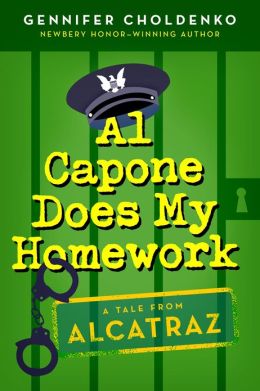 In addition to having positive reading experiences as a child, Choldenko was also introduced to writing at an early age. "My father loved to write. He would come home from work and sit behind an old typewriter and write. I think he was just journaling, but that seemed like a really important part of his day. I remember thinking that he really enjoyed it, and I think that is really part of what planted the writing seed in me."That writing seed sprouted and began to flourish when she, as a third grader, wrote her first story. "It was about a grain of rice that went down the garbage disposal and all the characters she met down there. She met the coffee grounds man and the half-grapefruit lady…it was a really weird book. But I remember that I loved the process of coming up with ideas. That started me thinking that I would have to do something creative with my life because it was just so fun."Eventually Choldenko earned a college degree in English and began working as an advertising copywriter. But after several years, she decided that writing copy was not the occupation she wanted to define her life. So, she decided to be an illustrator and earned a second degree in art. Yet, after graduating from art school, she sat down and wrote a novel instead of putting together a portfolio. "The truth is that I am really a writer and not an illustrator."
After writing several novels (that were rejected) and learning important lessons along the way, Choldenko finally achieved her dream of having a novel published: Notes from a Liar and Her Dog(2001, Putnam Publishing). "I'm really lucky that I didn't understand how long and how hard the whole process is. I wouldn't have done it if I had known. I also think I was deluded about my work—it helps to be deluded. I thought my writing was just great and didn't realize how far I had to go; whereas when I would illustrate, I would see just how far I really had to go!"Though her first novel achieved success in its own right as aSchool Library Journal Best Book of the Year and a California Book Award winner, it was her sophomore novel, Al Capone Does My Shirts (2004, Putnam Publishing) that really thrust her into the literary spotlight. The first of a trilogy, the Al Capone book was a Newbery Honor Book and a Best Book of the Year as designated by School Library Journal, Kirkus, and Publishers Weekly. The following two books in the series, Al Capone Shines My Shoes(2009, Dial Books for Young Readers) and Al Capone Does My Homework (2013, Dial Books for Young Readers), have also achieved numerous accolades and awards.
Choldenko enjoys learning and pursues opportunities to add to her knowledge base. One of her long-time interests was Alcatraz and Al Capone. "I get so excited about what I am passionate about and want to find out more information. You would not believe what all I know about Alcatraz now," laughs Choldenko. "It is a little scary!"As part of her research for the Al Capone series, Choldenko volunteered on Alcatraz. From spending hours poring over historical documents and books housed in a little library on Alcatraz to sharing her knowledge with guests on the island, Choldenko continually added to her knowledge base. "I started to become part of the Alcatraz community and am now a member of the Alcatraz Alumni Association. I have friends who are ex-guards or who grew up on the island. And this summer, I had my favorite prisoner, Robert Luke, from Alcatraz over to my house!"
I think it is important to engage a kid in the story and not have the reading be the issue. No book is one size fits all. You have to try and find a book that excites the kid even if it is a goofy book like Captain Underpants. If I ever met Dav Pilkey I would kiss him because he got so many boys to believe that reading is fun. If it is a book and kids are reading, it is good because it is a start. And from that, you build.
According to Choldenko, there are no more Al Capone books in the works despite their popularity. Rather, she is working on new projects and has a novel, The Monkey's Secret, on the spring 2015 release list. "I have lots of ideas and just want to live long enough to write all the books I want to write. I want to keep trying new things and connect with readers. I just want to transfer my passion to the page, and I hope my books will last and have staying power."