As we enter the back-to-school season, many educators are gearing up for the return of students. This time of the year can be very exciting, as well as nerve-wracking, for educators and students alike. This is, in part, because the last several school years have been so different from what a school year normally feels like.
The COVID-19 pandemic, the increasing frequency of natural disasters and climate change, acts of violence and tensions in communities, and countless other factors have left many of us feeling uneasy and stressed. This has led to an increased need for SEL resources. According to CASEL (The Collaborative for Academic, Social, and Emotional Learning), "The COVID-19 pandemic exacerbated feelings of isolation, stress, loss, and more among young people, adults, families, and communities. Social and emotional learning (SEL) offers a powerful means to support one another during these challenging times as our communities work to address the impact of the pandemic on students' learning and development. Now, more than ever, we understand how important it is to demonstrate empathy and resilience, build relationships across distance, and call upon our collective resolve to strengthen our schools and our communities."1
Having a wide variety of SEL books available to students can allow them to find titles that speak to them as individuals and help them with issues they may be facing, whether it be making friends, coping with stress, finding confidence, feeling a sense of identity, or fostering understanding of a situation in which they may find themselves or a loved one. The information and stories within these titles can speak to students in a way that other approaches may not. Specific characters, viewpoints, or messages may resonate with them for years to come. These titles can also help break down barriers and facilitate conversations which may not have been possible otherwise.
Many SEL titles have been published over the last several years which can help educators and students approach the multitude of sensitive subjects under the SEL umbrella. I have curated a list of titles below which take a unique approach to covering SEL topics including bullying, determination, perseverance, feelings and emotions, friendship, problem solving, identity and self-awareness, relationship skills, responsible decision making, self-management, anxiety, mindfulness, social awareness, teamwork and more. The list is organized in order by interest level from Pre-K to Grade 12.
In my ten years as a classroom teacher, I learned just how important it is to make positive connections with students and to make the classroom a place of safety. I hope that you will find titles here which will speak to your students in a meaningful way and help provide you with the means to start conversations that have a positive impact.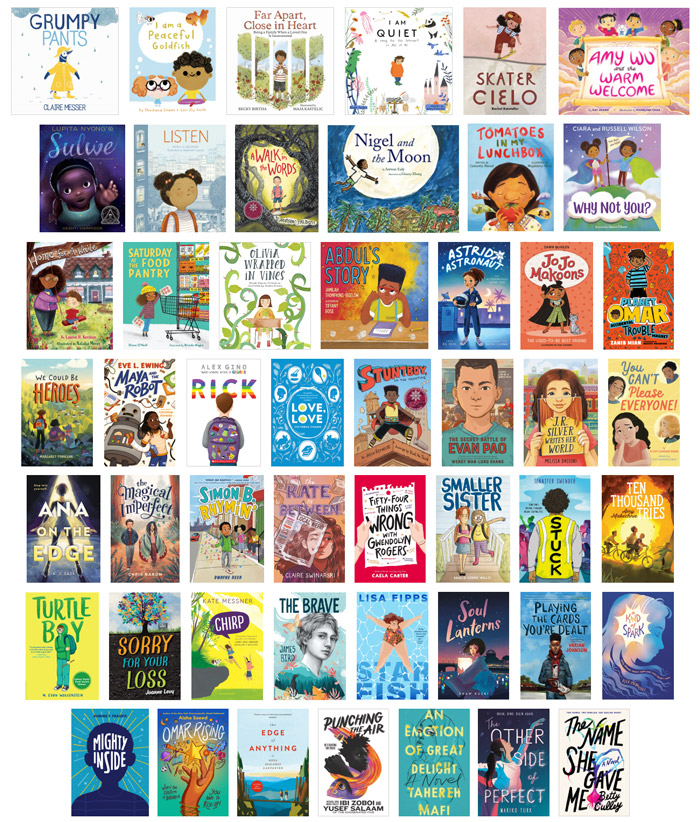 GRUMPY PANTS by MESSER, CLAIRE
I AM A PEACEFUL GOLDFISH by CHAIM, SHOSHANA
FAR APART, CLOSE IN HEART: BEING A FAMILY WHEN A LOVED ONE IS INCARCERATED by BIRTHA, BECKY
I AM QUIET: A STORY FOR THE INTROVERT IN ALL OF US by POWERS, ANDIE
SKATER CIELO by KATSTALLER, RACHEL
AMY WU AND THE WARM WELCOME by ZHANG, KAT
SULWE by NYONG'O, LUPITA
LISTEN by SNYDER, GABI
A WALK IN THE WORDS by TALBOTT, HUDSON
NIGEL AND THE MOON by EADY, ANTWAN
TOMATOES IN MY LUNCHBOX by MANOLI, COSTANTIA
WHY NOT YOU? by CIARA
HOME FOR A WHILE by KERSTEIN, LAUREN
SATURDAY AT THE FOOD PANTRY by O'NEILL, DIANE
OLIVIA WRAPPED IN VINES by NEPVEU-VILLENEUVE, MAUDE
ABDUL'S STORY by THOMPKINS-BIGELOW, JAMILAH
THE ASTRONOMICALLY GRAND PLAN by NEAL, RIE
JO JO MAKOONS: THE USED-TO-BE BEST FRIEND by QUIGLEY, DAWN
PLANET OMAR: ACCIDENTAL TROUBLE MAGNET by MIAN, ZANIB
WE COULD BE HEROES by FINNEGAN, MARGARET
MAYA AND THE ROBOT by EWING, EVE L
RICK by GINO, ALEX
LOVE, LOVE by CHANG, VICTORIA
STUNTBOY, IN THE MEANTIME by REYNOLDS, JASON
THE SECRET BATTLE OF EVAN PAO by SHANG, WENDY WAN-LONG
R. SILVER WRITES HER WORLD by DASSORI, MELISSA
YOU CAN'T PLEASE EVERYONE! by BURNS, ELLEN FLANAGAN
ANA ON THE EDGE by SASS, A J
THE MAGICAL IMPERFECT by BARON, CHRIS
SIMON B. RHYMIN' by REED, DWAYNE
THE KATE IN BETWEEN by SWINARSKI, CLAIRE
FIFTY-FOUR THINGS WRONG WITH GWENDOLYN ROGERS by CARTER, CAELA
SMALLER SISTER by WILLIS, MAGGIE EDKINS
STUCK by SWENDER, JENNIFER
TEN THOUSAND TRIES by MAKECHNIE, AMY
TURTLE BOY by WOLKENSTEIN, M EVAN
SORRY FOR YOUR LOSS by LEVY, JOANNE
CHIRP by MESSNER, KATE
THE BRAVE by BIRD, JAMES
STARFISH by FIPPS, LISA
SOUL LANTERNS by KUZKI, SHAW
PLAYING THE CARDS YOU'RE DEALT by JOHNSON, VARIAN
A KIND OF SPARK by MCNICOLL, ELLE
MIGHTY INSIDE by FRAZIER, SUNDEE T
OMAR RISING by SAEED, AISHA
THE EDGE OF ANYTHING by CARPENTER, NORA SHALAWAY
PUNCHING THE AIR by ZOBOI, IBI
AN EMOTION OF GREAT DELIGHT by MAFI, TAHEREH
THE OTHER SIDE OF PERFECT by TURK, MARIKO
THE NAME SHE GAVE ME by CULLEY, BETTY
If you don't see the titles that speak to you and your students here, remember that Mackin is a partner to educators. We always take a highly customized approach to every project and every need.  If you are looking for specific SEL topic titles, please feel free to reach out to Classroom Services by calling us here at Mackin or emailing classroomservices@mackin.com.
Mackin also has Title Lists and Tags which allow you to browse by specific SEL topics and you can even request a custom list by filling out our Resource Development form.
---
1"Covid 19 and Remote Learning." CASEL, January 19, 2022. https://casel.org/fundamentals-of-sel/how-does-sel-support-your-priorities/covid-19-and-remote-learning/.