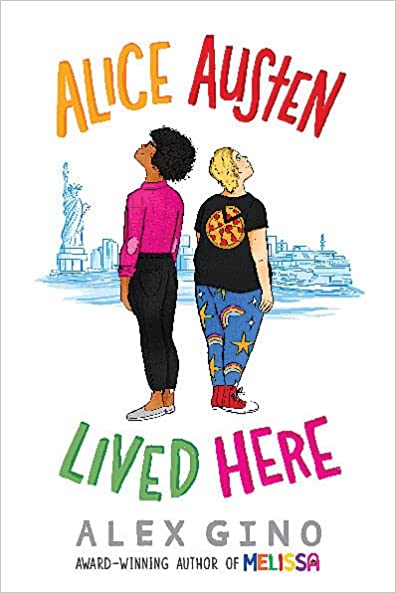 If you were to ask me in seventh grade if history was my favorite subject, the answer would have been a resounding no. The same goes for the characters Sam and TJ in Alex Gino's newest novel, Alice Austen Lived Here. The story follows nonbinary characters Sam and TJ who are best friends in seventh grade. They explore the borough of Staten Island in New York to complete a history assignment for school. They know that it would be easier to just do a report about a "Dead Straight Cisgender White Man,"1 and like most seventh-grade students, the idea of having to work harder on a project for your boring history teacher is not the most fun thing in the world, but their curiosity to uncover queer history propels them forward on a great adventure. Sam and TJ discover that Alice Austen, most widely known for her photography in the late 1800s to early 1900s, was also a part of queer history. As they set out to uncover more about Austen, Sam also learns more about their identity, their relationships, and the importance of mentors and community.
This book includes brief explanations of LGBTQIAP+ and pronoun terms which help the reader better understand the story as well as the LGBTQIAP+ community. My curiosity grew right alongside these characters as they further uncovered details about Austen, who is a real historical figure. Nothing is more interesting to me than a story from history that represents not only underserved communities, but also people who were true to themselves and did not conform to the expectations of others. Austen likely endured hardships during the time period in which she lived, and never imagined there would be a museum about her one day. She just did what she loved, loved who she loved, and lived her truth. In my opinion, those are the stories that matter—people who didn't need to put others down to rise to power, but who lived truly and authentically. Austen created beautiful art that captured a place and time, and loved who she wanted to love without shame. 
The book contains a strong theme of acceptance and embracing all the parts of yourself, including gender and body image. The lesson also calls attention to how a strong and supportive community can uplift any person and help them succeed. This novel was truly a feel-good, coming-of-age story that highlighted the LGBTQIAP+ community. I highly enjoyed reading Alice Austen Lived Here and think it would be a great realistic fiction book to add to any classroom library for grades 4-8. 
---
References:
1Gino, Alex. Alice Austen Lived Here. Scholastic, 2022.