I am the type of person who tends to look for a silver lining. If I were to describe one positive thing that's come of the Covid-19 pandemic, it is the abundance of new art, music, and literature. If anyone can articulate themes about life and society, it is artists. And no written form expresses the truth of the human experience better than poetry.
April is National Poetry Month, a celebration of how this literary art form reveals this truth through words. All of us have experienced hardships, joy, and challenges these past two years. We have seen glimpses into a kinder society in which we desire to gain a better understanding of each other. I believe we are lucky to be educators during a time of turmoil in our government and communities because we have access to books. Books provide windows, mirrors, and sliding glass doors to help us understand each other's hopes and fears, and no other form of writing expresses emotions and creates imagery like poetry.
I have provided information on four of my favorite new poetry titles, along with critical literary reviews. These books have garnered positive attention by critics and readers alike, and are available in print and digital formats.
---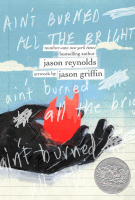 Ain't Burned All The Bright
By Jason Reynolds, illustrated by Jason Griffin
(Caitlyn Dlouhy Books, 2022)
Booklist Starred Reviews, 12/01/2021
Grades 7-12 – "*Starred Review* Reynolds and Griffin's searing indictment of the status quo is expressed in the voice of a young, unnamed Black man, whose timely comments resonate beyond the personal to the universal. Divided into three parts called "Breaths," the text begins as the boy ponders why his mother won't change the TV channel from repetitive news stories, what keeps his brother glued to his video game, and the implications of his sister's plan to attend a protest. Breath Two introduces the boy's sick father, who, isolated in his bedroom, can't stop coughing. Breath Three finds the boy feeling suffocated and searching for an oxygen mask, eventually finding lifelines in small but meaningful details around him. Reynolds' text—printed on strips of white paper affixed to notebook pages—comments on a seemingly changeless world on fire, on protests in the wake of George Floyd's murder, and on the seeming omnipresence of COVID-19—all of which reflect a world without the freedom to breathe. It's a bleak picture but not one without hope of change. Griffin's remarkable mixed-media collage pictures that employ a palette largely of black and red are a perfect complement to the text, capturing its tone and style exactly while expanding and enhancing the poetic words. The result is an important combination that expresses the zeitgeist of a troubled time. It's essential reading. HIGH-DEMAND BACKSTORY: There's nothing Reynolds can't do, and his readers know it. This creative, timely reflection will be particularly admired by teens seeking change.
---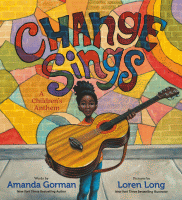 Change Sings: A Children's Anthem
by Amanda Gorman and pictures by Loren Long
(Viking Juvenile, 2021)
Horn Book Guide, 01/01/2022
"I'm a movement that roars and springs, /There's a wave where my change sings." A dark-skinned, guitar-playing young protagonist serves as a sort of Pied Piper for positive change in this debut picture book by National Youth Poet Laureate Gorman. Sporting a big afro ponytail, she walks through town, helping wherever she's needed, as other children join her in cleaning up trash, planting flowers, painting storefront walls, and more. The illustrations' details point subtly to the children's unique identities—a variety of skin tones, a yarmulke, a wheelchair—but as the protagonist articulates the unifying themes of cooperation, self-esteem, and empowerment, they all work together to make change with the resources they have, including their own hands. Long's (Someone Builds the Dream, rev. 5/21) powerful acrylic and colored-pencil illustrations bring each scene to life. A mural recalling stained glass and depicting Martin Luther King Jr. is featured near the beginning of the book; another mural declaring "We Are the Change," which shows the protagonist and the other child activists joyfully playing music together, appears near the end. This inspiring call to action unambiguously suggests that every individual, regardless of age, can contribute to making the world a better place. Michelle H. Martin
---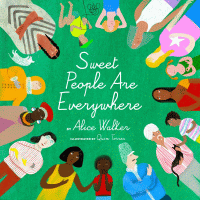 Sweet People Are Everywhere
by Alice Walker and illustrations by Quim Torres
(TRA Publishing, 2021)
School Library Journal Starred, 10/01/2021
K-Gr 4—An outwardly simple text in praise of the sweetness to be found in humanity is anything but simplistic when combined with the diverse and bright illustrations featuring a global community engaging in the activities and moments that bind us together. Walker's poem encourages readers to remember that there is goodness to be found in people all over the world and that, "We are lost if we can no longer experience how sweet human beings can be." Whether addressing the music in Cuba or Iran, or soccer in Israel or Palestine, this ode to humanity provides multiple opportunities for readers to recognize that people are more similar than different despite divisive political or social constructs. The text is accessible for a wide audience and the message could not be more important in today's world. The illustrations provide wonderful opportunities for readers to make inferences which are then explicated in a note in the back matter. There is also a very interesting interview with Walker that would add to the experience of sharing this book with young people. VERDICT: A celebration of the goodness of people and the commonalities that connect us. Deepened and expanded by its illustrations, this is a stunning introduction to the true meaning of a global community. John Scott, Baltimore County P.S. Copyright 2021 Reed Business Information.
---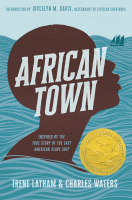 African Town
by Irene Latham and Charles Waters
(G.P. Putnams Sons, 2022)
School Library Journal Starred, 02/01/2022
Gr 7 Up—Human identity is built on the actions of those who came before, their histories creating a robust foundation upon which future generations can grow. In 1860, after the United States outlawed the importation of enslaved people, the Clotilda set sail across the Atlantic. It was on an illegal mission to collect one last shipment of enslaved people from Africa, and money and influence in the right places permitted the exchange to occur. Each day tested the resolve of those torn from their homeland: they were determined to survive in America while protecting the memories they held dear. This gripping novel recounts the story of the Clotilda's voyage across the vast Atlantic. Told from the perspectives of myriad characters directly and indirectly involved in this event, the story reads much like Lincoln in the Bardo by George Saunders, where each unique voice contributes to the greater whole. Carefully executed passages appear in various forms of free verse and poetry, and each one is specific to the particular character represented. This choice makes the individual contributors not only come alive but also stand out from one another as the narrative progresses. Extensively researched and purposefully designed, this book brings together details of events from 1859 to 1901, and culminates in several pages of back matter that reinforce the entire work. VERDICT: This honest, heartrending, and inspiring story is an important and necessary contribution to historical fiction collections for young adult readers. Mary Lanni Copyright 2022 Reed Business Information.
---