Known around the globe, bestselling author and illustrator Peter H. Reynolds has created more than 75 children's books. He has also inspired numerous initiatives to promote creativity and aid others in reaching their full potential. His newest picture book Our Table (Orchard/Scholastic, 2021) comes out November 2nd. In it, lonely Violet finds a way to bring her distracted, too-busy family back together around the family table, making it "a table stronger, more beautiful than ever." The story reinforces the power of taking the time to create something together—and the joy of simply being together—in our harried world.
Here, Lisa Bullard talks with Reynolds about learning the art of storytelling around his own family table, and about his efforts to make the world a better place through creativity.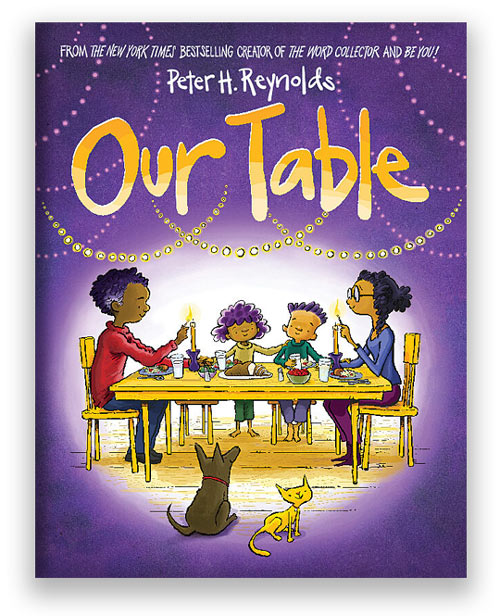 What was the inspiration for Our Table?
I was in a restaurant a few years ago, and I saw a family sitting at a nearby table. The mother and father both had cell phones. Both were busy tapping away, swiping, leaving voice messages. The son sat silently for the entire meal. It broke my heart. This sad scene suddenly heightened my radar for similar situations: humans gathered together and yet completely ignoring each other. It became such a common sight that I wanted to do something about it. I knew that one of the most powerful tools we have for sharing ideas and making people ponder is a story. So, I wrote Our Table.
One of the most powerful tools we have for sharing ideas and making people ponder is a story."
Do you think the message has extra resonance because of what families have experienced during the COVID epidemic?
I do. Even though we were sequestered together with our families, it did not take long for everyone to gravitate to their devices. Parents connecting to work, kids connecting to school. Games and movies delivered on the many screens in the home. Families were very connected—very connected to the internet. While I think many marvelous things came from our tech tools, I believe that local human connectivity suffered.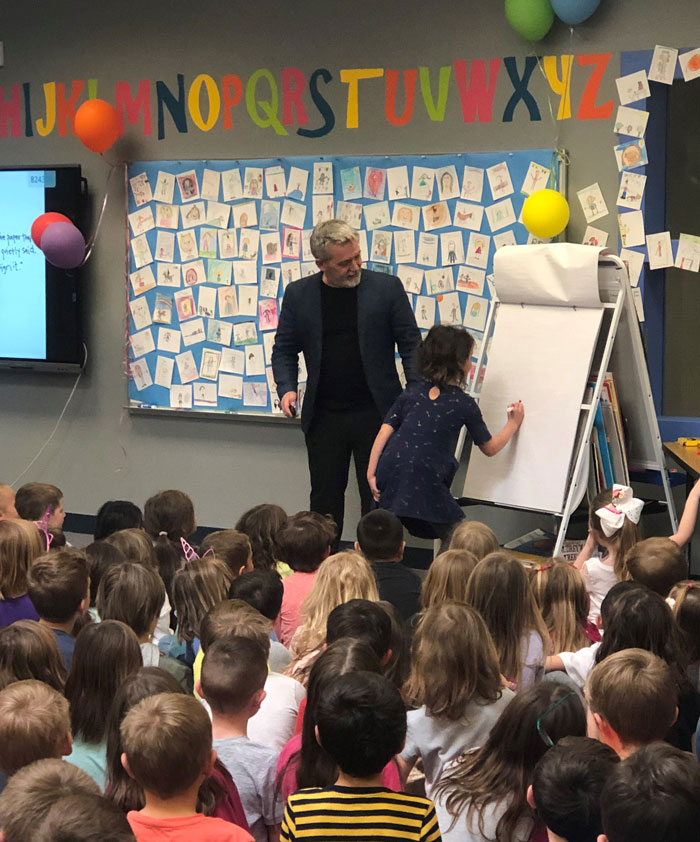 When you were growing up, was there a tradition your family shared around your table?
One simple tradition drove our table experience: "Share one thing about your day," my mother would ask our table of seven family members. We'd each take a turn sharing a tidbit. Eventually, it would be our mother's turn, and she would show us how storytelling is done. She wouldn't just share the day's happening, she would time-travel and tell stories of her youth, of bombs dropping along her street in London during the war, of growing up in a city rebuilding itself, of sailing ships and discovering new lands. I now realize how powerful these story-tellings were. How rare. How privileged I was to hear them.
The illustrations add nuance and extra dimensions to your story. How did you use color to help convey your character Violet's emotions?
The book begins with Violet, painted in shades of gray and, yes, violet. She stares wistfully at a frame of the family table, which glows yellow. That splash of color leads to the next pages of colorful memories of when her family spent time together. The middle part of the book drains most color and returns to gray and violet. I could have resorted only to gray, but I wanted young Violet's spirit to warm the story. Her color helps us hold out hope that color will return.
Many of your books focus on nurturing a creative spirit. What are some of the ways that educators and librarians can do just that?
My hope is that adults who read my books will take the messages to heart and enrich their own worlds with creativity. The best way to inspire kids to be creative is to show them what it looks like. I am writing these books for all ages. We all need reminders to be braver, more expressive, kinder, and more creative. A practical example: When you read my book The Dot (Candlewick, 2003), follow it up by bravely splashing a great big dot on a canvas and then proudly sign it! Watch your children's faces!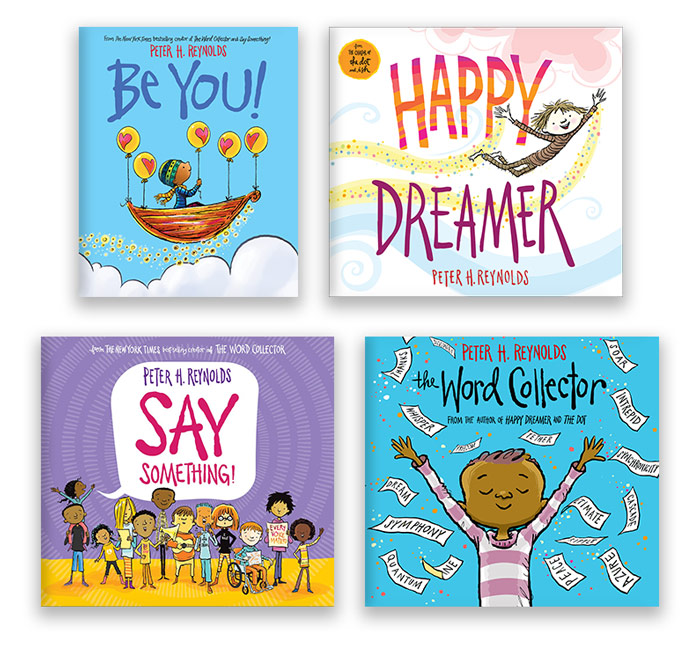 The best way to inspire kids to be creative is to show them what it looks like."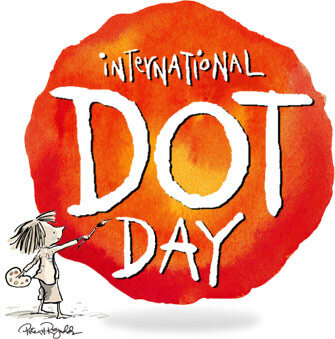 What is the Reynolds Center for Teaching, Learning, and Creativity?
My twin brother, Paul, and I have been creating films and interactive media for over 25 years for some amazing clients like Jim Henson Productions, the Smithsonian, PBS, and many other amazing organizations, but eventually we saw an opportunity to create [something] not for profit where we could help bring creativity to every classroom. International Dot Day is one of those initiatives. Over 21 million educators and students have participated in this global celebration of creativity and bravery. We are mission driven: We want to make this world a better place.
The home page on your website features words from The Dot: "Make your mark and see where it takes you." What have been the biggest surprises for you along the way to making your own mark?
I'm surprised almost daily. I honestly can't keep up with all the social media showing how my stories are being "activated" by educators around the world. I had dreamed of being a teacher growing up, and I guess the big surprise for me is realizing that I have become a co-teacher with many educators. I creatively found a way to teach and to be in the classroom around the world.
I had dreamed of being a teacher growing up, and I guess the big surprise for me is realizing that I have become a co-teacher with many educators."
Do you have any specific anecdotes you'd like to share about the impact your books or other initiatives have had on people?
Well, I have to point out Terry Shay, a teacher in Iowa, who saw The Dot as a call for creativity, so he and his students created a day to celebrate it. It took off and has become a worldwide celebration!
I get a lot of letters from folks sharing how my work has impacted them, but one particular letter stands out. A high school student who was struggling with depression discovered my book The North Star (Candlewick, 2009) and reached out to say that I had written this story for him. He said the story helped to give him hope. That was a tremendous feeling.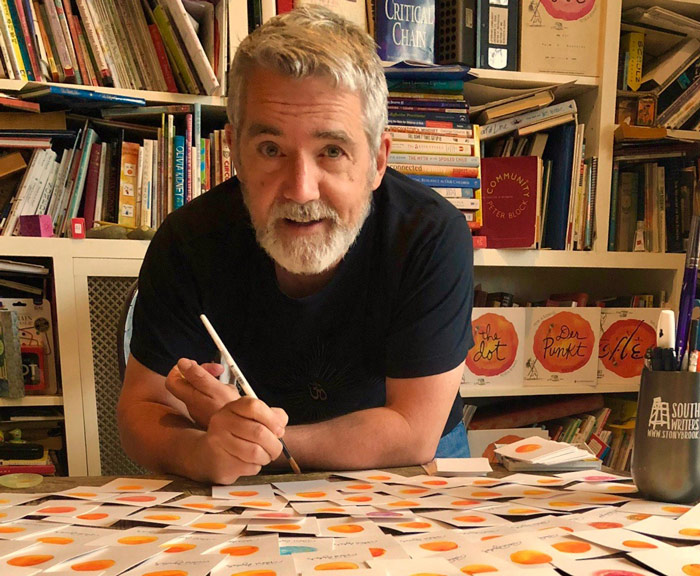 Where would you most like to leave your mark next?
I love that question, and I can think of a few dreams swirling about in my head. I'd love to sit in the theatre and see my stories on stage, performed as a musical. I'd like to produce a live-action film. I'd love to create a school infused by the messages in my books.
Along with Our Table, 2021 has seen an amazing range of other publications by you: the Cat Stevens's picture book Peace Train (HarperCollins), Judy Moody and Stink chapter books by Megan McDonald (Candlewick), and the picture book I Am Courage (Harry N. Abrams) by Susan Verde. What forthcoming books would you like to tell your fans about?
I love collaborating, so there will be more books with Megan and Susan. I'll also be doing a second book with Cat Stevens called If You Want to Sing Out, Sing Out. I have a story that I wrote with my ten-year-old son, Henry Rocket Reynolds, tentatively called All We Need. The picture book Love You By Heart will be published by Scholastic this December. I also discovered an amazing, talented new writer, Marc Colagiovanni, whose story I helped bring to life as an animated film.
What are the best ways for readers to connect with you or follow you on social media?
It is so easy to "connect the dots" with me! I am @peterhreynolds on Twitter and Instagram. I'm on Facebook, too, and I have a YouTube channel.
Connect With Peter H. Reynolds
What resources do you have available for educators and librarians?
I'd love for educators to explore FableVision Learning and the Reynolds Center to discover all the resources I have ready for them to use. I'd also love to remind folks about the website for International Dot Day, where they can register to participate in our global celebration.
Is there anything else you'd like to add?
My wish for everyone is to be a bit braver each day. Navigating your true potential takes courage and kindness … kindness to ourselves. Be good to yourself and allow yourself time to think, feel, and dream.
My wish for everyone is to be a bit braver each day."