by Katy Tessman, New School Services Project Manager & Makerspace Specialist
---
Being a mother is hard work! Yet, it is the most rewarding role I'll ever have. Mother's Day is a time I reflect on the women who have impacted my life. I think of my wonderful mom who taught me how to cook, garden, and respond to mean girls. I think of my grandmothers who taught me how to sew and play the piano. I also think of all the women who are not related to me, yet mothered me and showed me unconditional love.
Being a breast cancer survivor, Mother's Day has a deeper meaning to me. The annual breast cancer awareness walks and fundraising for research remind me to think of the women warriors who have lost their battles, superheroes who continue their fights, and all the women who are facing a new diagnosis. When I was faced with a breast cancer diagnosis, I turned to books to help my sons gain confidence and find courage. I wanted them to be comforted that their mama was going to continue to love them. I was inspired to write about our family's breast cancer journey and publish Our Mama is a Beautiful Garden to help other mamas and children find hope and comfort.
In my work helping librarians and principals build new school libraries, I have found many new beautiful books that celebrate all kinds of mothers. Here are three new titles, along with their publishers' summaries, that I think are especially important to have in school libraries. These books are available in print and digital formats.
---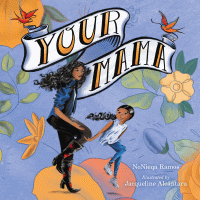 Your Mama by NoNieqa Ramos (Author), Jacqueline Alcántara (Illustrator)
Interest Level: PS-1, Versify, 2021
A sweet twist on the age-old "Yo' mama" joke, this book celebrates fierce moms everywhere with playful lyricism and gorgeous illustrations. Perfect for Mother's Day.
Yo' mama so sweet, she could be a bakery. She dresses so fine; she could have a clothing line. And, even when you mess up, she's so forgiving, she lets you keep on living.
Heartwarming and richly imagined, Your Mama twists an old joke into a point of pride that honors the love, hard work, and dedication of mamas everywhere.
---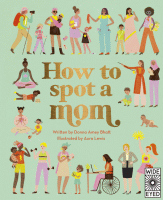 How to Spot a Mom by Donna Amey Bhatt (Author), Aura Lewis (Illustrator)
Interest Level K-3, Wide Eyed Editions, 2021
How to Spot a Mom is a tongue-in-cheek tribute to moms everywhere. Young readers and parents alike can learn all about moms, from what they are (superhumans!), to some of the special skills they have, including detecting fibs, solving mysteries, and resolving conflicts. This beautifully illustrated book is the perfect "Spotter's Guide" to moms. You'll discover that all moms are unique, and you'll meet many different types of moms—from the Outdoorsy Mom who loves fresh air and the Chatty Mom who's always got a story, to the Rebel Mom who never reads the instructions. You may spot yourself, or your own mom, on the pages, too!
---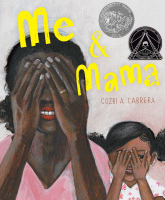 Me & Mama by Cozbi A Cabrera (Author, Illustrator)
Interest Level: PS-2, Denene Millner Books, 2020
Mama's love is brighter than the sun, even on the rainiest of days. This celebration of a mother-daughter relationship is perfect for sharing with little ones!
On a rainy day when the house smells like cinnamon and Papa and Luca are still asleep, when the clouds are wearing shadows and the wind paints the window with beads of water, I want to be everywhere Mama is.
With lyrical prose and a tender touch, the Caldecott and Coretta Scott King Honor Book Mama and Me is an ode to the strength of the bond between a mother and a daughter who spend a rainy day together.
---