This year's International Women's Day campaign theme is #ChooseToChallenge. The IWD website states, "A challenged world is an alert world. Individually, we're all responsible for our own thoughts and actions—all day, every day." As educators, we want to teach our students to speak out about gender bias and inequality. Collectively, we can all help create an inclusive world and celebrate women's achievements. The IWD community has produced this powerful video to start conversations about how challenge brings change.
Now is a great time to look at the female characters in your book collection, especially diverse characters. I have noticed that most fiction novels for secondary students have plot lines of BIPOC characters dealing with stereotypical challenges of domestic violence and oppression. In my search for YA lit that shatters stereotypes of diverse female characters, I found four new titles that challenge readers' conceptions about race and gender.
The following are the details on these four new titles, along with the American Library Association's Booklist review. These books have garnered positive attention by critics and readers alike, and are available in print and digital formats.
---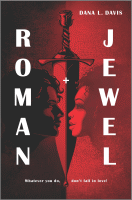 ROMAN AND JEWEL by Dana L Davis
Genre: Romance (Inkyard Press, 2021)
Booklist Review, 12/01/2020
Sixteen-year-old Jerzie Jhames has studied voice, music composition and theory, and acting all her life. She's also a walking, talking, singing encyclopedia of Broadway knowledge. Now she's been cast as the understudy for superstar Cinny's "Jewel," the lead in a new Broadway hip-hop retelling of Romeo and Juliet. Immediately, she meets Zeppelin, the model/musician cast as "Roman," and falls hard for him. But when unauthorized videos of rehearsal are anonymously uploaded and go viral, tempers flare, egos combust, and emotions short-circuit. Readers watch Jerzie plunge into the head-spinning world of first love, mixed with a fiery helping of fame, and tempered by Jerzie's good heart and supportive family. She is a likable and upbeat narrator who sings her way into readers' hearts while carrying her own tune. Despite a semi-clumsy attempt to parallel the Shakespearean masterpiece, Davis hits the stage running with an insider's look at the pre-preview rehearsals for an untested show, a peek into city nightlife, and an unabashed love of musicals. Hand to theater aficionados everywhere.
---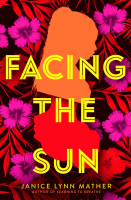 FACING THE SUN by Janice Lynn Mather
Genre: Realistic (Simon & Schuster Books for Young Readers, 2020)
Booklist Review, 09/01/2020
In her latest, Mather (Learning to Breathe, 2018) peels away at the layers in a friendship. Readers meet Eve, Faith, KeeKee, and Nia in the Caribbean, where all they've ever known is about to be torn down to make room for a hotel. Meanwhile, each is encountering explosive life events that force a coming of age. Through alternating narrative perspectives, Mather explores how the girls' actions impact themselves, each other, and their community. Meanwhile, themes of integrity, loss, duty, and loyalty flow through each of the girls' narratives like rivers to the ocean, and the story remains grounded in its strong sense of setting. Fans of Jessica Spotswood's The Last Summer of the Garrett Girls (2018) will appreciate the carousel of viewpoints, while fans of Alice Hoffman's Aquamarine (2001) will see similarities in another story with action driven by community changes and highlighting the pressure to keep the magic of friendship strong.
---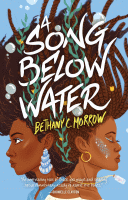 SONG BELOW WATER by Bethany C. Morrow
Genre: Fantasy (Tor Teen, 2020)
Booklist Starred Review, 04/15/2020
It's not often that Black girls get to be magical, but Morrow's fascinating, sweeping story gives readers two: Tavia and Effie. Tavia is disillusioned and cynical toward the world that wants to keep both facets of her identity oppressed; she grapples with hatred and prejudice because she is Black and because she is a siren. Living in Portland, Oregon, where Black folks of the magical and nonmagical sort are sparse, exacerbates this struggle. Tavia's best friend Effie appears to be normal, but she's experiencing weird puberty symptoms and is the single survivor of an accident that turned her schoolmates to stone when she was little. When Effie's past refuses to stay buried, and Tavia's siren magic slips free during an altercation with the police, the friends' lives are turned upside down. They must learn to exist, find peace and happiness, and stay safe in a world that suffers little love for Black people and even less for the magical. Morrow expertly and smartly explores race, bigotry, oppression, and injustice against a backdrop of ordinary life with a dose of the supernatural added to the mix. A Song Below Water is a must-read for lovers of fantasy and contemporary stories alike.
---
CINDERELLA IS DEAD by Kalynn Bayron
Genre: Fantasy (Bloomsbury YA, 2020)
Booklist Starred Review, 09/01/2020
In the town of Lille, Cinderella is not just a romantic fairy tale, it is the foundational story that undergirds the very culture and law of the land of Mersailles. Despite the grandeur of the ball custom, where annually girls of age are chosen by their own Prince Charmings, in reality it's nothing more than a ploy that renders its women vulnerable—especially those not chosen. So, when 16-year-old Sophia's invitation to the ball finally arrives, she is determined more than ever to follow her heart and flee from the restraints of King Manford's rule—even if that means leaving her family and best friend (and lover), Erin, behind. With the help of Constance, a descendant of Cinderella's stepsister, and Amina, Cinderella's supposed fairy godmother, Sophia attempts the impossible: dismantling a broken kingdom and taking down Manford once and for all. Flipping the Cinderella tale on its head, Bayron's take challenges patriarchy with kick-butt heroines and a counter-story that will forever change how readers perceive fairy tales. Though Sophia's bravery and cunning alongside her stereotype-shattering Black girl beauty will have readers rooting for her, the steady dose of unanticipated events, alliances, and realizations will have them asking, "Can she actually do this?" A fast-paced read, this title will challenge readers' conceptions on many fronts, garnering wide attention by way of our shared experiences of the Cinderella trope.