As student populations become more diverse, classmates are very likely to have friends in different racial and ethnic groups. The year 2020 was full of challenges and change. The events that our country endured have created a new generation of activists, and they are demanding an end to racism. Martin Luther King, Jr. Day and Black History Month are a time for educators to celebrate Black history and honor today's diversity.
I encourage educators to take a moment and read aloud to their classes. It strengthens the classroom community and creates a safe space to talk about the emotions brought on by current events. In my blog article about reading picture books aloud to secondary students, I explore the value of sharing stories with your classroom.
Providing students with windows and mirrors in literature is important. My article Building a Diverse Book Collection: Providing Windows, Mirrors, Sliding Glass Doors, and Beyond reminds educators of the value of having diversity in their library collections. Mackin's master librarians put together the following title list you may find helpful when selecting books: Black History Month – Staff Picks.
Recently, there have been many new and wonderful picture books published that celebrate today's diversity in the classroom. The following are new picture books that celebrate diversity and their publishers' summaries. These books are available in print and digital formats.
---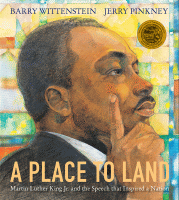 A PLACE TO LAND  written by Barry Wittenstein, illustrated by Jerry Pinkney (2019, NEAL PORTER BOOKS)
A Place to Land reflects on Martin Luther King, Jr.'s "I Have a Dream" speech and the movement that it galvanized. Much has been written about Martin Luther King, Jr. and the 1963 March on Washington, but there's little on his legendary speech and how he came to write it. Martin Luther King, Jr. was once asked if the hardest part of preaching was knowing where to begin. No, he said. The hardest part is knowing where to end. "It's terrible to be circling up there without a place to land." Finding this place to land was what Martin Luther King, Jr. struggled with, alongside advisors and fellow speech writers, in the Willard Hotel the night before the March on Washington, where he gave his historic "I Have a Dream" speech. Here we see that those famous words were never intended to be heard on that day, and were not even written down.
---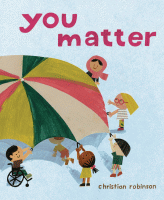 YOU MATTER written and illustrated by Christian Robinson (2020, ATHENEUM BOOKS FOR YOUNG READERS)
In this bright, and beautiful picture book, many different perspectives around the world are deftly and empathetically explored—from a pair of bird-watchers to the pigeons they're feeding. Young readers will be drawn into the luminous illustrations inviting them to engage with the world in a new way and see how everyone is connected, and how everyone matters.
---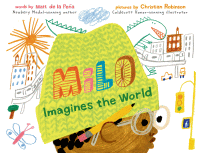 MILO IMAGINES THE WORLD written by Matt de la Pena, illustrated by Christian Robinson (2021, PUTNAM PUBLISHING JUVENILE)
Milo is on a long subway ride with his older sister. To pass the time, he studies the faces around him and makes pictures of their lives. There's the whiskered man with the crossword puzzle; Milo imagines him playing solitaire in a cluttered apartment full of pets. There's the wedding-dressed woman with a little dog peeking out of her handbag; Milo imagines her in a grand cathedral ceremony. And then there's the boy in the suit with the bright white sneakers; Milo imagines him arriving home to a castle with a drawbridge and a butler. But when the boy in the suit gets off on the same stop as Milo—walking the same path, going to the exact same place—Milo realizes that you can't really know anyone just by looking at them.
---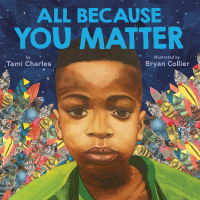 ALL BECAUSE YOU MATTER written by Tami Charles, illustrated by Bryan Collier (2020, ORCHARD BOOKS/SCHOLASTIC)
A lyrical, heart-lifting love letter to Black and brown children everywhere, reminding them how much they matter, that they have always mattered, and that they always will, from author Tami Charles and award-winning illustrator Bryan Collier. Discover this poignant, timely, and emotionally stirring picture book, an ode to Black and brown children everywhere, that is full of hope, assurance, and love. All Because You Matter empowers readers with pride, joy, and comfort, reminding them of their roots and strengthening them for the future.
---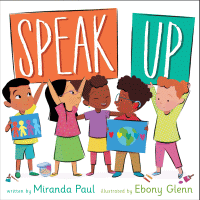 SPEAK UP written by Miranda Paul, illustrated by Ebony Glenn (2020, CLARION)
When something really matters, one voice can make a difference. This spirited, vibrant picture book celebrates diversity and encourages kids to speak up, unite with others, and take action when they see something that needs to be fixed. Join a diverse group of kids on a busy school day as they discover so many different ways to speak up and make their voices heard! From shouting out gratitude for a special treat, to challenging a rule that isn't fair, these young students show that simple, everyday actions can help people and make the world a better place.