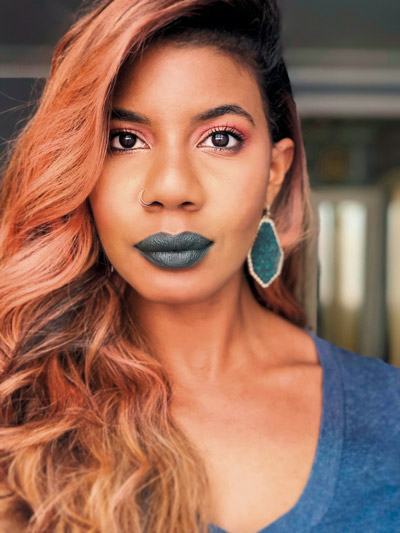 Nic Stone's 2017 debut novel, Dear Martin, was a New York Times Bestseller, a William C. Morris Award Finalist, an ALAN / Amelia Elizabeth Walden Award Finalist—and according to Tia, the educator who writes the Extend Beyond Borders blog, it's also "the book." Tia explains it this way: "Dear Martin just may be the book that turns your reluctant readers into readers. It may be the book that shows your students an alternative purpose in reading. It may be the book to change their lives."
In other words, Dear Martin seems like a tough act to follow, but Nic Stone has risen to the challenge in a way that already has early reviewers taking notice. Her sequel, Dear Justyce, lands in readers' hands on September 29th, and in its starred review, Kirkus has already described the title as "a powerful, raw, must-read told through the lens of a Black boy ensnared by our broken criminal justice system."
Here, Nic Stone talks with Lisa Bullard about some of the things that have influenced her books, and the writing process that helps her create titles that are "aimed at highlighting our shared humanity."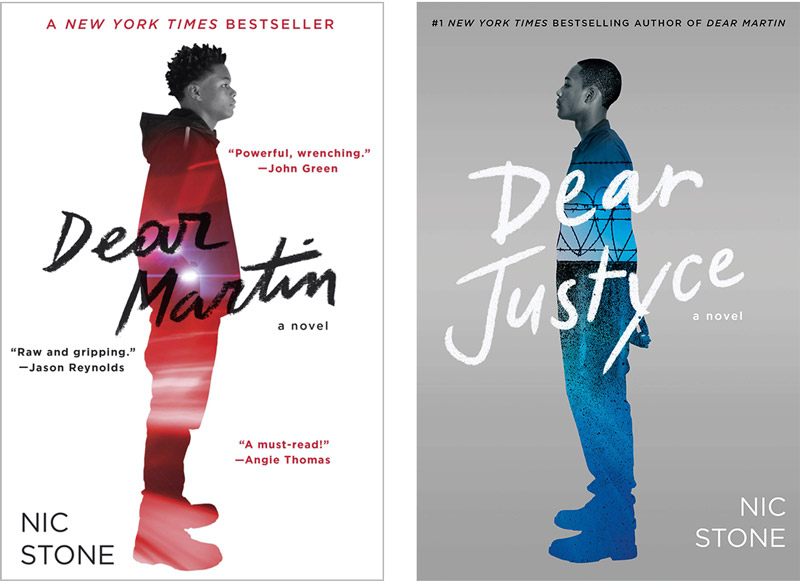 Congratulations, Nic, on the huge success of Dear Martin, and on the enthusiastic early response for Dear Justyce. Dear Martin, for readers who haven't yet had the chance to experience it, chronicles the challenges faced by Justyce McAllister, a Black honor student whose own experiences with police violence and racial injustice inspire him to write a journal of letters to Dr. Martin Luther King, Jr. I've read that you loosely based the story on a series of real-life shootings of unarmed African American teenagers. What other experiences shaped the story?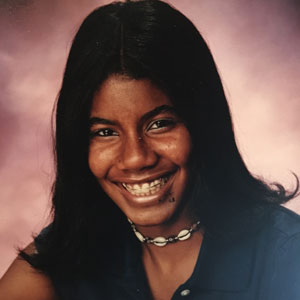 Nic in high school
I am a writer who prefers to examine what I know for the sole purpose of seeing what I don't know, so I can lean into that in my storytelling. I had experiences similar to Justyce's in school with regard to the demographics of my classes and the microaggressions from classmates. For instance, the test score scene [a pivotal scene where a white classmate assumes his own test scores must be higher than Justyce's, based on nothing more than their respective races] is plucked from my own senior year of high school.
In Dear Martin we also meet Quan, another teenager from Justyce's old neighborhood. As much as Justyce has faced struggles, he's also gotten some breaks—breaks that haven't come through for Quan. From all of the complex characters you created for Justyce's world, how was it that you chose to feature the tough realities facing Quan in the sequel?
I had a pair of Black male mentees who asked for a book that was more representative of their lives—which are very different from Justyce's. This coincided with a conversation I had with my editor who was interested in hearing more about Quan and how he wound up where he is. So choosing to tell Quan's story was a no-brainer.
Your vivid descriptions make it clear that even though Justyce and Quan grew up just a block apart, they've ended up a world away from each other: Justyce is at Yale, and Quan is behind bars at the Fulton Regional Youth Detention Center. We hear all too many real-world stories like Quan's, of young people whose lives are shaped by systemic racism and a criminal justice system that works against them instead of for them. Does our society have the capacity to make the changes we must to change these critical problems? Or are we destined to continue reading stories like Quan's?
Anything can change. The most important thing—to me—to take away from Quan's story is understanding the fact that there are children all over this country who are written off from a very young age. Who get very little adult support. I just want people to pay more attention to the black and brown kids around them and to look at them with compassion instead of unacknowledged contempt. Just knowing ONE person believes in you can make a huge difference in a kid's life.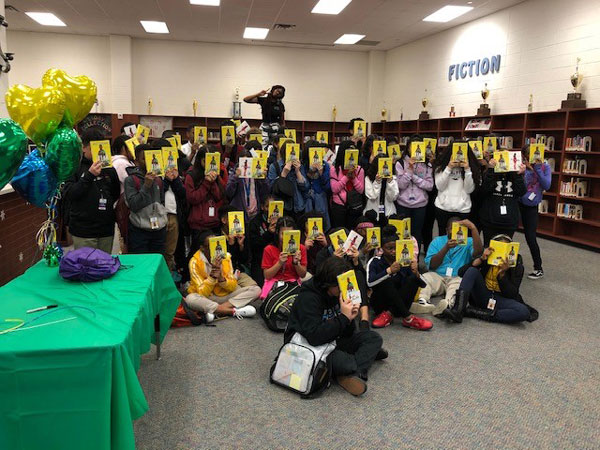 Nic with students
"Just knowing ONE person believes in you can make a huge difference in a kid's life."
I love the fresh way you tell these stories, which includes your main characters writing letters to key figures—Justyce writing to Martin Luther King, Jr. in the first book, and Quan writing to Justyce in the second book. This inventive approach also builds a sense of continuity between the two titles. Because of connections like this, do you recommend that readers should seek out Dear Martin before reading Dear Justyce?
It would create some context, but I definitely don't think it's a must. I did my best to write Dear Justyce as a stand-alone novel.
One of the things that Justyce questions in Dear Martin—something Quan might also ask—is why he should do the right thing if people always assume, because of how he looks, that he has done something wrong. That's a really tough question. How would you answer him?
Frankly, I don't know that I would answer him. Justyce has to come to his own conclusion in Dear Martin, and I think that's a very important part of a young person's journey. I would only say that it's up to each individual how they want to present themselves to the world. The choice is his.
"It's up to each individual how they want to present themselves to the world."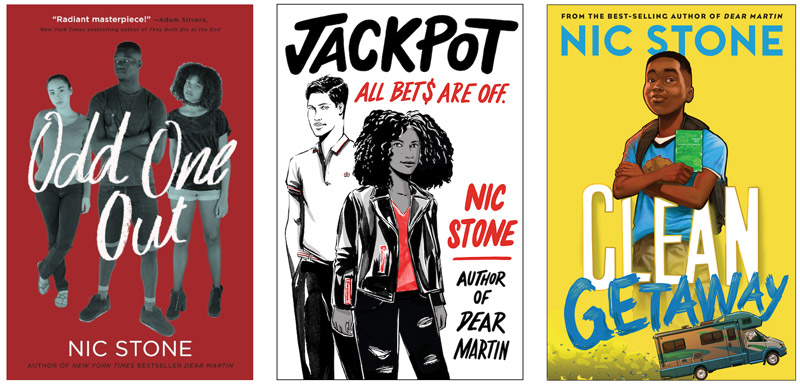 Your books challenge readers in so many ways. Are they also challenging to write?
Absolutely. I don't know that anyone writes about difficult things easily. There is a lot of intensive research and a deep sadness with what I find, considering my books are set in—and reflect—the real world. Editing is excruciating. Rereading for those final few passes is excruciating. But the product and the impact make it worthwhile.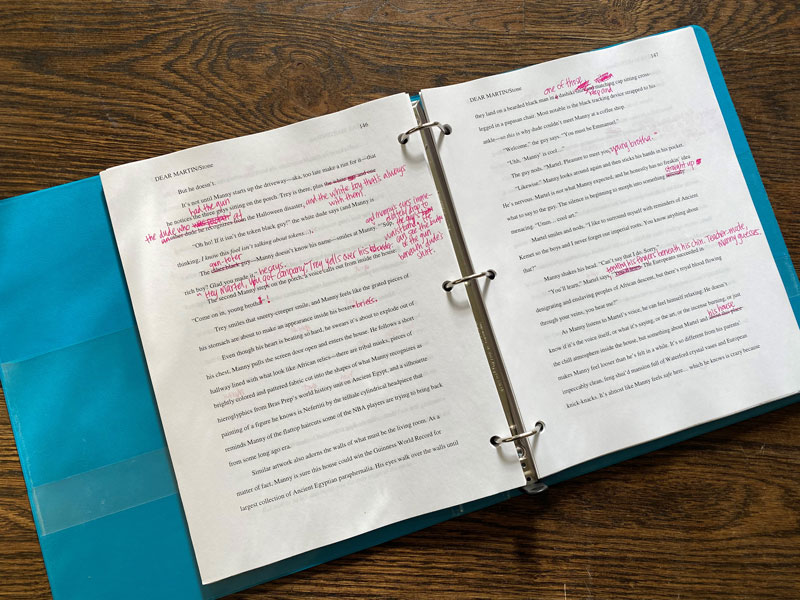 Edited manuscript of Dear Martin
You've shared a mnemonic—a memory device—on your website (nicstone.info) that describes your writing process. I imagine that writing teachers and students find it really helpful! And I bet that many students agree with you about your "least-favorite part." Can you explain it for us?
I really love mnemonics, so I came up with one that would be easy to share with others. I would say the process itself was organic; this is how my brain shapes story. Coming up with the words to represent each stage, and then using the first letter of each to create a sentence was the fun part:
"I Only Eat Raspberries"
Inspiration – the idea
Organization – notes, research/interviews (if necessary), outline
Execution – initial draft
Revision – self-explanatory and my least favorite part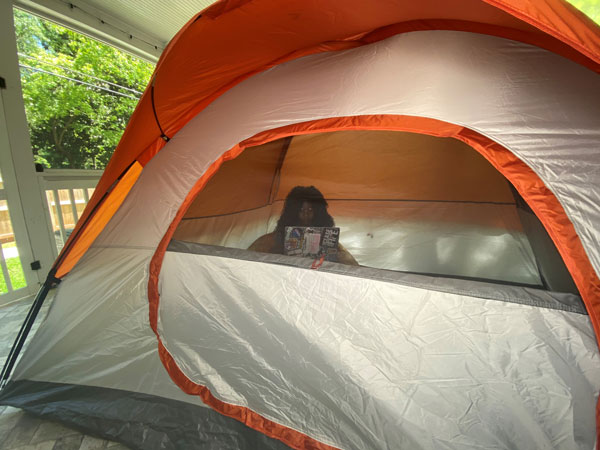 Nic working in her tent
I understand that you lived outside of the U.S. for a few years, and that you grew up with influences from a wide range of cultures, religions, and backgrounds. Have these diverse experiences shaped your writing and your worldview?
Definitely. Even just the process of coming to realize just how many stories out there are ones I've never heard made me excited about bringing some new things to the page. The more you learn, the more you realize how little you know, the more authentic and exploratory your work becomes.
"The more you learn, the more you realize how little you know, the more authentic and exploratory your work becomes."
How would you suggest teachers and librarians use your books with students?
There's a lot to be said for just allowing kids to read and then giving them a safe space to talk about what they've read.
If readers want to send you a "Dear Nic" fan letter, what's the best way for them to contact you?
Logolepsy Media Inc
Attn: Nic Stone
PO Box 87180
Atlanta, GA 30337
---
Teacher Resources