Maribeth Boelts is a well-known name to teachers and librarians who work with young children. They use her gentle, tender stories to teach children important life lessons, as well as to enhance learning and to build relationships. Here, Boelts discusses her writing career that spans more than 25 years, and her latest book, Kaia and the Bees (Candlewick Press, 2020).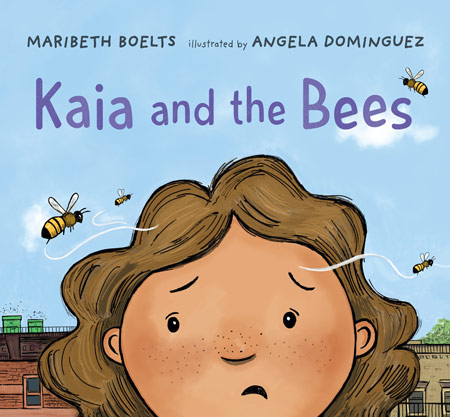 As a child, did you enjoy reading, writing, and visiting the library?
Oh my, YES! I grew up in a family of readers, which necessitated weekly trips to the library. It wasn't long before I could ride my bike to the library on my own, midweek, for another stack. At school, there was little if any actual writing instruction, but we were given blocks of creative writing time when we could write whatever we wanted. I LOVED this time, and it remained a highlight through all my years of elementary and middle school. In high school, I took every writing or English class I could fit into my schedule.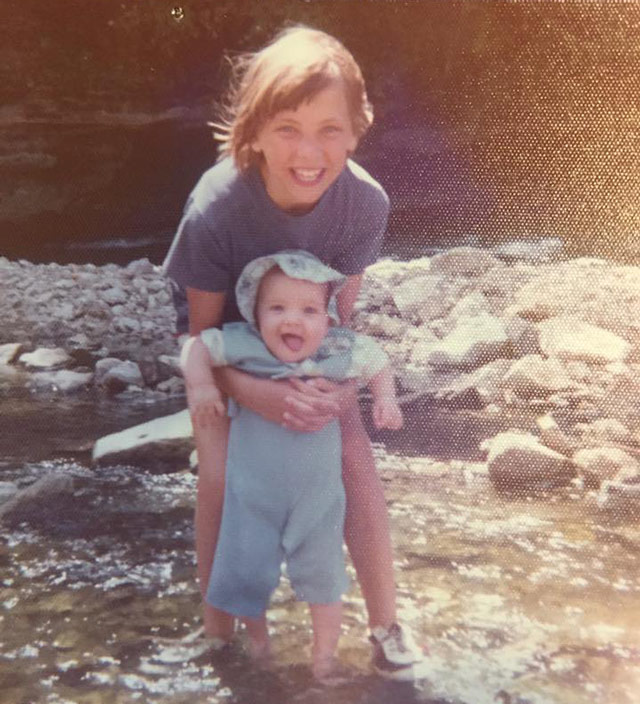 Maribeth as a child, holding her younger sister
How were your parents, teachers, and librarians encouraging of your interests?
My hardworking, blue-collar father memorized and recited poetry. My mother was never without a book and at eighty-eight years old is still always reading. At family gatherings, one of the most important topics my siblings and I banter about is what we are reading.
The most instrumental teacher I had was in sixth grade. I remember sharing a poem with her once, and she put her arm around my waist and whispered enthusiastically, "Maribeth, you are a WRITER." I was lucky to have several teachers throughout my growing-up years who recognized my passion for writing and encouraged me. That kind of affirmation is so powerful, and it is the reason I look for children who love to write when I am on school visits, to offer them the same kind of cheerleading.
"I was lucky to have several teachers throughout my growing-up years who recognized my passion for writing and encouraged me."
How did you get your start in publishing?
I graduated from college with a teaching degree, but carried with me a growing passion to write children's books.  After teaching a few years and writing stories to supplement the curriculum, I decided to take a leave and explore writing for children for a full year. I attended conferences on writing for children and read everything available on the craft of creating children's picture books, all while in the midst of raising young children and reading stacks of picture books to them. I sent stories to small houses, and although I was unagented and received a stack of rejection letters, I eventually sold three picture book manuscripts to Albert Whitman & Company. It was then that I became hooked on what would turn out to be a dream-come-true career.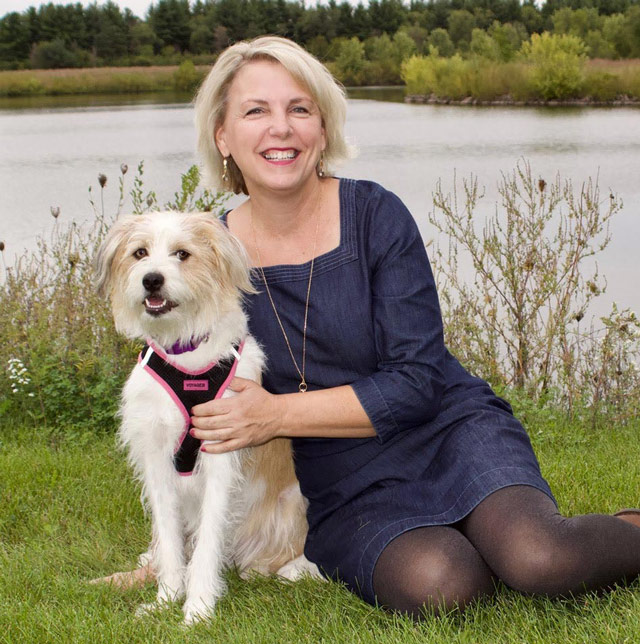 Maribeth with her dog, Honey
Why did you choose to write picture books for children?
My key impetus in choosing to write for children goes back to a time in second grade when I was reading Beverly Cleary's book The Mouse and the Motorcycle (William Morrow, 1965). I remember realizing that Beverly Cleary was a real human being who had a really good idea and wrote it down. I thought maybe I could grow up and do the same. I also learned how much I loved working with young children. So the combination of a desire to write and to connect with young children led me down the path of writing for children.
I have always loved picture books. Picture books hold such magic and can have a universal appeal for both children and adults. I wanted to play a part in creating the kinds of books that would make young children think deeply and feel understood, while also challenging them a bit. And I wanted the adult reading the story to the child to feel something, too—by way of the text, but also through the work of talented illustrators.
In terms of ideas, I've relied on the advice, "Write what you know, remember, and imagine . . . and what you want to find out." Each of my picture books and my middle-grade novel originated from this place of experiencing something in my childhood or in the lives of my children, digging to identify the feelings related to the central problem and the experience of the event, and letting my imagination develop the main character and fill in the details of the plot.
"Teachers, librarians, and parents who hit the pause button long enough in a busy day to ask the bigger questions about the themes in my books provide young readers an opportunity to engage more deeply and hopefully grow in their understanding of themselves and others."
Your books seem to deal with themes such as feeling left out, wanting to belong, doing what is right, being brave, and speaking up. When you write, do you try to address specific concerns and qualities, or do you write a story and the themes naturally come through?
I think of a character and a problem first, then I settle into his or her shoes for a good long while, paying keen attention to the feelings that arise as the character reaches for something out of reach, attempts to obtain whatever it is that is wanted, and experiences a moment of growth and understanding when he/she discovers something even better than whatever it was that was wanted at the beginning of the story. In Kaia and the Bees for example, I didn't set out to write a story about bravery but instead asked myself, "What if there were a brave, tough girl who was deathly afraid of bees? And what would happen if her dad became a beekeeper?" The theme of facing fears had a way of developing organically through unfolding the character's inner workings.
In Kaia and the Bees, your bio mentions that you have been a beekeeper. When and why did you get into beekeeping?
About ten years ago, beekeeping fever took hold of our family. My husband, son, and I kept bees for several years. We raised Russian bees that were both hardy and stingy. But those stings were not wasted. In talking to children across the country, I've noticed a nearly universal fear of bees, and thus Kaia and the Bees was written.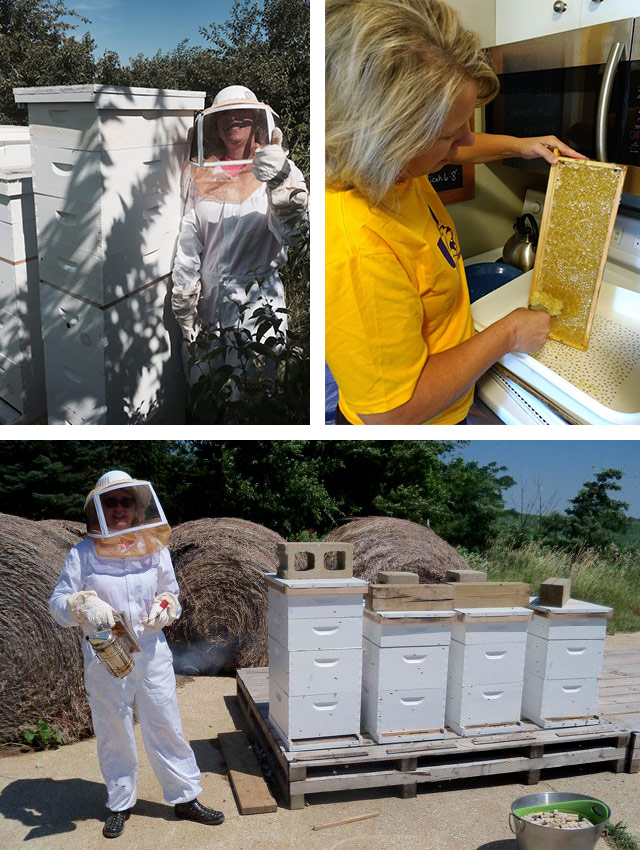 My husband passed away last summer, and we gave away or sold all of our equipment and turned over our hives to a new beekeeper. Though this was an emotional process, it was also so hopeful as we witnessed a new generation of beekeeping enthusiasts catching the fever just as we had. Our family had many misadventures and made a hundred joy-filled memories in our quest to raise healthy, happy bees, and we knew these young families would be experiencing the same. Writing Kaia and the Bees was one way I could keep the sweetest of these memories close to my heart while helping children become not only braver around bees, but also protective of them.
"We are a diverse society, and the books being written for children need to reflect that beautiful and complex reality."
Many of your books, such as Happy Like Soccer (Candlewick Press, 2012) and Those Shoes (Candlewick Press, 2007),  are based in economically challenged settings and feature characters of color. Why was it important to you as a writer to be inclusive of other people and places?
I love writing stories about the everyday, universal experiences and longings of childhood, and I have found that these kinds of stories provide a natural and important footing for including diverse characters, families, and settings, as well as economic diversity. All children need characters they can identify with personally, or see reflected in the children around them. Both identification and exposure build capacity for understanding, which leads to empathy. We are a diverse society, and the books being written for children need to reflect that beautiful and complex reality.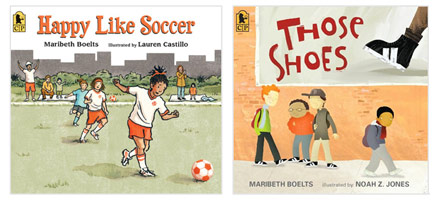 In your upcoming book The Purple Puffy Coat (Candlewick Press, November 2020), we see a different character set working through a relationship challenge. Why did you choose insects and what inspired you to discuss gift-giving?
This book was simply a joy to write! My little grandson gave me the idea for the buggy characters. One day, when he was about four years old, he said, "Grandma, you should write a story about a stick bug and a beetle." Thus, Beetle and Stick Bug found themselves in a story about gift-giving!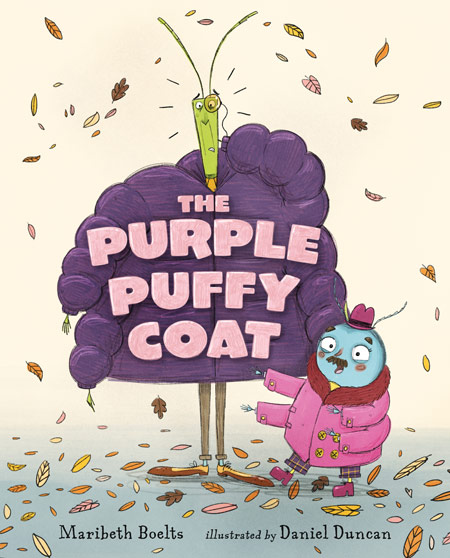 The idea for the story itself came to me as I remembered an incident when my youngest son was six years old. He asked for a "puffer coat" that winter, and I surprised him with a bright, royal blue, very puffy coat that was a bit on the large size. He wore it for a few days but looked utterly miserable in it. One day I asked him if there was something on his mind, and he burst into tears, finally admitting how much he detested that coat. Fast-forward twenty years, and that experience became the launch pad of The Purple Puffy Coat.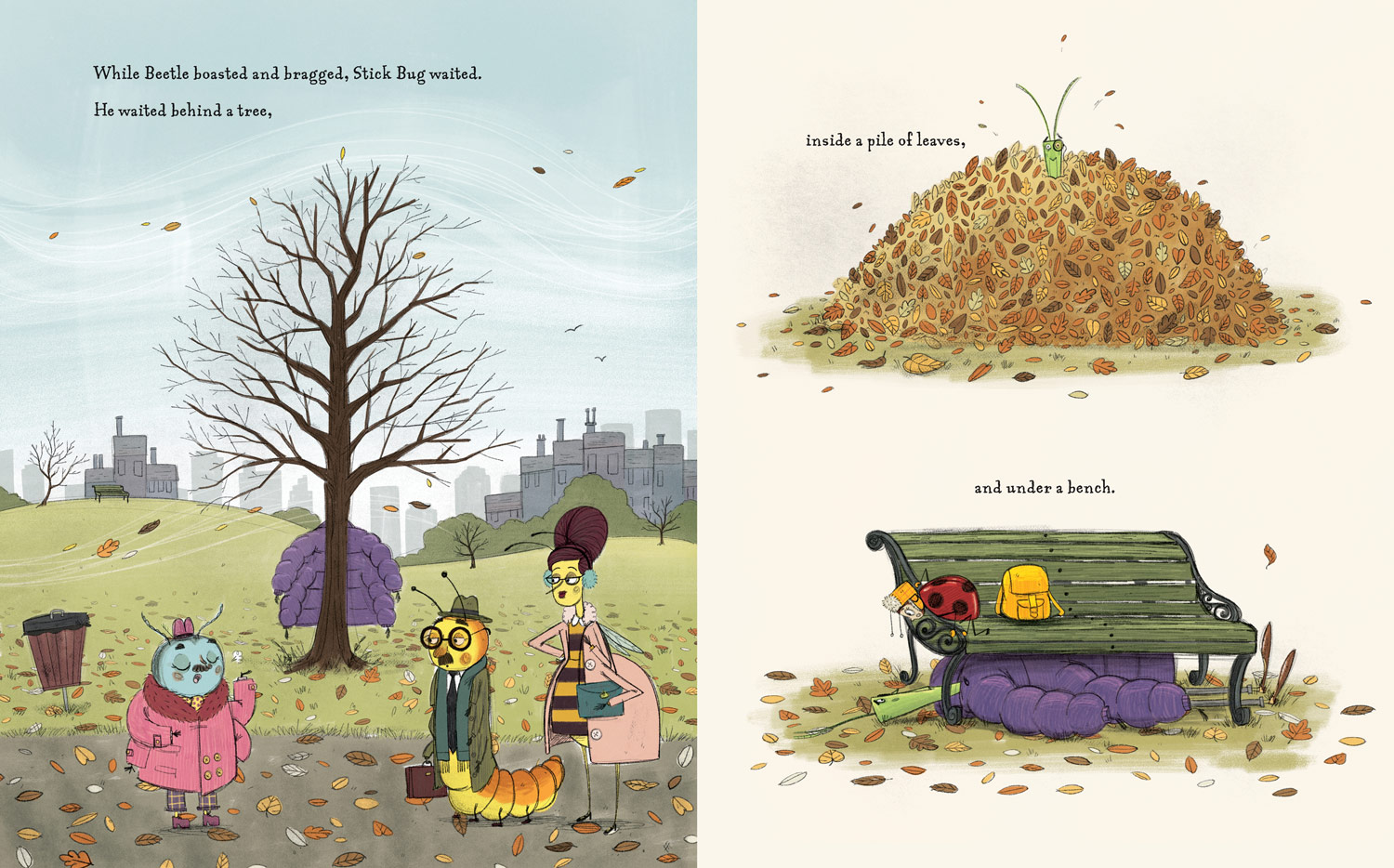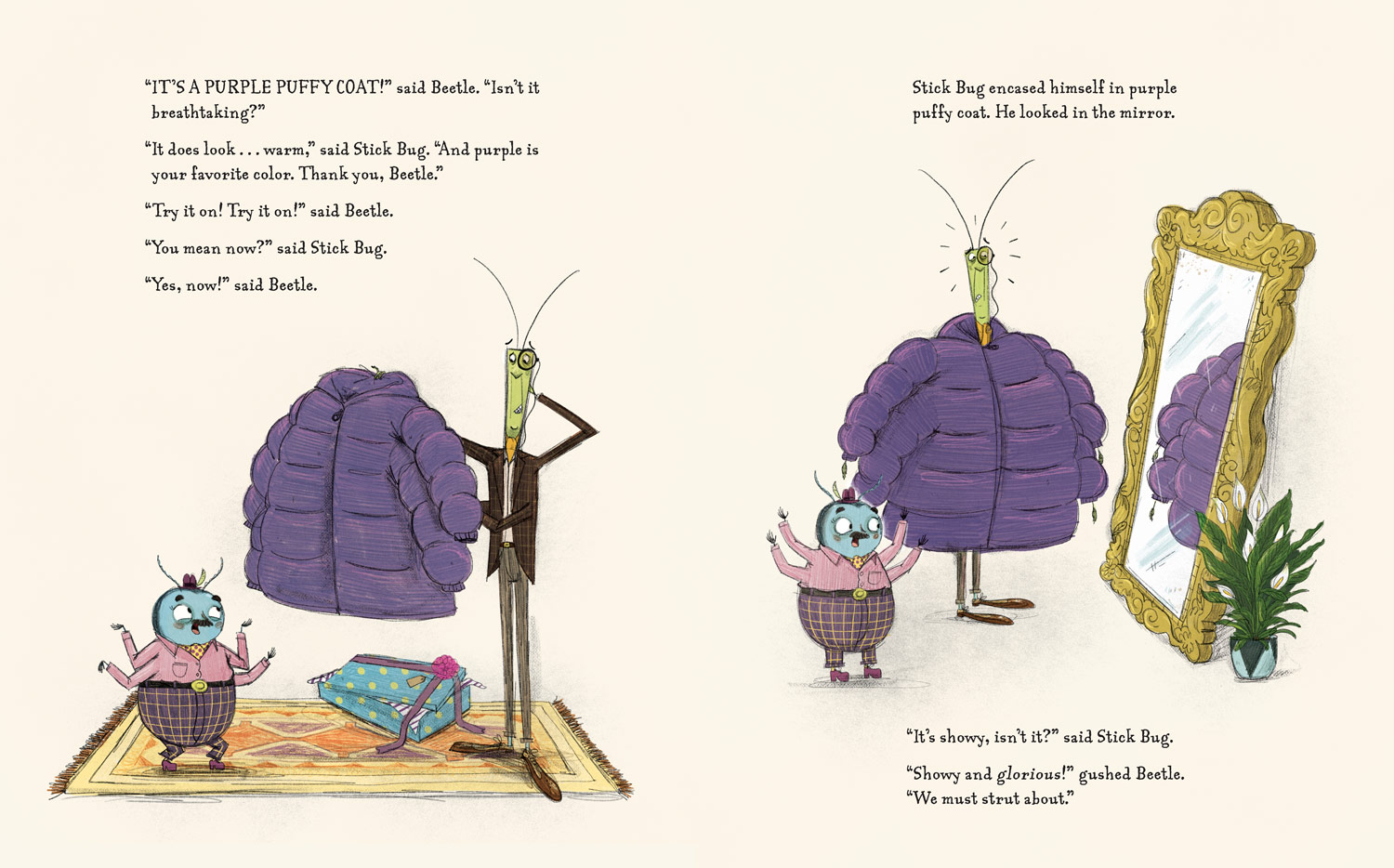 The Purple Puffy Coat. Text copyright © 2020 by Maribeth Boelts. Illustrations copyright © 2020 by Daniel Duncan. Reproduced by permission of the publisher, Candlewick Press, Somerville, MA.
As a former educator and as an author, will you share ideas for how teachers, librarians, and even parents can best use your books with children?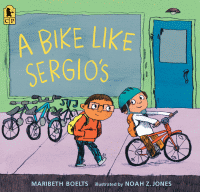 I'm not sure there is any greater joy for a children's book author than to hear that his or her book led to an important discussion between a parent and child, or a teacher and children. These intimate conversations where questions are asked, answers are explored, and all opinions are respected, help a book do its shaping work in a child's heart and mind. In A Bike Like Sergio's (Candlewick Press, 2016), for example, there is an ethical dilemma about whether to return found money to its owner or to keep the money and spend it. This story wouldn't be nearly as powerful if not discussed, and these discussions create lasting bonds between caring adults and young readers. Teachers, librarians, and parents who hit the pause button long enough in a busy day to ask the bigger questions about the themes in my books provide young readers an opportunity to engage more deeply and hopefully grow in their understanding of themselves and others.
Earlier you mentioned that you visit schools. What does a classroom or school visit entail and how do you handle visits during the COVID-19 pandemic?
I love school visits and visit classrooms across the country! With COVID-19, we are limited to virtual visits currently, but whenever it is safe to do so and school is back in session, I am so looking forward to returning to meeting students face-to-face. I visit with students in kindergarten through sixth grade, and as a former teacher, I am in one of my favorite wheelhouses, encouraging young writers and readers. I step students through the process behind the writing of a children's picture book, from idea to finished book. I also unpack the concept of writing what you know, remember, and imagine, or want to find out. Movement activities and audience involvement along with Q&A round out these sessions.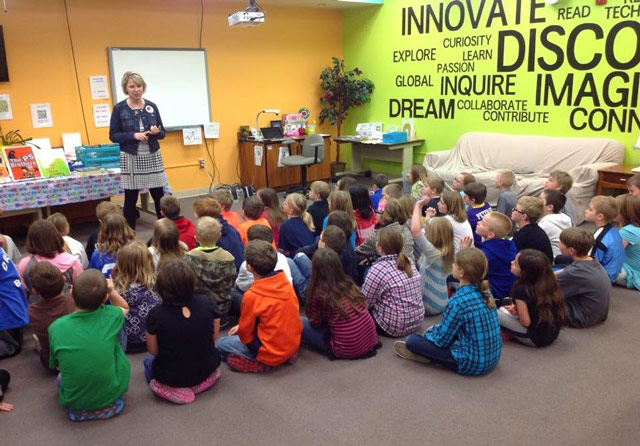 Presenting to students Bees: Beekeeping
Connect With Maribeth Boelts
Are you active on social media? Do you respond to fan mail? What is the best way for readers to connect with you?
I am active on Facebook, Twitter, and Instagram, and I absolutely respond to fan mail! I can be reached through email, social media platforms, or US mail. Email is usually the most efficient.
---
Teacher Resources