by Rachel Benzine, Collection Management Librarian
---
We are living in unprecedented times. How many times have you heard or read that phrase recently? In all seriousness though, we are all trying to take this unique period of life one day at a time. Every day brings a new COVID-19-related headline. We are surrounded by information about coronavirus. However, most of what I've seen around coronavirus has been adult-directed information. The students we work with are likely overhearing radio and television news broadcasts, glimpsing headlines from the online news their parents are reading, and seeing statements about coronavirus that may or may not be accurate on social media networks. They're experiencing the disruption that coronavirus has wrought across the world, but they may not fully understand what is happening.
How do you explain coronavirus to a child? Kids are smart, and they're definitely wondering what's causing all these changes in their daily routines. However, it can be complicated to walk the boundary between offering a realistic portrayal of COVID-19, and ensuring that you are doing so in an age-appropriate way.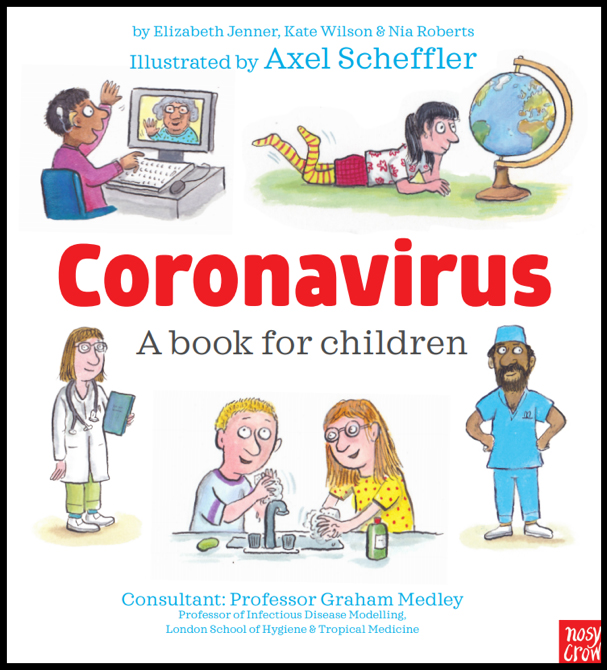 Candlewick Press just released a new eBook that is available for free digital download. Coronavirus: A Book for Children is an accessible, straightforward, age-appropriate guide to COVID-19 for children. The authors consulted with a professor of infectious disease modeling, two teachers, and a clinical psychologist in the process of writing this book. It starts with an explanation of viruses, how they spread, and what happens if someone has coronavirus. It addresses closures of common spaces, like schools and libraries, as well as pointing out that some spaces remain open because they are considered essential. It concludes with suggestions for what kids can do to help, including being kind to the people they live with, keeping up with schoolwork, and of course, washing their hands.
In my opinion, one of the coolest parts of the book are the pages on what it's like to be home all the time. The authors touch on different emotions that the kids (and adults!) may experience – boredom, loneliness, anger, and sadness. Teaching students to identify their emotions can reduce anxiety1, which is so prevalent in this day and age. This section incorporates social-emotional learning by specifically addressing what our students may be feeling while staying at home for an extended period of time.
In addition to the high-quality content in this book, there is great representation of diversity in the illustrations. There are people depicted with a variety of racial and ethnic identities, people using mobility aids like a wheelchair and a walker, a person with a cochlear implant, and a female doctor working with a male nurse. Coronavirus touches people from all walks of life, regardless of race, age, ethnicity, ability, religion, or any other demographic characteristic. It's crucial for the kids reading this book to see themselves and their loved ones reflected in the story.
You can get a copy of Coronavirus: A Book for Children for free by going to Mackin's Distance Learning Essentials Digital Content page. I hope this book will be helpful to you in working with your students in this social distancing period. Stay well, everyone!
---
References
1Parsafar, P. (2019). Teach your children to identify, label, and express their emotions. Anxiety Relief Project. https://anxietyreliefproject.com/teach-your-children-to-identify-label-and-express-their-emotions/