In celebration of the 100th anniversary of the passing of the 19th Amendment, we are exploring the courageous figures who fought for women's suffrage. It is important to remember well-known individuals, but there are also men and women alike who have been hiding in the shadows.
We are shining a light on the people who fought for equality, and on those who supported them by standing up for what's right and what they believed in. The following books highlight the people who paved the way.
---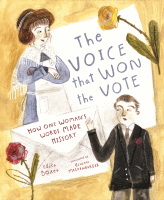 The Voice That Won the Vote by Elisa Boxer
Harry Burn, a lawmaker in Tennessee, changed history and cast the deciding vote to give women suffrage in America. In addition to talking about how he helped the women who were fighting for equality, the book emphasizes that it's not always easy to stand up for what's right, but it's always important to stand up for what you believe in. A perfect book for any grade level to be used as a read-aloud or as an addition to inquiry units about women's suffrage.
---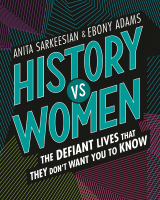 History vs Women: The Defiant Lives That They Don't Want You to Know by Anita Sarkeesian
A diverse collection of writings profiling 25 women from world history who stood their ground and broke down cultural barriers in order to follow their dreams. A great title to use for a read-aloud, independent reading, or research for upper middle school or high school classrooms.
---
Lifting as We Climb: Black Women's Battle for the Ballot Box by Evette Dionne
This book focuses on the African American women who fought for the right to vote for all women, while also fighting to be treated as equal citizens of the United States.  The title illustrates the women's struggle with white abolitionist-suffragists, the importance of community, and the need for equality for all. A positive addition to middle school collections.
---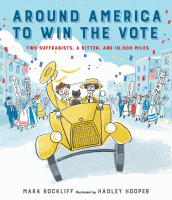 Around America to Win the Vote: Two Suffragists, a Kitten, and 10,000 Miles by Mara Rockliff
Tells the tale of how Nell Richardson, Alice Burke, and a little kitten set off across the country to spread the word of equal voting rights for women. They experienced many hardships on their journey, but were determined to fight for what they believed in. A great read for adventurous spirits, and a reminder that speaking up, and encouraging others to do the same, makes a difference and creates positive change.
---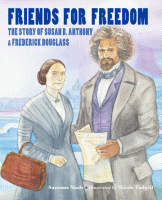 Friends for Freedom: The Story of Susan B. Anthony & Frederick Douglass by Suzanne Slade
A tale of friendship between two courageous people in history who shared a belief in equality for all. This book brings to light the early lives of Susan B. Anthony and Frederick Douglass, and describes their fight to abolish slavery and win women the right to vote. This book shows the importance of friendship, working through disagreements, and standing together for the common good no matter how difficult. An important reminder that friendship knows no borders.
---