by Katy Tessman, New School Services Project Manager and Makerspace Specialist
---
At my son's swim meet last month, I overheard a group of adults complaining that kids these days rely too much on spell check and calculators. I wanted to point out that spell check and calculators were created by people. And the students today, while dependent on the tools that have been invented before them, need to be innovators and make new and more powerful tools. I decided not to contribute to the discussion and instead write this blog article.
According to the Department of Labor, more than 65 percent of today's students will grow up to take on jobs that do not exist yet. Since the early 1970s, someone developed the programming for spell check, and electronic calculators started being used regularly. We need today's students to do the next thing, like discover the cure for cancer, stop and reverse climate change, and do something more than recite math facts and have perfect spelling. Educators have been tasked with teaching today's students the skills they might need to be competitive in this uncertain future.
The World Economic Forum shows on its Future of Jobs Report 2019 that creativity, originality, and initiative are among the top growing skills in the workplace. Among the top 10, problem-solving, critical thinking, reasoning, ideation, and evaluation, all subcategories of creativity, are also considered growing skills. Declining skills include precision, manual dexterity, memory, technology installation, reading, writing, and math.
March is Women's History Month, and March 8th is International Women's Day— a perfect time to look back and recognize the hundreds of "forgotten" women who have shaped our country by using their problem-solving, critical thinking, reasoning, and ideation skills to make key contributions to the development of technology, science, the arts, and leadership. These women deserve to be celebrated. Here are a few new books with their publishers' summaries that highlight some of the groundbreaking and long-lasting innovations these women are responsible for. I hope these books will inspire today's students to be innovators as well.
---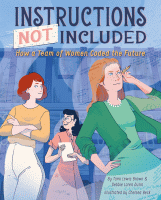 INSTRUCTIONS NOT INCLUDED: HOW A TEAM OF WOMEN CODED THE FUTURE by Tami Lewis Brown and Debbie Loren Dunn with illustrations by Chelsea Beck (DISNEY-HYPERION, 2019).
This is the story of WWII-era innovators Jean Jennings Bartik, Kay McNulty Mauchly, and Betty Snyder Holberton, who used their math skills to program one of the first ancestors to the computer, the ENIAC (Electronic Numerical Integrator and Computer). With no guide and little access to the machine itself, the three women nevertheless persisted, and used their knowledge of mathematics and electrical engineering to make a functional machine that helped guide future innovators. (Interest Level: Grades 2-4)
---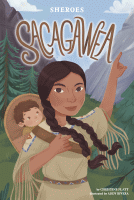 SACAGAWEA (SHEROES series) by Christine Paltt with illustrations by Addy Rivera (CALICO KID, 2020)
This title introduces readers to Sacagawea and how she became a shero for one of America's most famous expeditions. Aligned to Common Core Standards and correlated to State Standards, this early reader is for students in preschool through third grade. This series introduces the shero, provides historical context, explores the figure's most prominent heroic deeds, and discusses her greatest impact. (Interest Level: PS-Grade 3)
---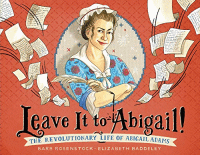 LEAVE IT TO ABIGAIL! : THE REVOLUTIONARY LIFE OF ABIGAIL ADAMS by Barb Rosenstock with illustrations by Elizabeth Baddeley (LITTLE, BROWN BOOKS FOR YOUNG READERS, 2020)
Everyone knew Abigail was different. Instead of keeping quiet, she blurted out questions. Instead of settling down with a wealthy minister, she married a poor country lawyer named John Adams. Instead of running from the Revolutionary War, she managed a farm and fed hungry soldiers. Instead of leaving the governing to men, she insisted they "Remember the ladies." Instead of fearing Europe's kings and queens, she boldly crossed the sea to represent her new country. And when John Adams became President of the United States, Abigail became First Lady, and a powerful advisor. Leave it to Abigail—an extraordinary woman who surprised the world. (Interest Level: PS-Grade 3)
---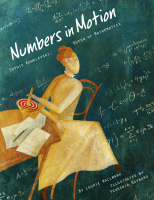 NUMBERS IN MOTION: SOPHIE KOWALEVSKI, QUEEN OF MATHEMATICS by Laurie Wallmark with illustrations byYevgenia Nayberg (CRESTON BOOKS, 2020)
Sophie Kowalevski was both a brilliant mathematician and a talented writer. Creative work nurtured her mathematical research, giving her a flexibility of thought she treasured. A wonderful STEAM figure, she not only did mathematical research, but she also created many literary works. This inspiring title tells the story of Sophie's journey to become the first woman to receive a doctorate in mathematics, which required original research, holding a university chair in mathematics, and becoming the editor of a major scientific journal. (Interest Level: Grades 1-4)
---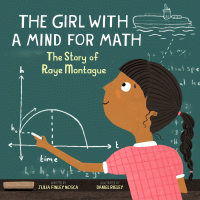 GIRL WITH A MIND FOR MATH: THE STORY OF RAYE MONTAGUE (AMAZING SCIENTISTS series) by Julia Finley Mosca with illustrations by Daniel Rieley (INNOVATION PRESS LLC, 2020)
A rhyming picture book biography of Raye Montague who, after touring a submarine in the 1940s, decided to use her mathematical skills to become an engineer. Although she faced sexism and racism, Montague persisted in her career and eventually succeeded in writing a computer program for the U.S. Navy that designed a submarine in just nineteen hours. Includes an inspirational note from Montague, facts about her life, an illustrated timeline, biographical information, and further resources. (Interest Level: Grades 2-5)
---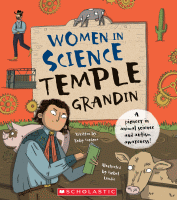 TEMPLE GRANDIN (WOMEN IN SCIENCE series) by Ruby Cardona with illustrations by Isobel Lundie (FRANKLIN WATTS, 2019)
Temple Grandin's research into animal behavior, and inventions in farm technology, have changed the way that livestock are treated across North America and all over the world. Before, animals were treated terribly and often suffered before they died. Thanks to Temple, many of them live far happier lives. Temple has also been a hard-working campaigner for autism awareness, helping to promote an understanding of this disorder. This book tells Temple's story. (Interest Level: Grades 1-4)
---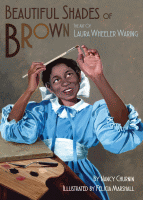 BEAUTIFUL SHADES OF BROWN: THE ART OF LAURA WHEELER WARING by Nancy Churnin with illustrations by Felicia Marshall (CRESTON BOOKS, 2020)
Growing up in the late 19th century, Laura Wheeler Waring didn't see any artists who looked like her. She didn't see any paintings of people who looked like her, either. As a young woman studying art in Paris, she found inspiration in the works of Matisse and Gaugin to paint the people she knew best. Back in Philadelphia, the Harmon Foundation commissioned her to paint portraits of accomplished African Americans. Her portraits still hang in Washington, D.C.'s National Portrait Gallery, where children of all races can admire the beautiful shades of brown she captured. Laura Wheeler Waring was an African American artist and educator, best known for her paintings of prominent African Americans that she made during the Harlem Renaissance. (Interest Level: Grades 1-4)
---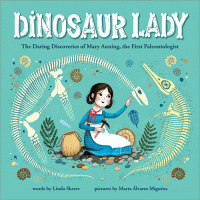 DINOSAUR LADY by Linda Skeers, pictures by Marta Alvarez Miguens
(SOURCEBOOKS EXPLORE, 2020)
Mary Anning grew up in a seaside town in England. When Mary was eleven years old, her father died and Mary used her hobby of collecting trinkets to support herself. In fact, the famous tongue twister "She sells seashells by the seashore" was written about her! One day Mary found the fossil of an ichthyosaurus, which is Latin for "fish lizard." The word "dinosaur" didn't even exist at that time. A wealthy businessman bought it and placed it on display in a museum. Mary's discovery was the beginning of the field of paleontology. Many of Mary's fossils were displayed in museums and were written about in books and journals, but at that time, she didn't get any credit—because she was a woman! Here's to giving her the credit she deserves!
(Interest Level: Grades K-3)
---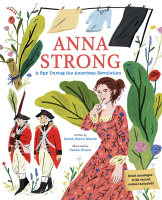 ANNA STRONG: A SPY DURING THE AMERICAN REVOLUTION by Sarah Glenn Marsh, illustrated by Sarah Green (ABRAMS BOOKS FOR YOUNG READERS, 2020)
Anna Smith Strong (1740–1812) was a fearless woman who acted as a spy for George Washington during the Revolutionary War. General Washington placed a huge amount of trust in his spies, and Anna helped pass him important messages at great risk to herself and her family. One of her more clever devices was to hang laundry on the line in a planned fashion so that other spies could read the "message." Thrilling and dramatic, Anna Strong tells the story of how one brave woman helped change the course of American history. The book includes an author's note, a bibliography, an index, and a spy code so kids can get involved in the action. (Interest Level: PS-Grade 3)
---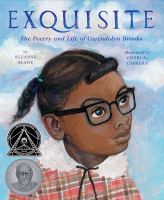 EXQUISITE: THE POETRY AND LIFE OF GWENDOLYN BROOKS by Suzanne Slade, illustrated by Cozbi A. Cabrera (ABRAMS BOOKS FOR YOUNG READERS, 2020)
Gwendolyn Brooks (1917-2000) is known for her poems about "real life." She wrote about love, loneliness, family, and poverty—showing readers how just about anything could become a beautiful poem. Exquisite follows Gwendolyn from early girlhood to her adulthood, showcasing her desire to write poetry from a very young age. This picture book biography explores the intersections of race, gender, and the ubiquitous poverty of the Great Depression—all with a lyrical touch worthy of the subject. Gwendolyn Brooks was the first black person to win the Pulitzer Prize, receiving the award for poetry in 1950. And in 1958, she was named the Poet Laureate of Illinois. A bold artist who from a very young age dared to dream, Brooks will inspire young readers to create poetry from their own lives. (Interest Level: Graces 1-4)