Aida Salazar is a celebrated writer and activist. Her middle-grade novel, The Moon Within, received four starred reviews and won an International Latino Book Award. She has several upcoming publications, including another middle-grade novel and a picture book biography. She will also be co-editing a middle-grade anthology on menstruation that is poised to make a significant impact on the way that society perceives and discusses menstruation. We welcome her to our Mackin Community as a guest author discussing this pressing issue.
---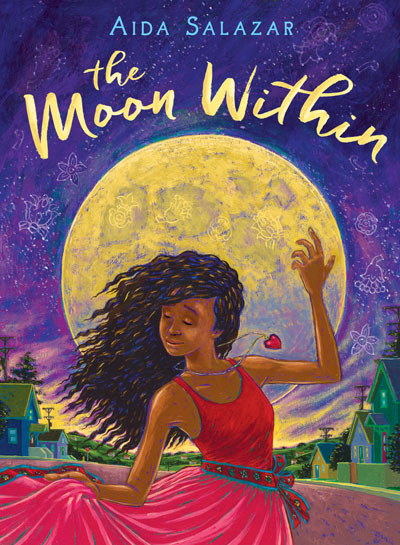 When I wrote my debut verse novel, The Moon Within, I wanted my own daughter to see her experience dance inside the pages of this book. At ten years old, she was beginning to blossom and to ask many important questions about her changing body. I knew that I would soon give her a moon ceremony when her period came because other girls in our community celebrated in this way. When I searched for books to help me present puberty to her, I found dozens of nonfiction books for adults and girls written from a Western European perspective and only a couple from a U.S. indigenous lens. When I looked to fiction, I rediscovered Judy Blume's novel, Are You There God? It's Me, Margaret. There were a few middle-grade books where periods made an appearance in a scene but were not centered. There were no books that spoke to it from a Latina perspective and certainly none from a Mexican indigenous perspective in either fiction or nonfiction. So, I set out to write a novel that would fill that gap for her and other girls like her; one that was grounded in ancestral tradition and body positivity. I wanted to invoke the beauty, magic, and awkwardness that happens during such a tender transition.
It was only after the book had been acquired that I learned Judy Blume's book, that we know of, was the last middle-grade novel wholly centered on menstruation written in forty-five years! Let's just marinate on that for a minute. That is generations of girls and menstruators with only one novel-length fictional discussion on something as amazing as menstruation. I knew I was writing a first in fiction for Latinas, but I had no idea it was so dismally represented in novel-length fiction for all middle graders in the U.S. It is an incredible and tragic fact given that half the world menstruates and that every single person on the planet came from a menstruator. Not to mention, a first period is one of the most life-altering moments in a menstruator's life. It is the moment when their journey into adulthood officially begins. While I am so happy The Moon Within has begun to fill a larger gap than I anticipated, I also grieve for all book-loving menstruators who have had to wait so long to see our beautiful menses centered in a novel again.
When we contemplate the reasons why this is true, we don't have to look far to see how the legacy of patriarchal dominance afflicts almost all segments of our societies worldwide. Patriarchal and puritanical modes of thinking have relegated our periods—the most natural of human physiological phenomena—to the realm of secrecy and shame. The Moon Within was written from a place of radical love for my daughter, for all girls and menstruators, to help redefine the dominant narrative that menstruating bodies are dirty, feared, or loathed into a narrative that celebrates our bodies, and honors our natural cycles and connection to the moon. In many ways, I wrote it for myself, now that I have reclaimed menstruation's power, to heal and break free from the damaging narrative that I too had internalized during my own coming of age and beyond.
In this year alone, an Oscar-winning documentary, a non-fiction book, podcasts, and radio shows have joined the movement to end period stigma. Soon, we will see in print a few more novels and anthologies to take on menstruation as a central theme. Elana K. Arnold's book Red Hood, released in March 2020, is a fantasy novel that gives a menstruating teen the power to slay werewolves; and ARCS are going out about a graphic novel called Go With the Flow, by Lily Williams and Karen Schneemann, that also provides a positive depiction of menstruation. In 2022, I will be co-editing with Yamile Saied Méndez a middle-grade fiction anthology entitled Calling the Moon with stories about menstruation by IBPOC authors. I am committed to creating a wider space in middle-grade fiction on periods from people from communities we have not heard. Calling the Moon boasts a list of celebrated and award-winning middle-grade authors such as Erin Entrada Kelly, Ibi Zoboi, Margarita Engle, Nikki Grimes, Cristina Soontornvat, N. H. Senzai, Guadalupe Garcia McCall, and more!
I am hopeful because this movement that puts women and menstruating bodies at the center of its discourse is making incredible inroads. Yet, we have far to go. We must keep creating, keep fighting with radical love for all menstruators until we can see period justice, period health, and period celebration in all its beauty and power.