"Remembering the mistakes of the past will hopefully create
a more enlightened, tolerant, and peaceful future."
—Author's Note, The Night Diary
---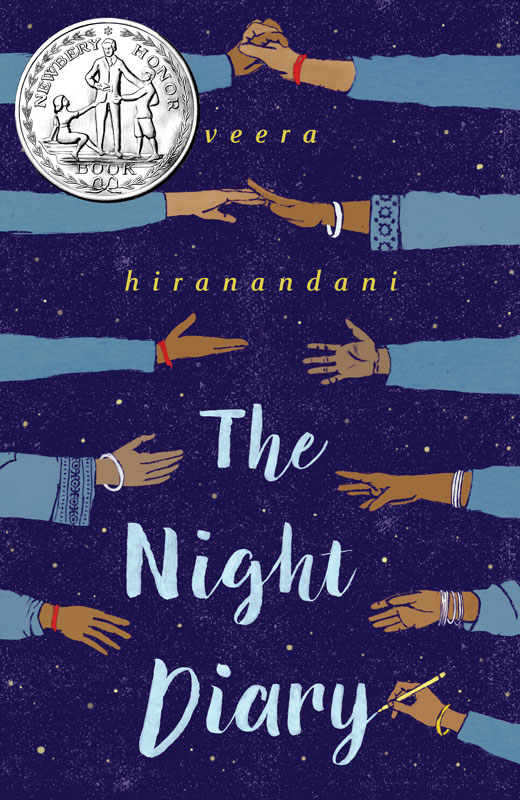 From nearly the beginning of time, people have remembered, retold, and recorded the stories of their experiences and those of their ancestors. These experiences often connect generations, share lessons learned, and inspire hope for the future. With the 2019 Newbery Honor Book The Night Diary (Kokila, 2018), author Veera Hiranandani continues the tradition of storytelling for generations to come. Though fictionalized, this tale of a family during India's independence from British rule and partition in 1947 is loosely based on the experience of her own relatives.
"My father and his family had to leave their home in Mirpur Khas, Pakistan, during the Partition. I heard my father, my aunts, and my uncles tell the story as I was growing up. They lost their home, their community; but they made it safely and started over. Many people did not. When I got older, I became more curious, did more research, and wondered why I never learned about the Partition in school in the U.S.—such a significant event in our global history."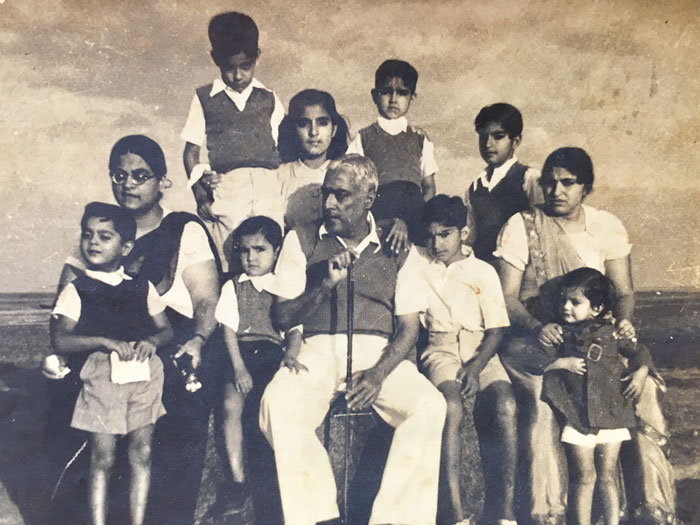 Veera Hiranandani's grandparents pictured with her father as a child (on the far left), along with his siblings, aunts, and cousins.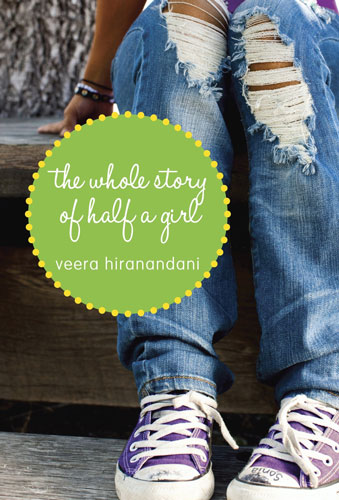 Hiranandani is a relative newcomer to the world of books for middle-grade children and young adults. Though she has published two novels and a chapter book series, her name is not widely known to readers. However, she was involved in publishing for many years before becoming an author, most recently as a children's book editor for Simon and Schuster. "Being an editor helped me understand what an editor does and be open to feedback and revisions. I also had a sense of how the business worked so I didn't feel like I was in the dark when I published my first novel, The Whole Story of Half a Girl (Yearling, 2013). I think it helped me get my work read a little faster off the slush pile, but it doesn't matter how many connections you have—if an agent or an editor doesn't like your work, it's not going to happen."
Fortunately for Hiranandani, it did happen. She wrote The Whole Story of Half a Girl in 2013. Then came the widely popular Phoebe G. Green series with the first book published in 2014. And just last year came the book that brought her name to the forefront when it was chosen as a 2019 Newbery Honor Book: The Night Diary.

"I think receiving a Newbery Honor will give my work a certain validation going forward and perhaps more readers. It is both intimidating and exciting to think about writing for a larger audience. It will also mean that The Night Diary will have a place on the Newbery list forever, and that historical significance is what moves me the most."
The Night Diary is a first-person tale from the viewpoint of a 12-year-old girl writing to her deceased Muslim mother in a diary she receives for her birthday. She records the changes she sees around her as her family flees to India, and expresses her feelings about family dynamics, political agendas, and an unknown future. It is a complex and emotionally moving tale about a time of which many have not heard. 
"It has been confusing at times to be both interfaith and biracial, but so rich and complex. I think of it as a gift."
"When I became a writer, I knew I wanted to shape a story around this time—that more Partition stories needed to be told—but it took me a while before I felt confident enough to try. For research, I spoke to my father, friends, and other family members. I watched documentaries and read historical accounts and adult novels on the subject. I also read and listened to many oral testimonies online about people's experiences because I wanted to explore expansive themes that were more complex than just my father's story. What was it like as a Hindu, a Muslim, a Sikh? How was it different? How was it the same? What if your religious identity wasn't as clear, like the main character Nisha's? I wanted to understand beyond the facts, what it might have felt like going through this crisis as a refugee."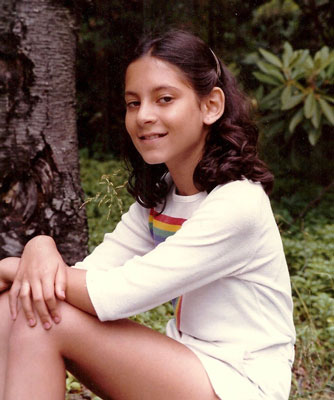 Hiranandani, age 10
The main character in The Night Diary, Nisha, is half Hindu and half Muslim. The main character in Hiranandani's first novel, The Whole Story of Half a Girl, is half Indian and half Jewish. Interestingly, Hiranandani also has a mixed background and she understands the challenges and the benefits of multiculturalism.
"The idea of navigating multiple identities is very personal for me. Sonia, the main character in The Whole Story of Half a Girl, shares my specific background. And Nisha in The Night Diary is navigating between her Hindu and Muslim identities. I also married a Jewish man, and though we've decided to raise our kids identifying as Jewish, they are familiar with some Hindu holidays from my side of the family and both Indian and Jewish cultural practices. It has been confusing at times to be both interfaith and biracial, but so rich and complex, I think of it as a gift."
"I write for both those who are navigating multiple religious and racial identities, but also for anyone who feels like their identity is confusing to other people or not as valued as the identities around them."
Awaiting the Newbery Committee Call
"I wish I could tell you that I didn't even think about it, but the truth was I didn't sleep much the night before just knowing there might be a chance, no matter how small! I had a good friend come over that morning. She brought me some delicious homemade brownies and we were eating them when I got the call. I figured if I didn't get a call, I'd be better off with brownies and a good friend by my side. When the call came, we froze. I don't even remember what I said. I just sort of cheered and yelled and thanked them over and over. They all cheered and clapped and it felt like everyone was just cheering, laughing, and clapping; and then they hung up. Stunned, I quickly made lots of phone calls letting everyone else know: my family, my agent, my editor. It was such a mind-blowing, happy day. I am still in awe."
The Night Diary is the first book published under the new Penguin Random House imprint, Kokila. The label, per their mission statement, is dedicated to "centering stories from the margins" that "reflect the richness of our world." As the first author under the new imprint, Hiranandani has nothing but praise for the label's dedication to promoting diversity.
"I have always wanted to have my voice, both as a person and a writer, feel like it wasn't just there to add a helping of diversity on the side, but to be there because it was as important as any other voice, the main course. To be the first book coming out under the Kokila label is an honor for me and The Night Diary, but just the beginning of what I hope to be a long, exciting life for the imprint.  I was so lucky to be able to work with Namrata Tripathi, formally of Dial, but now publisher of Kokila, the imprint she started. She's both a talented story editor and line-editor, but also has such an astute knowledge of how the story fits into both the world the writer has built and our current society. She's good at asking hard questions, but gently and respectfully. I want my editor to go deep and ask me the questions I haven't thought of yet. That helps me be the best writer I can be."
In addition to her job as an author, Hiranandani teaches fiction writing at The Writing Institute at Sarah Lawrence College. There she works with her students, as her editor works with her, to help them be the best writers they can be.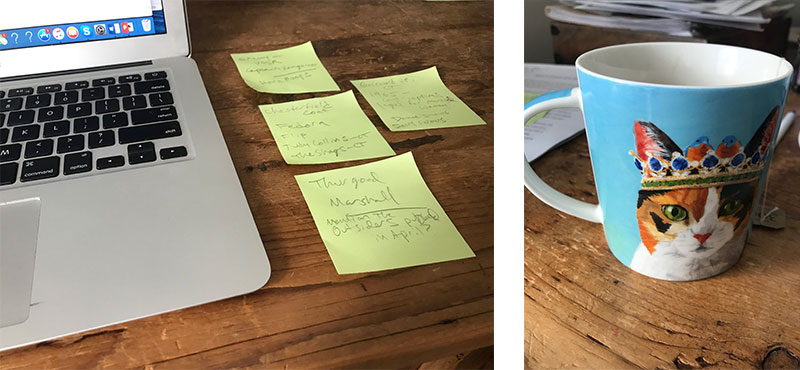 Her workspace and her lucky cat mug
"Helping students develop their voices as writers and understand how to use the craft to tell the kind of story they hope to tell is very gratifying. It always keeps me on my toes as a writer and I learn from them. The trick to writing is knowing that there is no trick. It's a long road that takes perseverance and stamina. If you spend a lot of time writing, revising, and reading, over many years, you will get better. I think for newer writers, it's more useful for them to think about their writing as a continued work in progress. Trying to make a first draft 'perfect' is often a recipe for failure, but if you see it as a long-term project that will be completed in many stages—the first draft just being one—you'll learn as you go and enjoy the process more."
"I would say to young people who feel different, that usually it's where you'll find your strengths as you grow. It can be hard, though, and many people have to struggle a lot harder than I did. Also, the feeling doesn't magically go away. I still struggle with my own identity, but I feel like it gives me the ability to understand and empathize with many different kinds of people. And I appreciate that."
With her teaching schedule and her recent Newbery Honor, Hiranandani has still managed to keep her focus on writing. And next summer, in 2020, her next middle-grade novel, The Sound of Summer, will be published by Kokila.
"Each new book brings you back to the starting line. I still want to push myself to new and scary places with each book, and the results will be different every time. I don't know how many books I'll write, or what exactly it will mean, just that I will continue on the path of storytelling. I wish to tell stories that are not only engaging, but feel meaningful and memorable to the reader and provide a kind of companionship. Sometimes that might be about the reader relating to the very specific identity they share with the characters, and that is incredibly important for me to help more young readers see themselves in the books they read. However, there might be all kinds of connections which might feel meaningful to the reader. Books have always helped me feel less alone in the world, so I hope my books do that for other people."
Connect With Veera Hiranandani