As May draws to a close, we are wrapping up National Foster Care Month! There are over 442,000 children in the foster care system in America1. The kids in foster care range from newborns to older teenagers. They represent a variety of ethnicities, races, sexualities, abilities, and religions. Kids come to foster care for a variety of reasons, but most have been neglected or abused by their biological parents. The median amount of time for a child to be in foster care is a little over one year2. Some will be in the system for only a few weeks before being reunited with biological parents or primary caregivers. Some will be adopted by biological relatives, family friends, or foster parents. About 20,000 children "age out" of the foster care system each year when they turn 18, turn 21, or graduate from high school, depending on their state legislation 2.
I recently finished reading Extraordinary Birds by Sandy Stark-McGinnis, which was released in April 2019. This middle-grade novel tells the story of December, who has been in the foster care system for many years. December believes that she knows a secret about herself: she is actually a bird. The scars on her back are really just where her wings will sprout from, and once she has wings, she can fly away to somewhere safe. At the beginning of the book, she is placed with a new foster mom. We get to come along with her on the journey of this new placement, and watch as she learns what home can look like. Extraordinary Birds deals with sensitive issues – including foster care, trauma, and acceptance of transgender individuals – with a delicacy that makes them accessible for younger readers. This book tugs at your heartstrings in the best way, and it is definitely worth highlighting both in National Foster Care Month and throughout the year. I'd recommend it for kids in grades 4-6.
If you're interested in reading more about children who are in foster care or have been adopted, check out the following titles!
Easy Books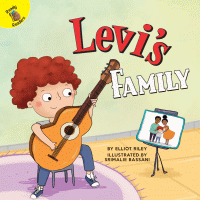 Levi's Family by Elliot Riley. 9781683424130. Rourke Educational Media. 2017. Gr PS-2.
A young boy named Levi lives with foster parents who love and care for him. He is overjoyed when he learns that they are going to adopt him. Includes a picture glossary and text-related questions.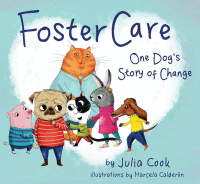 Foster Care: One Dog's Story of Change by Julia Cook. 9781937870461. National Center for Youth Issues. 2018. Gr K-2.
Encouraging, rhyming text and illustrations show a young dog adjusting to being in a foster home. Helps young children entering the foster system understand that they are not alone.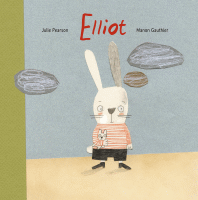 Elliot by Julie Pearson. 9781927485859. Pajama Press. 2016. Gr 1-3.
Elliot's parents do not know how to take care of him. As Elliot moves from one foster home to another, his visits with his parents leave him anxious and conflicted about where he wants to be. As last he finds stability with his new adoptive family.
---
Elementary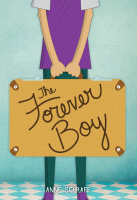 The Forever Boy by Anne Schraff. 9781622509577. Saddleback Educational Publishing. 2016. Gr 3-6 (Hi-Lo title; reading level 2.4).
Bruno is just getting used to his loving foster parents and things are going well. Then a rich couple begin admiring Bruno and want to adopt him. Bruno is afraid he has no choice in the matter and his foster parents are torn between their love for Bruno and what's best for him. Whose forever boy will Bruno become?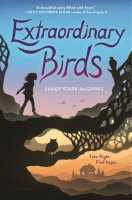 Extraordinary Birds by Sandy Stark-McGinnis. 9781547601004. Bloombury Childrens. 2019. Gr 4-6.
Eleven-year-old December Lee Morgan suffered a terrible injury from her mother years ago and now doesn't have a permanent home. This has left her with psychological scars in which December becomes convinced that one day she will sprout wings from the scar on her back and fly away. Her new foster mother, Eleanor, however, is something different. Not only does December receive in Eleanor a respectful guardian, she also makes friends with a kind girl from school who is horribly bullied by girls who refuse to use her preferred pronouns. Slowly, December begins to think that being human isn't so bad.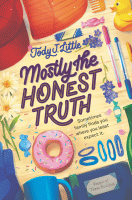 Mostly the Honest Truth by Jody J Little. 9780062852496. HarperCollins Publishers. 2019. Gr 4-6.
After Pop is sent back to rehab, Jane Pengilly arrives at her newest foster home determined to stick to the straight and narrow and get back to her beloved dad as soon as she can. It's not the first time they've been apart, but Jane's determined it will be the last. Twelve days out in the boonies of Three Boulders makes Jane miss Pop more than ever. But as the days go by, she realizes that family is more than who you're related to–and that a home can be found in the unlikeliest of places. (Publisher Description)
---
Middle School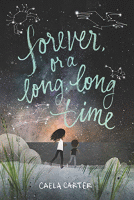 Forever, or a Long, Long Time by Caela Carter. 9780062385697. HarperCollins Publishers. 2017. 5-7.
Eleven-year-old Flora and her younger brother have been bounced from one foster home to the next as long as they can remember. Their memories of childhood are so scattered, they lack a sense of history. Without this sense of permanence, Flora struggles to comprehend that her adoption by her new family means she's found her forever home—what does forever mean to a child who feels as if she were dropped into the world without roots? Understanding this, their adoptive mother takes them back in time to their former foster homes so they might be able to embrace their future. "An unflinching portrait of the tragic shortcomings of the foster care system … Addressing contemporary family issues and a child's timeless desire for self-knowledge" (SLJ).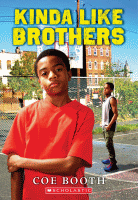 Kinda Like Brothers by Coe Booth. 9780545224970. Scholastic. 2015. 5-8.
Eleven-year-old Jarrett is angered and dismayed when his mother fosters Kevon, a haughty kid Jarrett's own age with whom he is forced to share a room. But when Jared starts snooping around to uncover the secrets Kevon is hiding, what he finds forces him to see Kevon in a much more sympathetic light.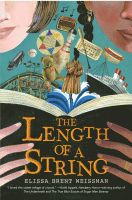 Length of a String by Elissa Brent Weissman. 9780735229488. Puffin Books. 2019. 6-8.
Twelve-year-old Imani, the only black girl in Hebrew school, is preparing for her bat mitzvah and hoping to find her birth parents when she discovers the history of adoption in her own family through her great-grandma Anna's Holocaust-era diary.
---
High School
Far From the Tree by Robin Benway. 9780062330635. HarperTeen. 2017. 9-12.
Grace, Maya, and Joaquin are biological siblings who never knew they were siblings until they became teens, having all been sent into either adoptive families or the foster care system. When Grace finds out she is actually a middle child, she searches for Maya, her younger sister, and Joaquin, the older brother. However, all three have a lot of built-up anger, and maybe getting together and trying to be a biological family is not the best idea after all.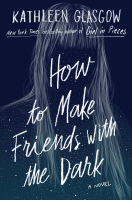 How to Make Friends with the Dark by Kathleen Glasgow. 9781101934753. Delacorte. 2019. 9-12.
Tiger, sixteen, has been pushing away from her overprotective mother, but when her mother dies suddenly Tiger must learn to live when it feels she is surrounded by darkness.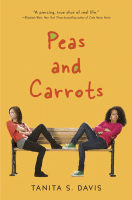 Peas and Carrots by Tanita S. Davis. 9780553512823. Knopf Books for Young Readers. 2016. 9-12.
When Dess's mother is arrested again, Dess ends up living with her baby brother Austin's foster family. And she couldn't be more different than her foster parents or their daughter Hope. But Austin loves both Dess and Hope like sisters, and the girls eventually realize that there's not just one definition of family and even though they may be different, family knows no barriers.
---
1 Children's Bureau. (2018). The AFCARS Report. Retrieved from https://www.acf.hhs.gov/sites/default/files/cb/afcarsreport25.pdf
2 AdoptUSkids. (2019). About the children. Retrieved from https://www.adoptuskids.org/meet-the-children/children-in-foster-care/about-the-children