In a PBS NewsHour interview, Jason Reynolds, the award winning young adult literature author, shares his ideas on how poetry can get more young people interested in reading. And I couldn't agree with him more.
This year, several publishers are launching new stories in verse. These are some of my favorites:

The Undefeated. Kwame Alexander. 2019. 9781328780966. Grades Pk-3. Houghton Mifflin Harcourt.
Moon Within. Aida Salazar. 2019. 9781338283372. Grades 4-8. Arthur A Levine Books.
White Rose. Kip Wilson. 2019. 9781328594433. Grades 9-12. Versify.
Moonrise. Sarah Crossan. 2019. 978154760130. Grades 10-12. Bloomsbury Children's.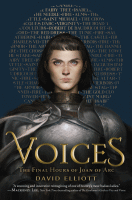 David Elliott's new book Voices: The Final Hours of Joan of Arc (2019. 9781328987594. Grades 8-12. HMH Books for Young Readers.) tells Joan of Arc's story in a remarkable novel in verse. We all know her fatal ending, being burned at the stake at the age of 19 for witchcraft and nonconformism. This book marks her final hours of her trial as well as detailed reflections on her journey to become a soldier in King Charles' French Army.
In addition to narrative poems in the voice of Joan, there are poems written in the perspective of her parents and witnesses, but also objects like Joan's sword, and the crown. Even the red dress Joan discards for armor has a voice telling the story of Joan of Arc. This book, although full of Medieval poetic forms, can make studying this historic character more interesting because of the variety of voices and perspectives providing intriguing details into the issues Joan of Arc faced. Themes that are still important to address today — identity, innocence, and redemption. Personally, I am inspired by Joan of Arc's strength, determination, and courage.
I love stories in verse. As the summer reading program director at my two sons' elementary school, I found these types of novels are the easiest to get a student interested in reading for fun. They usually have a lot of white space on the pages and tend to read quicker than a traditional story in prose.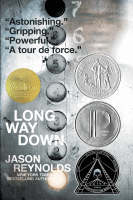 Of all the books I read last year, it was Jason Reynolds's Long Way Down (2017. 9781481438254. Grade 8-12. Caitlyn Dlouhy Books.) that is still with me. As you can see by the book cover, this YA novel won numerous awards and received several starred reviews. I agree with the critics, this book is a must read.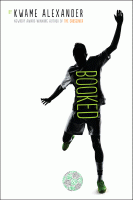 This current generation of students are spread very thin. If they want to excel at anything, they need to pick one interest and pursue it. Booked by Kwame Alexander (2016. 9780544570986. Grade 6-9. HMH BOOKS FOR YOUNG READERS) illustrates the drive tweens and teens have when pursuing soccer. This book appeals to all kinds of readers, however, the main target audience is young athletes, specifically guys who play soccer.
After I read this young adult novel, I wanted to be a school librarian, just like The Mac. He is super cool and gets the lead character, Nick, and other students interested in reading books from the school library. During my time as Library/Media Center Clerk at an urban senior high school, I helped many students select books. One memorable African-American boy had an assignment to read a book for pleasure for a senior AVID project. He came to me saying "I hate reading but I love soccer. Got a book for me?" Thanks to Kwame Alexander, I had the perfect book for him!