Take a look at these exciting nonfiction titles published in March. Enjoy and learn!
ELEMENTARY NONFICTION
Bark in the Park! : Poems for Dog Lovers by Avery Corman (ill. by Hyewon Yum). 9781338118391. Orchard Books. 2019. Gr PK-1.
A walk in the park showcases 38 different breeds of dogs as they play with each other and with their owners.
Beware of the Crocodile by Martin Jenkins (ill. by Satoshi Kitamura). 9780763675387. Candlewick Press. 2019. Gr K-3.
Though Jenkins, a conservation biologist, includes lots of facts about crocodile life in this picture book, he focuses on how these large reptiles hunt, which is what  most young predator lovers prefer to read about. Kitamura, the illustrator, keeps the bloodshed off the page.
Birds of Every Color by Sneed B. Collard III. 9781732875302. Bucking Horse Books. 2019. Gr 1-4.
Birds come in many beautiful colors, but those colors do more than just attract photographers. Sneed explains how the colors are made, what they communicate to other birds, and why they are useful.
Boom! Bellow! Bleat! : Animal Poems for Two or More Voices by Georgia Heard (ill. by Aaron DeWitt). 9781620915202. Wordsong. 2019. Gr 1-3.
These poems explore the sounds that animals make and are designed to be read aloud by multiple readers.
Butterflies in Room 6 by Caroline Arnold. 9781580898942. Charlesbridge. 2019. Gr PK-2.
Follow a kindergarten class as they raise butterflies from egg to adult and learn about an insect's life cycle.
Clackety Track : Poems about Trains by Skila Brown (ill. by Jamey Christoph). 9780763690472. Candlewick Press. 2019. Gr K-3.
This collection of poems covers train travel on new, old, and unusual trains.
Hey, Water! by Antoinette Portis. 9780823441556. Neal Porter Books. 2019. Gr PK.2
In this picture book, a young girl experiences all different forms of water.
It's a Girl Thing! : Smart, Fierce, and Leading the Way by Pri Ferrari. 9781635921243. Starberry Books. 2019. Gr PK-3.
A diverse cast of girls showcase what girls like to do and what they can be.
Like a Lizard by April Pulley Sayre (ill. by Stephanie Laberis). 9781629792118. Boyds Mills Press. 2019. Gr PK-3.
Great for STEM, this picture book presents the unusual attributes of 28 different lizards and encourages children to be themselves.
My Happy Year by E. Bluebird (Nature Diary) by Paul Heisel. 9780823438372. Holiday House. 2019. Gr PK-3.
Similar to Heisel's My Awesome Summer by P. Mantis, a bluebird describes her first year of life.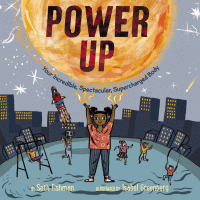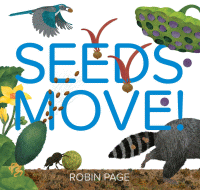 The Night Flower : The Blooming of the Saguaro Cactus by Lara Hawthorne. 9781536206166. Big Picture Press. 2019. Gr PK-2.
Wildlife of the Sonoran Desert in Arizona gather to watch the once-a-year blooming of the majestic saguaro cactus. Readers will learn about the life cycle of the saguaro, the types of animals that live in the desert, and the symbiotic relationship between animals and cactus.
Power Up by Seth Fishman (ill. by Isabel Greenberg). 9780062455796. Greenwillow. 2019. Gr 1-3.
Did you know there is enough energy in your pinkie finger to power a city for an entire day? Learn about what human beings need energy for, how they use it, and how they get more of it as the author talks about eating, sleeping, exercising, and other daily activities.
Seeds Move! by Robin Page. 9781534409156. Beach Lane Books. 2019. Gr PK-2.
Seeds don't need humans to plant them in order for them to grow. Explore the different ways that seeds are dispersed as well as how animals help seeds move from place to place.
ELEMENTARY BIOGRAPHIES
The Boy Who Grew a Forest : The True Story of Jadav Payeng by Sophia Gholz (ill. by Kayla Harren). 9781534110243. Sleeping Bear Press. 2019. Gr K-3.
Jadav Payeng lived on an island in India's Brahmaputra River. Upset by how deforestation and erosion was destroying his home environment, he began planting trees when he was a boy. The bamboo trees that he planted grew into a forest filled with plants and animals.
A Computer Called Katherine : How Katherine Johnson Helped Put America on the Moon by Suzanne Slade (ill. by Veronica Miller Jamison). 9780316435178. Little, Brown BYR. 2019. Gr 1-3.
NASA mathematician Katherine Johnson was an African American woman who pioneered the way for women to join men in engineering and math-based jobs. This biography tells how she eventually became indispensable to the NASA space program.
The Crayon Man : The True Story of the Invention of Crayola Crayons by Natascha Biebow (ill. by Steven Salerno). 9781328866844. HMH. 2019. Gr 1-4.
Before Edwin Binney invented crayons, children had to draw mostly in black, gray, and white. He loved the colors of nature that he saw outside, and by experimenting, discovered how to make the crayon.
Daring Dozen : The Twelve Who Walked on the Moon by Suzanne Slade (ill. by Alan Marks). 9781580897730. Charlesbridge. 2019. Gr 1-4.
Beginning with Neil Armstrong, this book celebrates the twelve Apollo astronauts who have walked on the surface of the moon.
The First Men Who Went to the Moon by Rhonda Gowler Greene (ill. by Scott Brundage). 9781585364121. Sleeping Bear Press. 2019. Gr 1-4.
Read about the exciting mission of Apollo 11 to the moon. Neil Armstrong and Buzz Aldrin were the first men to land on the moon, while Michael Collins piloted the Command Module that would return them all to earth.
Magic Ramen : The Story of Momofuku Ando by Andrea Wang (ill. by Kana Urbanowicz). 9781499807035. Little Bee Books. 2019. Gr PK-3.
A year after World War II, people in Japan were still starving. Momofuku Ando believed that peace and hunger could not coexist, so he made it his life's work to make a more nutritious ramen. He worked in his backyard shed, trying out different noodle recipes, until watching his wife make tempura gave him an idea. His ramen noodles were a success!
Martin & Anne : The Kindred Spirits of Dr. Martin Luther King, Jr. and Anne Frank by Nancy Churnin (ill. by Yevgenia Nayberg). 9781939547538. Creston Books. 2019. Gr 4-6.
Martin Luther King, Jr., and Anne Frank were born in the same year and experienced many of the same prejudices. Churnin draws parallels between the lives of these two dreamers.
Smile : How Young Charlie Chaplin Taught the World to Laugh (and Cry) by Gary Golio & Ed Young. 9780763697617. Candlewick Press. 2019. Gr 4-6.
Charlie Chaplin and his mother were very poor in London. His mother, an actress, was ill, and one day he took her place on stage. This biography tells of Chaplin's childhood, the creation of his Little Tramp, and his beginnings in silent film.
INTERMEDIATE NONFICTION
The Breakaways by Cathy G. Johnson. 9781250196941. First Second. 2019. Gr 4-8.
Faith starts middle school worried about how she will fit in. Surprisingly, a popular eighth-grader convinces Faith to join the soccer team—a sport she's never played. She lands on the pretty terrible C team and discovers a group of misfits better at drama than soccer. As they slowly develop an uneasy bond, they teach each other about loyalty, identity, friendship, and teamwork.
The Day the Universe Exploded My Head : Poems to Take You into Space and Back Again by Allan Wolf (ill. by Anna Raff). 9780763680251. Candlewick Press. 2019. Gr 4-7.
This collection contains silly children's poems about astronomical wonders accompanied by anthropomorphic illustrations.
A Green Place to Be : The Creation of Central Park by Ashley Benham Yazdani. 9780763696955. Candlewick Press. 2019. Gr 2-5.
As New York City ballooned in the first half of the 19th century, planners worried about the lack of open, green space. A contest was announced for making a park out of swampland, with the winning entry designed by Calvert Vaux and Frederick Law Olmsted. This picture book chronicles the creation of Central Park and its bridges, gardens, fountains, band shells, and more.
The Magic & Mystery of Trees by Jen Green (ill. by Claire McElfatrick). 9781465479365. DK. 2019. Gr 2-4.
Read about all the different parts of trees and the different types of trees as well as the interconnectedness of forests.
The Restless Girls by Jessie Burton (ill. by Angela Barrett). 9781547600724. Bloomsbury Children's. 2019. Gr 4-6.
When King Alberto's wife dies in a car accident, he is determined to keep his twelve daughters safe no matter the cost. For the girls, that cost is their freedom and every activity and lesson they once held dear. But the eldest daughter, Frida, refuses to sit idly and let her life be so sheltered. She uses the power of her own imagination to fight for their freedom and the chance to live on their own terms.
Rocket to the Moon (Big Ideas That Changed the World) by Don Brown. 9781419734045. Amulet Books. 2019. Gr 3-6.
This graphic history explains the rocket from ancient Chinese fireworks through Russia's Sputnik program to the American moon landing.
Superlative Birds by Leslie Bulion (ill. by Robert Meganck). 9781561459513. Peachtree. 2019. Gr 3-6.
These nineteen poems address scientific facts about notable and unusual birds.
When Spring Comes to the DMZ by Uk-Bae Lee. 9780874869729. Plough Publishing. 2019. Gr 2-4.
The demilitarized zone between North and South Korea has become an unintended nature preserve where no human can go. A grandfather returns to view this land and dreams of a time when all people can join together again.
MIDDLE SCHOOL NONFICTION
Dreaming in Code : Ada Byron Lovelace, Computer Pioneer by Emily Arnold McCully. 9780763693565. Candlewick Press. 2019. Gr 6-8.
Ada Lovelace is called the first computer programmer. This biography describes her analytical nature and her challenging education. She worked with Charles Babbage whose ideas were revolutionary, but it was Ada who envisioned the future potential of his designs.
Fly Girls : Young Readers' Edition : How Five Daring Women Defied All Odds and Made Aviation History by Keith O'Brien. 9781328618429. HMH. 2019. Gr 5-7.
Airplane racing was a popular—and dangerous—sport in the 1920s-30s. And while the male pilots were considered heroes, women pilots were ridiculed and banned from this manly enterprise. Banding together, five women fought for and finally won a chance to race alongside the men.
Home Sweet Neighborhood : Transforming Cities One Block at a Time (Footprints) by Michelle Mulder. 9781459816916. Orca. Gr 4-7.
Read about the ways people around the work make their neighborhoods more friendly and cheerful, and what you can do to make your yards and neighborhoods more welcoming.
The Lady Is a Spy : Virginia Hall, World War II Hero of the French Resistance by Don Mitchell. 9780545936125. Scholastic. 2019. Gr 6-9.
Virginia Hall, an American, was traveling in Europe when Hitler invaded Poland in September of 1939. Instead of returning home, she went to France and became a spy for the Allies. This dangerous job was made more difficult by the fact that she had a prosthetic leg. Though she was highly honored for her role, she is little known today, which Mitchell has done much to change in this book.
Rising Water : The Story of the Thai Cave Rescue by Marc Aronson. 9781534444133. Atheneum. 2019. Gr 6-8.
This book chronicles the true story of twelve boys and their coach who were trapped in a flooded cave in Thailand in 2018. It explores the events that led up to the confinement, the efforts made to free them, and their rescue three days after being trapped.
The Tornado Scientist : Seeing Inside Severe Storms (Scientists in the Field) by Mary Kay Carson (photo. by Tom Uhlman). 9780544965829. HMH. 2019. Gr 5-8.
Robin Tanamachi is a tornado chaser. She studies tornadogenesis, which seeks to understand how tornadoes form and what makes them strengthen or weaken. She hopes that knowing more about these storms will allow meteorologists to give more warning and save lives.
Two Men and a Car : Franklin Roosevelt, Al Capone, and a Cadillac V-8 by Michael Garland. 9780884486206. Tilbury House. 2019. Gr 5-7.
According to legend, when Franklin Roosevelt needed to travel to Capitol Hill from the White House to enter America into World War II, he used an armored car custom built for the gangster Al Capone. Here, the two individuals, Roosevelt and Capone, are placed side-by-side to provide a glimpse into the first half of the twentieth century, and how a car links them together.
A Woman's Place : The Inventors, Rumrunners, Lawbreakers, Scientists & Single Moms Who Changed the World with Food by Deepi Ahluwalia & Stef Ferrari. 9780316452243. Little, Brown. 2019. Gr 4-7.
More and more stories are being told of the accomplishments of little-known women. This collective biography covers women who made an impact on history with food.
HIGH SCHOOL NONFICTION
Captured : An American Prisoner of War in North Vietnam  by Alvin Townley. 9781338255669. Scholastic. 2019. Gr 9-12.
After Jerry Denton was shot down and captured in North Vietnam in 1965, he became a leader of the POWs in his camp. He helped them withstand the horrible conditions of the camp and helped develop secret codes to communicate, all while enduring torture and solitary confinement. He finally came home after seven and a half years as prisoner. The author uses Denton's story to relate the history of the Vietnam War.
Dear Ally, How Do You Write a Book? by Ally Carter. 9781338212266. Scholastic. 2019. Gr 7-12.
Popular YA author Ally Carter provides aspiring writers with a guide to writing a novel. She discusses topics such as world building, characters, editing, and the complex world of publishing. She gathers advice from thirty established YA authors that will also help guide emerging writers with common questions. Finally, she encourages students to write for the love of writing rather than monetary success, along with how to handle the stress of completing a book.
A Fire Story by Brian Fies. 9781419735851. Abrams. 2019. Gr 9-12.
Brian Fies tells his story of the 2017 wildfires that roared through Northern California, in which he and his wife lost their house and everything except for what fit in the back of their car. He originally published it as a webcomic, but he added stories of his neighbors and the wider community as well as insight into the environmental impact of the fire.
The Iliad by Gareth Hinds. 9780763696634. Candlewick Press. 2019. Gr 7-12.
Hinds presents a graphic novel adaptation of Homer's wartime epic poem. (Also check out his 2010 adaptation of The Odyssey.)
Kiss Number 8 by Colleen A.F. Venable & Ellen T. Crenshaw. 9781250196934. First Second. 2019. Gr 9-12.
Amanda is best friends with Cat, who is great to hang out with, but not always a good friend. She also loves spending time with her Catholic father. But then a secret is revealed—her grandmother was actually a trans activist who transitioned late in life and then went on the run. As Amanda wonders about her own sexuality and her attraction to Cat, she meets a group of diverse friends who help her understand what's in her heart.
She/He/They/Me : For the Sisters, Misters, and Binary Resisters by Robyn Ryle. 9781492666943. Sourcebooks. 2019. Gr 9-12.
The author, a sociology professor, discusses gender as it has been understood by various races and cultures throughout history.
Shout by Laurie Halse Anderson. 9780670012107. Penguin. 2019. Gr 9-12.
In her memoir told in free verse, Anderson details the experiences that shaped her previous work, namely her novel Speak. She discusses her rape at the age of thirteen and her subsequent work as an activist against censorship and rape culture. She passes along social messages surrounding sexuality while sharing stories from her past.
ADULT CROSSOVER NONFICTION
An American Summer : Love and Death in Chicago by Alex Kotlowitz. 9780385538800. Nan A Talese. 2019. Gr 11-Adult.
This chronicle of the 2013 summer of violent crime in Chicago shows how deep-rooted is the larger culture of violence in Chicago's most dangerous neighborhoods. The author profiles several individuals who have been touched by this violence and how they cope with the death that follows them.
Mama's Last Hug : Animal Emotions and What They Tell Us about Ourselves by Frans de Waal. 9780393635065. WW Norton. 2019. Gr 11-Adult.
Frans de Waal discusses forty years of animal research on the social and emotional lives of primates to showcase how many animals experience emotions and feelings similar to how humans do, including facial expressions and gestures that were once thought to be only human signals. He focuses on Mama, a chimpanzee whose bond with a biologist inspired research into animal emotions.
Sissy : A Coming-of-Gender Story by Jacob Tobia. 9780735218826. Penguin. 2019. Gr 11-Adult.
Writer and LGBTQ activist Jacob Tobia reflects on gender fluidity and the stereotypes each of us face. Tobia discusses being raised with masculine expectations and how later in life, was able to rethink what gender means and how to best stand up for genderqueer individuals.
Skeleton Keys : The Secret Life of Bone by Brian Switek. 9780399184901. Riverhead Books. 2019. Gr 11-Adult.
Bones are not only part of our bodies, but are also embedded in our culture. In this entertaining and informative account, the author describes what bones are made of, what they do, and what we can learn from skeletons. He also writes about the cultural use of bones, such as in jewelry and weapons and as symbols of death.