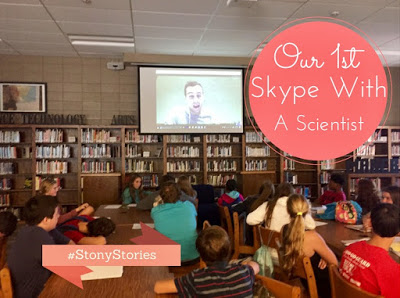 I have written several times in the past about how connecting has made a difference in my practice and development as a teacher librarian. If you haven't read about my Skype in the Classroom adventures, you might want to check out this article. This school year, Kaitlyn Price (co-librarian) and I have made it a priority to visit teachers in our building during their prep periods. We typically will ask them how things are going and also check to see how their classroom technology is working for them. We have found that this typically leads to opportunities to inform teachers about new technology tools and/ or library resources. Sometimes we discover that teachers might want to collaborate with us through these visits.
Recently, I visited Mrs. Mary French (8th-grade science) during her prep period. I was able to check on her technology and have some time to listen to her tell me about things she was doing in her classroom. I told her about Skype in the Classroom and that I would be happy to help her connect with professionals outside our school if she was interested. She was immediately interested! Mrs. French told me she wanted to connect with an astronomer since her students were learning about galaxies and planets.
I sent a Tweet to Skype Classroom (@SkypeClassroom) asking if they could help. They replied with a link to their "Skype a Scientist" program. They have a program that allows teachers to fill out a form to connect with various experts in the field of science for Q & A sessions via Skype! It was perfect. I visited her classroom again in a few days, and we filled out the form together to ensure she would get the expert best suited for her students' needs.
How We Set It Up
We completed the form that Skype Classroom Tweeted to me. After a few weeks, I was contacted by Joe Serigano, an astronomer and Ph.D. candidate at Johns Hopkins University. He requested that I send a list of questions from the students so he could prepare ahead of time. I was able to confirm the scheduled time with him for the upcoming session with Mrs. French's class. We also set up a test session for the morning before. The test session went perfectly! In addition, we invited Mr. Matt Balcom, also a science teacher at Lakeside, to join us for the test session. It went so well, he planned to bring his class on the day of the Skype session.
The Big Day 
The students were super excited to connect with Joe. The connection was flawless, and they enjoyed coming up to my Microsoft Surface to ask their questions. Joe was able to answer the questions and add additional content as appropriate. He shared his screen and showed them photos and other data that pertained to the curriculum. It was a great experience!
Teacher Reflection (Mrs. Mary French)
When Mr. Evans first approached me about Skype, I really did not know what to expect.  I am always willing to try new things and use new technology to help my students, but I was not sure how a Skype would work for my students.  I was nervous and excited about it.  Mr. Evans and I met to plan a good time (to connect) and waited to hear from our "scientist".  I was still very unsure about how this would be beneficial or how my students would respond.  I knew nothing about setting it up.  A match for a scientist was made with my class time and topic (Space Science).  After several e-mails, I found out it would be an actual discussion, and my students would actually be asking the questions that would lead the direction of the Skype. This made me concerned because I was still unsure of the type of questions that would be expected.  I found some background information about Saturn and its moons for my students, and they developed a list of questions they wanted to ask.  I was still not sure about this process.
The day before the Skype with the students, we met via Skype our assigned scientist, Mr. Joe Serigano from Johns Hopkins University, Dept of Earth and Planetary Science.  After meeting him and getting a few more ideas, I was at ease about the upcoming Skype.  Mr. Serigano told us that he would welcome questions about his typical day as a scientist, his education, as well as his knowledge of Saturn and Saturn's moons.  I believe Skype was a huge success.  I loved seeing my students interact with an expert in the field of science and know that they were welcome to ask questions.  I had students ask questions about Saturn, Saturn's moons, his background, and even science fiction movies to see if the ideas presented were possible.  Afterward, my students wrote a reflection of the Skype, and I was blown away by their responses.  They really enjoyed getting to ask questions and have someone take time to answer their questions.  I feel that this broke barriers for some students and changed their perspective about scientists.  Most were happy to have this opportunity and even wanted to do this more. I am so glad that I took this chance for my students to have this opportunity.
Student Voices
"This experience impacted me in a positive way. Mr. Serigano was a smart scientist and helped our science class to learn in a new way. I would strongly suggest that this type of learning be in all classes. Learning from a specialist is a great thing for kids to experience." – Ronni
"Today we did a Skype call with Joe Serigano. He is well-educated over what Saturn is. I liked the information he gave us, and the way he explained it. I hope we can get to do another one of these." -Jamison
"Today we did a Skype call with Joe Serigano. He is well-educated over what Saturn is. I liked the information he gave us, and the way he explained it. I hope we can get to do another one of these." -Jamison
"This was a very fun activity we did with Joe Serigano. It was awesome that he took the time out of his day to answer some of the questions we had for him. If we had a question, he would answer it with the best of his ability. We talked and learned about the moons of Saturn. We all thought this was very neat to be talking to a scientist." – Annelise
"This impacted me by changing my view on scientists. By experiencing this I thought all scientists were nerdy, and he wasn't at all. I think I might be interested in being a scientist. I learned a lot of interesting facts… and I want to learn more about Saturn and Jupiter." – Hannah
"I really liked this because you can talk to a person and not just ask Siri or look it up on Google." – Hailee
Next Steps
We are already planning another Skype with a Scientist with Mrs. French's other classes so they all have the experience of connecting. In addition, Mrs. French and Mr. Balcom are planning on an immersive collaboration with us in the library. We are looking at NASA simulations for Global Warming and climate change. As I reflect back on this opportunity, a few things come to mind. First, we have many opportunities waiting for us in the school that can come to the surface from simple classroom visits. Secondly, many teachers are nervous about stepping out of their comfort zones. As teacher librarians, we can go on that journey with them and take risks together. When we have successes as a team, it creates friendships and trust that can lead to additional collaborations. Now is a great time to boldly go where no classroom and library have gone before. The students are the ones that ultimately benefit! Growth must take place away from the area of comfort. Why not take these journeys in the school library?