Grief and loss is a topic that is difficult to talk about with children. How do you explain death and dying to your young child?  This is a contemporary problem that is relevant to children, as well as young adults of today. I was diagnosed with breast cancer in 2009, when my sons were 3 and 6 years old. I struggled finding an age appropriate book I could read to them. I decided to explain what was going to happen to me in my own way and it helped them stay positive throughout the journey. I self-published our family's story to help others get through the awful battle of fighting cancer.
Since then, there have been a variety of books published to help kids sort through the emotions of loss. Grief can be quite dark and cold, no matter the season. Following is a list of realistic fiction books I have curated for children ages 4 to 14 on this topic.
---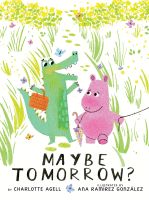 Scholastic's 2019 picture book Maybe Tomorrow? is a tender exploration of overcoming loss. Written by teacher Charlotte Angell, with illustrations by Ana Ramirez, this story is about Norris, a lively, positive alligator who helps Elba, a sad pink hippo, talk through the loss of her best friend, Little Bird. The alligator's kindness and empathy lightens the hippo's burden of grief and loneliness. As their friendship grows, the black block that the hippo has been dragging around for a long time, gets smaller and more manageable. This book is helpful to children who are experiencing heartbreak from the death of a loved one or a pet, to a friend moving away, or the transition of a new home. Having a friend help carry the burden of loss is always helpful in the grieving process. Grades: Pk-3
---

Originally published in 1973, A Taste of Blackberries by Doris Buchanan Smith is the story of two best friends who do everything together. Life with a best friend makes everything better. Losing a baseball game isn't so bad; even the taste of food is improved when you have a best friend to experience it with. But when one of the boys tragically dies, the friend left behind struggles with his grief. He feels guilty and lonely before accepting the loss of his friend. As told in the voice of a child, this book asks many questions that are impossible to answer, including "How does the taste of blackberries continue to be delicious without my friend?" Grades: 2-5
---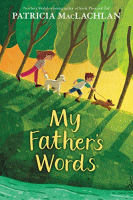 Katherine Tegen Books, an imprint of HarperCollins, published My Father's Words in 2018 by the Newbery Medal-winning author Patricia MacLachlan. This touching novel is the story of a sister and brother whose father was killed in a terrible car accident. Their mother is at a loss for words to help guide her children through their overwhelming grief. Their father was the one who always shared phrases and songs that helped the kids get through difficult situations. With help from friends, the family spends time volunteering at an animal shelter. Reciting their father's gentle words, they comfort two sweet dogs. With time and patience, the family finds hope returning in their hearts. Grades: 4-6
---

Suggested Reading List (In Interest Level Order):

Lies, Brian. (2018). Rough Patch. New York City, NY: Greenwillow Books. Grades: Pk-3.
Mcfarlane, S. (1993). Waiting for the Whales. New York City, NY: Philomel Books. Grades: Pk-3.
Look, L., & Pham, L. (2012). Alvin Ho: Allergic to Dead Bodies, Funerals, and Other Fatal Circumstances. New York City, NY: Yearling Books. Grades: 2-4.
McGhee, H. (2017). Matylda, Bright and Tender. Boston, MA: Candlewick Press. Grades: 3-6.
Elliott, Z., & Strickland, S. (2008). Bird. New York City, NY: Lee & Low Books. Grades: 3-6.
White, E.B. (1952). Charlotte's Web. New York, NY: Harper & Brothers. Grades: 3-6.
Coerr, E. (1977). Sadako and the Thousand Paper Cranes. New York City, NY: Putnam. Grades: 3-6.
Wiles, D. (2006). Each Little Bird That Sings. Livonia, MI: Seedlings. Grades: 4-6.
Cline-Ransome, L. (2018). Finding Langston. New York City, NY: Holiday House. Grades: 4-7.
Smith, T. E. (2015). Another Kind of Hurricane. New York City, NY: Schwartz & Wade Books. Grades: 4-7.
Paterson, K. (1977). Bridge to Terabithia. New York City, NY: HarperCollins, Grades 5-8.
Mass, W. (2005). Mango-Shaped Space. New York City, NY: Little, Brown and Company. Grades: 6-9.