Though Malala Yousafzai, known worldwide simply by her first name, has become known for her life-threatening gunshot injury and miraculous recovery, as well as for her work in promoting school access for girls, Malala was an outspoken advocate for girls' education long before that. It all started with her father.
Ziauddin Yousafzai, Malala's father, was determined to offer educational opportunities to children in Pakistan including girls—which was considered a radical idea in a country where women were expected to stay home and care for families rather than to pursue academics. When Malala was born, he decided to do all he could to make sure she was free to follow her educational aspirations.
"My father saw his own five sisters unable to go to school or pursue a life beyond the four walls of their home," shares Malala. "He didn't want this life for me. Instead, he encouraged me to read, voice my opinions, and follow my dreams."
"130 million girls are out of school. Without education, many end up marrying as teenagers or entering into low-wage, insecure work. We need more people—students, parents, educators, business leaders, and politicians—to find their own ways to support girls."
Not only did she follow her dreams, she excelled at nearly everything she set her mind to. She was a talented student, a bold advocate for girls' education, and a dreamer who wanted to pursue a professional career in medicine. However, it was just these things that her father worked so hard for her to accomplish that also drew the notice and ire of those who wanted to keep her chained to tradition.
On the afternoon of October 9, 2012, members of the Taliban tried to permanently extinguish Malala's voice by attempting to kill her. She was 15 years old, and once again she defied them: she lived. And since being shot, her voice has only become stronger and farther reaching. Malala's message promoting educational opportunities and equality for girls has gone worldwide and enabled her to create a foundation called Malala Fund. She has also received numerous honorary degrees and prestigious awards.
Malala Fund
Malala Fund works toward a world where every girl can learn and lead. Here's how Malala Fund is breaking down the barriers that hold girls back:
Investing in local education activists. Through our Gulmakai Network, we invest in local educators and advocates — the people who best understand girls in their communities — in regions where most girls are missing out on secondary school.
Advocating to hold leaders accountable. We advocate — at local, national and international levels — for resources and policy changes needed to give all girls a secondary education. The girls we serve have high goals for themselves and we have high expectations for leaders who can help them.
Amplifying girls' voices. We believe girls should speak for themselves, tell leaders what they need to learn, and achieve their potential. We amplify girls' voices by bringing them to meet with decision makers and sharing their stories through Assembly, our digital publication and newsletter.
"I'm grateful for these awards," Malala acknowledges, "but I think of them as less about me and more as recognition for millions of girls fighting for their education. I know I have a global platform, and I want to use it to be an advocate for girls who are still struggling to go to school."
"Girls are leading movements for education and equality around the world—and everyone can take part. Listen to girls' stories and share them with family and friends. Volunteer your time to helping others in your community. Use your voice to speak out against injustice when you see it."
Malala, now in her early 20s, is more dedicated than ever to her mission of providing educational opportunities for girls. In addition to being a student herself, she is a public speaker, educational activist, and an author. She has written, or co-written, five books with the most recent published in January 2019: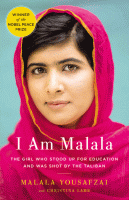 I Am Malala: The Girl Who Stood Up for Education and Was Shot by the Taliban
(Little, Brown and Company, 2013)
I Am Malala is the remarkable tale of a family uprooted by global terrorism, of the fight for girls' education, of a father who, himself a school owner, championed and encouraged his daughter to write and attend school, and of brave parents who have a fierce love for their daughter in a society that prizes sons.
---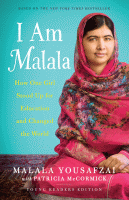 I Am Malala: How One Girl Stood Up for Education and Changed the World
(Little, Brown and Company, 2014)
Raised in a once-peaceful area of Pakistan that has been transformed by terrorism, Malala was taught to stand up for what she believes. So she fought for her right to be educated. And on October 9, 2012, she nearly lost her life for the cause: She was shot point-blank while riding the bus on her way home from school.
Now Malala is an international symbol of peaceful protest and the youngest ever Nobel Peace Prize winner. In this Young Readers Edition of her bestselling memoir, which has been reimagined specifically for a younger audience and includes exclusive photos and material, we hear firsthand the remarkable story of a girl who knew from a young age that she wanted to change the world — and did.
---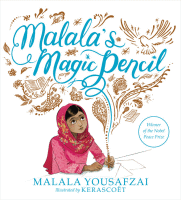 Malala's Magic Pencil
(Little, Brown Books for Young Readers, 2017)
Malala's first picture book will inspire young readers everywhere to find the magic all around them.
As a child in Pakistan, Malala made a wish for a magic pencil. She would use it to make everyone happy, to erase the smell of garbage from her city, to sleep an extra hour in the morning. But as she grew older, Malala saw that there were more important things to wish for. She saw a world that needed fixing. And even if she never found a magic pencil, Malala realized that she could still work hard every day to make her wishes come true.
This beautifully illustrated volume tells Malala's story for a younger audience and shows them the worldview that allowed Malala to hold on to hope even in the most difficult of times.
---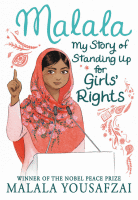 Malala: My Story of Standing Up for Girls' Rights
(Little, Brown Books for Young Readers, 2018)
Malala's memoir of a remarkable teenage girl who risked her life for the right to go to school is now abridged and adapted for chapter book readers. Raised in a changing Pakistan by an enlightened father from a poor background and a beautiful, illiterate mother, Malala was taught to stand up for what she believes. Her story of bravery and determination in the face of extremism is more timely than ever.
In this edition, Malala tells her story in clear, accessible language perfect for children who are too old for Malala's Magic Pencil and too young for her middle-grade memoir. Featuring line art and simplified back matter, Malala teaches a new audience the value of speaking out against intolerance and hate. An inspiring message of hope in Malala's own words.
---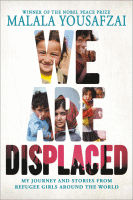 We Are Displaced: My Journey and Stories from Refugee Girls Around the World
(Little, Brown Books for Young Readers, 2019)
Malala's experiences visiting refugee camps caused her to reconsider her own displacement – first as an internally displaced person when she was a young child in Pakistan, and then as an international activist who could travel anywhere in the world except to the home she loved. In We Are Displaced, which is part memoir, part communal storytelling, Malala not only explores her own story, but she also shares the personal stories of some of the incredible girls she has met on her journeys–girls who have lost their communities, family and friends, and the only world they've ever known.
Photos of some of the refugees featured in We Are Displaced, courtesy of Malala Fund.
"I love hearing that teachers are using my books in their classrooms," says Malala. "I see a lot of messages about school projects using my story—and I love to read essays students write and see the art they create. My hope is that students reading these books will learn about the challenges girls are facing around the world and be inspired to help." Having accomplished so much in her young life, what is next for Malala Yousafzai? Only time will tell. "If you're studying philosophy, politics and economics at Oxford, people assume you want a career in politics; but I don't think that's the path for me," she confides. "All I know for certain: I will continue my work with Malala Fund until every girl can get the education she deserves."
Malala's Bio
Malala Yousafzai is a co-founder and board member of Malala Fund. Malala began her campaign for education at age 11, when she anonymously blogged for BBC Urdu about life under the Taliban in Pakistan's Swat Valley. Inspired by her father's activism, Malala soon began advocating publicly for girls' education, attracting international media attention and awards. At age 15, she was attacked by the Taliban for speaking out. Malala recovered in the United Kingdom and continued her fight for girls. In 2013, she founded Malala Fund with her father, Ziauddin. A year later, Malala received the Nobel Peace Prize in recognition of her efforts to see every girl complete 12 years of free, safe, and quality education. She is currently a student at Oxford University, pursuing a degree in philosophy, politics, and economics.
---
Connect With Malala Yousafzai